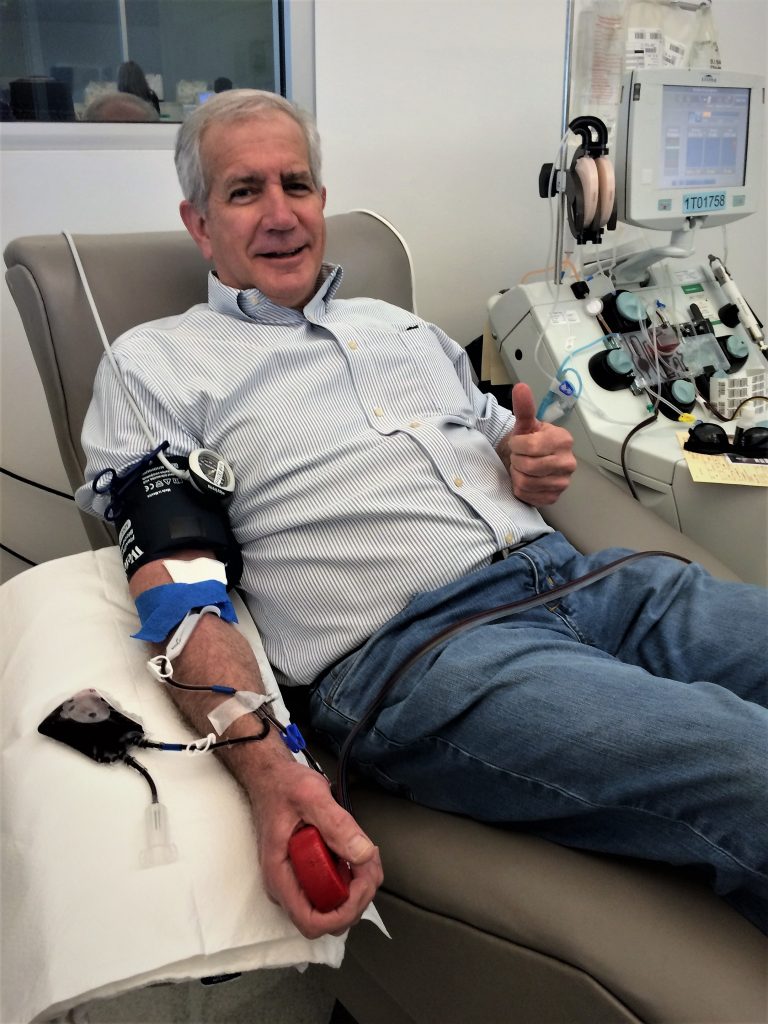 The thought of giving blood is uncomfortable for many, making them feel squeamish or light-headed at just the thought. But for one Indianapolis lawyer, blood donation has become a way of life.
Jim Lauck, senior counsel at Kroger Gardis & Regas, recently hit the milestone of donating 20 gallons of blood. That comes out to 160 one-pint donations — for him, the total number is actually 169.
Reaching the milestone was a 40-year process for Lauck. And as it turns out, he's not done donating yet.
"That was my goal, and when I hit it, I thought, 'I'll stop now,'" Lauck said in an interview on Dec. 31, after he reach the 20-gallon mark. "Then I gave blood a few weeks ago."
Getting started
It all started in 1980.
Jay Kennedy, senior counsel at Kroger Gardis & Regas, was a law clerk back then, while Lauck was in the early days of his career as an attorney. Kennedy had begun donating blood in college as part of a fraternity project, and he'd kept up the habit through law school.
Kennedy and Lauck were fast friends, and the two had plans one evening to grab a drink after work. As Kennedy tells it, he remarked to Lauck that he had never donated blood in Indianapolis, so the two should do that together instead. Lauck, however, jokes that he was "tricked" into his first donation.
"He said, 'Let's go get a beer,' and he kind of tricked me, and we ended up at The Blood Center," Lauck recalled with a laugh. "I gave my first pint, and I just started donating. It seemed easy to do."
The duo continued to donate together for a time, but eventually it became a solo project for Lauck. He's given blood in mobile units and in the basement of a church, though his main location has always been The Blood Center, now known as the Versiti Blood Center of Indiana. The downtown Meridian Street location is just a few miles from Lauck's house, making it easy for him to make an appointment online and give a pint as often as his body and schedule allows.
Making an impact
Penny Schroeder, area vice president and director of donor services for Versiti, described Lauck's milestone in succinct terms.
"It's a huge deal," she said.
Though Schroeder does not know Lauck, she knows first-hand the impact of 20 gallons of blood. A 1-pint donation alone can help three people.
"When you think about how many donations he's given, imagine how many people he has helped," Schroeder said.
And Lauck's O- blood type makes him a universal donor. Any time there's a major trauma event, O- is the go-to for patients, Schroeder said. O- blood is also used for babies and for patients battling cancer.
"I would joke with people after I gave and say, 'How many little kids do you think are walking around with my blood?'" Lauck said.
Lauck has always been a general donor, giving regularly to ensure there's a supply of blood on the shelf whenever it's needed. He's never given in response to a specific trauma event, he said, though he has given an open invitation when he hears of someone who needs a transfusion, offering to give a pint of his universal-donor blood if it's ever needed.
Long-term commitment
Sometimes, a low iron count or other health issue can keep a would-be donor from giving a pint of their blood. Donors at Versiti go through what Schroeder described as a "mini-physical," checking physical attributes such as their hemoglobin, blood pressure, pulse and temperature and answering general questions about their health. Right now, donors also get a COVID-19 antibody test.
There have only been a handful of times when Lauck has been unable to donate. Once he traveled to Mexico and then couldn't donate for a year. There was also the instance where he tried to donate after work.
"I like giving in the morning, because my heart rate is lower," Lauck said. "Once I went after work and my pulse was too high. That's the only time I've been rejected, and I attributed that to being aggravated at the office. So I told the person that aggravated me, 'They refused my blood.'"
Lauck doesn't consider himself a blood donation "ambassador," preferring to give quietly whenever he can. Though he hit the notable 20-gallon mark, he's still inspired by other donors, such as the elderly people he saw donating the last time he did.
"I think as long as you're healthy," he said, "they'll take your blood.
Nationwide, the average is 1.8 blood donations per year, Schroeder said. If everyone donated at least twice a year, she said, "that would eliminate most of the blood shortages."
Schroeder knows that blood donation can be intimidating, especially for those who fear needles. But she encourages those who are nervous to make an appointment anyway, and the donation staff will help you through the process. The actual needle part, she said, lasts about 10 minutes.
Though he's hit his donation goal, Lauck said he'll keep donating blood as long as he's healthy enough to do so. To the friend who first introduced Lauck to donation, his commitment comes as no surprise.
"Jim has always had a great commitment to giving," Kennedy said. "I've known him for 40 years now, and as far as I know, he has always been a regular donor."•
Please enable JavaScript to view this content.