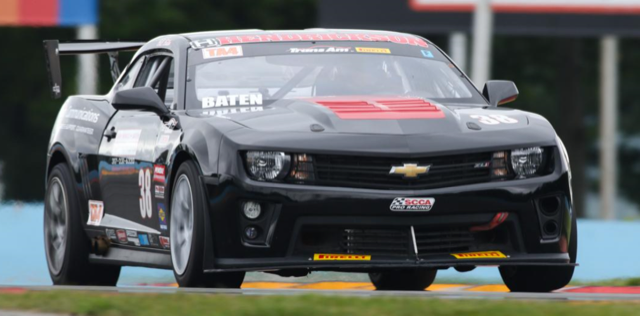 Just once. A last-minute realization came to Littler Mendelson P.C. attorney Mike Moffatt when he was a college student — a realization just barely kept him from missing out on his annual trip to the Indianapolis 500 with his grandfather.
"I had said, 'Nah I'm not going to go back and go to the race, I'm going to hang with my fraternity brothers,'" Moffatt recalled. "Three days before the race I called my grandfather and said that I had to go, that I couldn't miss it."
The pair started attending the races together when Moffatt was 8 years old. Since then, he hasn't missed a single Indy500 in the past 47 consecutive years.

"When I went with him, the most memorable parts were learning about the race, the drivers, and just being with him," Moffatt said of his grandfather. "We always had good, fun family arguments about who would win."
Those trips to the track sparked a passion for racing in Moffatt. And while COVID-19 has postponed the traditional May Indy 500 to August 23, Moffatt is continuing the tradition initiated by his grandfather all those years ago.
"He was an Indy 500 fanatic. The love and passion for it just grew with me," Moffatt said. "My wife is really into the racing and we've gotten our kids involved in it. It truly is a tradition that keeps going."
A similar flame for racing was also stirred in mediator Bill Baten as a kid. He grew up outside New York City, where racing wasn't a part of the scene.
"I was the kid with the flip car track and would build models of race cars," Baten said. "It wasn't until the early 1990s that I really decided I wanted to get more involved in the actual racing."
To get his feet wet, Baten became an official at different road course racing tracks to check out the cars. But it was when he secured the title of rookie of the year after performing well in a race where he sat behind the wheel, that set off his passion for the sport.
The Van Winkle Baten mediator is now a semi-pro racecar driver who has spent the past 20 plus years racing at various tracks across the country. He's won titles and placed in numerous races at the Indianapolis Motor Speedway and at Daytona, Watkins Glen, Laguna Seca and Road America.
Both Baten and Moffatt, who share a love for the sport, have intertwined their passion for racing into their legal careers.
Passion meets profession
Tying Baten's hobby of racing into his legal practice has come in the form of mediating for a variety of entities in that industry. If individuals in town have a racing-related dispute, Baten said those cases often get referred to him because it's a relatively small specialty.
"I've mediated scores of cases with Nascar, IndyCar and other drivers, teams, and series over the years," Baten said. He's also served on the IndyCar Series' dispute resolution panel for the past several years. Being able to resolve cases in the racing world has filled him with gratitude.
"I have such appreciation of how hard it is to succeed at the highest levels of racing. I really enjoy working with all the parties involved with that, and I have a lot of respect for everyone involved. It feels good to resolve disputes that you know if they weren't resolved in private through mediation, that they would be detrimental to particular teams or individuals," Baten explained.
Since his work as mediator requires him to be a neutral party, Baten loves the competitiveness of racing. But he also feels a sense of accomplishment when he can improve himself in the process.
"It's funny, because I feel very calm (driving) a race car," he said. "That's an escape for me. When you practice or mediate, your mind goes in a million places. When you are behind the wheel and it's a life-or-death thing, you don't want to make a mistake … it's a great outlet for me."
Making connections
For Moffatt, intertwining a love of the sport into his legal practice began during his first week of employment at Barnes and Thornburg back in 1996. An older attorney had invited him to lunch and asked what Moffatt was passionate about.
"I said, the Indy500 and IndyCar racing. He said, 'Well, I am the current attorney for the United States Auto Club but I'm winding down my practice, would you like to take over and handle that client?' I was like, 'Are you kidding me?'" Moffatt said with a laugh.
For the next five years, Moffatt represented the U.S. Auto Club, the sanctioning body for sprint, midget, and champ car racing. Through that position, he was also able to work with the Indianapolis Motor Speedway.
"It was fantastic. Being able to be part of the racing community and have it part of my profession, that was great," Moffatt recalled.
Although he doesn't represent USAC anymore, Moffatt said he made connections during that time that enabled him to get involved with other racing associations where he could be involved in the labor and employment side of the law.
He's also had the opportunity to speak at various racing conferences and was asked to provide advice on workers compensation for the racing industry to the Indiana Economic Development Corporation.
Now, Moffatt uses his enthusiasm for racing for marketing and client development. Through his racing connections, he's been able to access to pit and garage passes and invite clients to practice or qualification days.
"I enjoy taking clients and walking around with them, taking them to the garage, explaining and showing them history, showing them drivers, talking about the cars," he said. "It's fun and unique."
Please enable JavaScript to view this content.