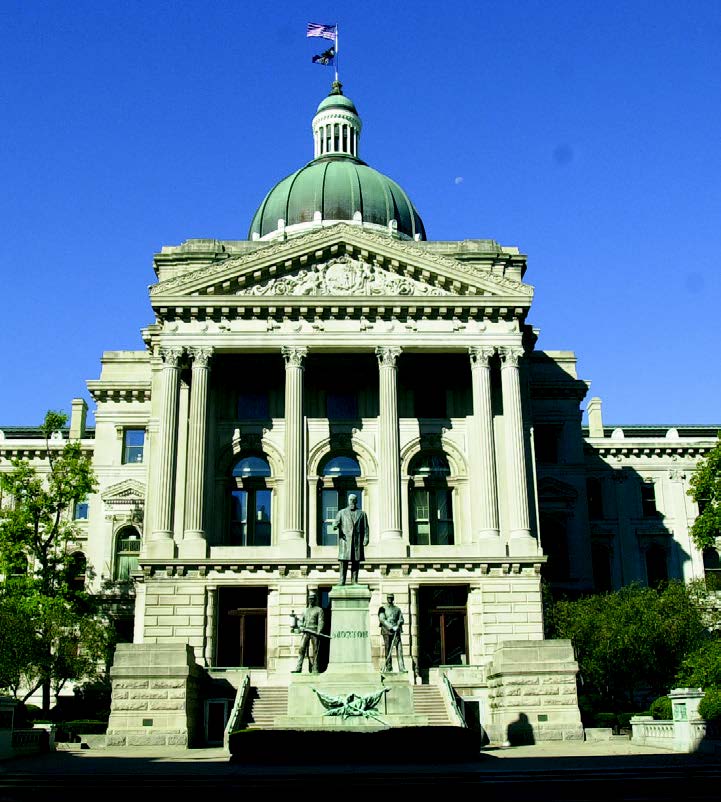 Changes could be coming to the way Indiana legislators convene this summer, as teleconferencing and virtual meetings become more commonplace in the wake of the COVID-19 pandemic.
In May, Indiana General Assembly House Speaker and Legislative Council chair Todd Huston, R-Fishers, convened the group's annual meeting via teleconference for the first time to assign 2020 summer study topics.
Members selected to serve on the interim study committees will dive into the state's top issues, gather testimony and recommend legislation. The majority of those meetings will begin convening in August, with most of the work finalized by the end of October, Huston said.
But while summer study committees have historically met in-person, allowing legislators to hear testimony and discussion from the public face-to-face, that set up could change as a result of COVID-19.
Lawmakers are currently considering and testing out new procedures to host the summer study committee meetings virtually in 2020, Huston said. Although the details have yet to be finalized, the speaker said updates on the new arrangements will be released soon and will remain "transparent and open to the public."
Sen. Jean Breaux, D-Indianapolis, said she is completely in favor of adopting virtual interim study committees, saying that holding meetings via technology is a good idea due to the need to prioritize safety.
"I think we need to do what we can to adhere to the guidelines that are put out by the CDC that tell us what we need to do to be safe. Social distancing is one of those considerations," Breaux said.
The senator said her preference is to do business face-to-face, which enables her and other legislators to better read the body language of those who testify, which might not necessarily translate well through a camera lens.
"Given the pandemic, this is the next best alternative, and I think it's a pretty good one," she said.
For Sen. Ed Charbonneau, R-Valparaiso, participating in virtual meetings saves him a lot of time. His district covers five counties, and utilizing teleconferencing gives him the ability to be at meetings across the state without traveling.
"It's pretty amazing," he said. "As this COVID-19 pandemic goes on, I think we are learning about a lot of things that we have done over the years maybe simply because we never took the time to ask, 'Why are we still doing it this way?'"
Technologically challenged
Not everyone is in favor of holding meetings virtually, though. Sen. Sue Glick, R-LaGrange, pointed out that some people are more technologically challenged than others when it comes to conducting meetings online.
"It will be difficult — but not impossible — to do these study committees remotely," Glick opined.
Like Breaux, Glick appreciates hearing from individuals who come in person to testify and share their opinions during committee meetings. Additionally, not being able to look at impactful visual presentations such as charts, graphs and photos will be somewhat difficult, she said. There could also be difficulties in how committee members interact with one another during the meetings, Glick noted.
"We call it 'The Brady Bunch' when you have all of the individuals participating," she said, referring to the small boxes onscreen displaying faces during a teleconference.
"The chair really is challenged by that, calling on individual members and making sure they can have individual input as questions arise. I just think it will be a lot more difficult than it is when we are there in person," Glick said.
Another concern, the senator noted, is whether individuals will be reluctant to come forward to testify if they can't physically be there.
"This is new ground. I think people are concerned that everyone has a right to come and testify or to express their opinions, and can that be done in the present situation? Does everyone have easy access to their legislators and to the system? I don't know if we are there yet," Glick mused.
"You've heard the adage, 'We're not on the same page.' We can very easily not be on the same page if we are 130 miles apart and talking remotely as opposed to being in the same room," she said.
Preparing for the worst
In addition to considering an alternative method of meeting this summer, the Legislative Council passed a resolution requiring each state agency to submit a report to the appropriate summer study committee by Sept. 18, outlining agency plans for handling similar public emergency situations in the future.
Huston said he wants to work with state agencies to build upon what Hoosiers have learned from the impacts of the COVID-19 pandemic in order to better equip the agencies moving forward. That means taking a look at whether Indiana should permanently modify or repeal laws that were suspended during the outbreak, he said.
"Since session ended, our members have been working hard to help their constituents through an unprecedented pandemic, including sorting through unemployment issues and connecting local businesses to state resources," Huston said. "Their work and the lessons we have all learned will help us as we look at changing and repealing certain laws to help better position Indiana for the future."
In response to that call, the Legislative Council created the Legislative Continuity Committee, a six-member committee focused on addressing how the legislative branch can better prepare for future emergencies.
The committee, Huston said, is tasked with looking at alternate communication methods, safeguarding vital legislative records and the continuity of legislative functions during a crisis. It's also charged with making recommendations for related legislation.
The House and Senate minority leaders will each appoint one member to serve on the committee. The chair and vice chair of the Legislative Council will likewise appoint two members from which two committee co-chairs will be selected.
"I think that is a good thing that has come out of this," Breaux said of the new committee. "It makes us realize that we need to be prepared in a way that we probably weren't prior to this pandemic."
Glick agreed, noting that the legislative session ended just as the pandemic hit Indiana and, as a result, the General Assembly was unable to react legislatively.
"We didn't see it coming and now we can lay some plans for if it happens again or if we see a spike, what we can do to meet those issues as they come up," Glick said.•
Please enable JavaScript to view this content.