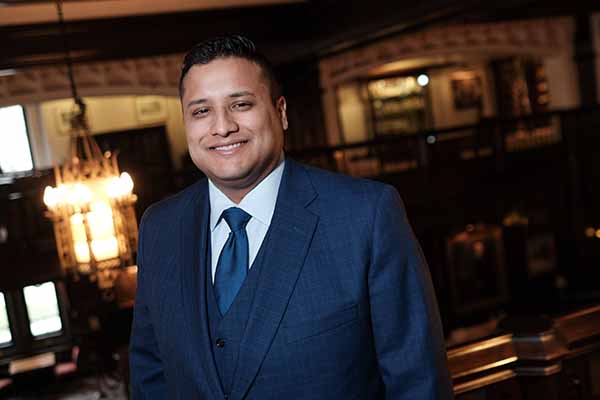 Shared experiences bring people together. That's particularly true of the members of the Rudy Lozano Bar Association, a northwest Indiana group dedicated to serving Latino legal professionals.
Lozano Bar Association leaders say it can be lonely being the only Hispanic or Latino lawyer in the room. Data from the American Bar Association shows that in 2020, lawyers who identify as Hispanic comprised just 4.6% of the U.S. lawyer population in 2020, compared to 4.7% who were Black, 2.1% who were Asian and 85.9% who were white.
Frequently, members of the Lozano Bar are first-generation professionals, and many are first-generation Americans. Networking with other lawyers who share that background can be a source of camaraderie and inspiration for Hoosier Latino lawyers.
"I'm glad I decided to go into the legal profession," said Alejandro Rosillo, a Gary attorney and secretary of the Lozano Bar. Rosillo came to the profession as a second career.
"I feel like I can achieve things in my second career that I never dreamed of when I was 18 or 19," Rosillo said. "I think there's a sense of community in the bar association when we get together to tell stories like that."
Even if they followed a more traditional path to the law, Latino attorneys say the Lozano Bar Association has been critical in helping their careers progress. And with the end of the pandemic seemingly in sight, bar leaders are looking ahead to new opportunities to support their members professionally and personally.
"We can meet via Zoom, but it's not quite the same," said M. Elizabeth Flores, another Gary lawyer and member of the Lozano Bar. "We like to see each other in person, and we're not able to do the things we normally would do as a bar association. So we're all waiting for the resolution of the pandemic so we can resume normal life and start doing things together."
Support system
Formerly known as the Northwest Indiana Hispanic Bar Association, the group filed articles of incorporation under its new name in February 2020. Its namesake is the late Judge Rodolfo "Rudy" Lozano, who died in July 2018.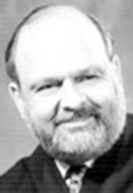 Lozano was a longtime judge on the U.S. District Court for the Northern District of Indiana, serving on the bench from his appointment by former President Ronald Reagan in 1988 until his death 30 years later. He had the distinction of being the first Hispanic federal judge in the Hoosier State.
Flores, who is a lawyer with the Indiana Department of Child Services, recalled Lozano being a bigger-than-life "urban legend" who had been known as an attorney for never having lost a jury trial. As a young lawyer, Flores — who was admitted to the Indiana bar in 1991 — looked to the federal judge as a mentor she could identify with because Lozano, like her, was of Mexican descent.
"We particularly landed on Rudy Lozano because Judge Lozano was one of the most prominent Latino attorneys and federal court judges in the area," said Roxanne Mendez Johnson, vice president of the Lozano Bar. "We wanted to honor his work and his legacy and the impact he had in northwest Indiana."
Even before its name change, the Hispanic bar association was focused on supporting its members and their career goals, Johnson said. If a member was running for a judgeship or seeking another public position, the bar would rally to support the campaign privately and publicly.
"We were there to back our members, support them and elevate their names into the public, and to let them know that it's not just them," Johnson said. "They're not alone. They come with a group of people who have their back."
Similar stories
Johnson practices federal criminal defense, a practice area where she said she can get lonely because there are not many Latino lawyers — or even lawyers of color — in the federal criminal defense bar. But in the Lozano Bar Association, she can gather with other lawyers who look like her, share some Mexican food, maybe a margarita, and feel a sense of community.
Indeed, it was a meeting at a Mexican restaurant that introduced Alfredo Estrada to the Lozano Bar.
Estrada was a second-year student at Valparaiso Law when he met with Flores and now-Judge Eugene Velazco of the Merrillville Town Court for tacos and beers. As the law student became a young lawyer, he found camaraderie and mentorship in the Hispanic bar association.
Today, Estrada is a partner at Burke Costanza & Carberry in Merrillville and is the current president of the Lozano Bar Association.
"When you have that community and that group of individuals practicing law who look like you and sound like you and are from a similar background like you, it's like having a little home within the practice," Estrada said.
Estrada and Rosillo — who also practices with Indiana DCS — followed a similar path to the law. Both came from different careers — Rosillo was a truck driver and Estrada was a steelworker — and both became first-generation "professionals" in their families. Flores followed the more traditional path of going to law school straight out of college, while Johnson began her career in Tucson, Arizona, before moving to Buffalo, New York, and eventually landing in northwest Indiana.
Estrada, Flores and Johnson are all first-generation Americans, with Johnson's parents coming from Peru and Estrada and Flores coming from Mexican descent. Rosillo, however, was born in Mexico, though quite by accident.
Though he's lived in the United States for most of his life, Rosillo's family moved back and forth from Mexico to the states while his father did contract labor in the U.S. for months at a time. Rosillo happened to be born during a time when his family was back in Mexico, which meant he had to obtain residency papers as a child before applying for U.S. citizenship as an adult.
Now that he's an established lawyer, Rosillo wants his journey to become an example for his children.
"Now I have a new pattern for my kids," he said. "It's not just about me, it's about setting an example for my kids so they don't think they have to be construction workers or truck drivers. They can be engineers, lawyers, doctors. It's a generational change that I'm trying to accomplish."
Building on strengths
For Johnson, the lack of diversity in the legal profession wasn't immediately apparent. Her time in Tucson allowed her to work with several Hispanic lawyers, but when she got to New York and began practicing near Rochester, it was a "splash of cold water" to be the only Latina in the room. The contrast continued when she moved to the Hoosier State.
"So for me, I've very much missed having that bar of people accessible to me that looked and sounded like me," she said, referencing the COVID-related stop to Lozano Bar activities.
When post-pandemic life begins, the Lozano Bar plans to go beyond its bread-and-butter of supporting members in their career goals.
Estrada said the plan is to begin offering CLE programs designed for the criminal bar, civil litigation attorneys, family law practitioners and more. They also want to partner more with other bar associations around the state, including the Indiana State Bar Association's Diversity Committee and the James C. Kimbrough Bar Association, which serves African American lawyers in northwest Indiana.
While offering practice-specific sessions to support members in their professional careers is certainly beneficial, the leaders of the Lozano Bar agree that the strength of their organization lies in the sense of personal community it provides.
"It's like coming home," Flores said. "It's people of similar experiences and backgrounds who understand things like dealing with a Mexican mom." Similarly, Johnson joked that her fellow Lozano Bar members would understand why she would be in trouble if she called her Latina mother later than normal one day.
"It's simple things like that, but we have that commonality, those shared experiences," Flores continued. "You can let your hair down and be more unguarded. That's one of the things it has brought to me."•
Please enable JavaScript to view this content.