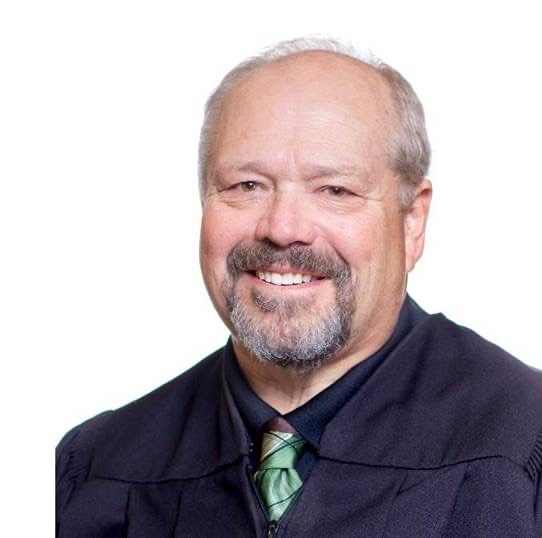 While participating in a youth government day during high school, now-Pike Circuit Judge Jeffrey Biesterveld fell in love with the law.
"I was allowed to shadow our local district attorney for a day and that experience made quite an impression on me," Biesterveld recalled.
That was the day Biesterveld decided he wanted to pursue a legal career.
This month, the rural Indiana county judge celebrated four decades of legal practice.
A native of Kaukauna, Wisconsin, roughly 20 miles from Green Bay, Biesterveld graduated from St. Norbert College in his home state in 1979 before traveling cross-country to receive his law degree from the Thomas Jefferson School of Law in California.
He then moved to Indiana, where he was admitted to the Indiana bar in 1982. His legal career began by serving part time as a chief deputy prosecuting attorney for Pike County while simultaneously serving as an associate at the local law firm of Gray Fleig and Biesterveld, where he became partner in 1989.
Biesterveld then became a full-time prosecutor in 2000 before being appointed to the Pike Circuit Court by Gov. Joe Kernan in 2004 and taking office in 2005. He was subsequently elected to the bench in 2006, taking office in 2007.
As a legal practitioner and the only judge in a rural Indiana community, Biesterveld said the lack of resources is the greatest challenge facing his county.
Basic amenities and services are located anywhere from 20 to 45 miles away, he said. His community has no hospital, limited counseling and limited employment opportunities, among other challenges.
"We have adapted by co-opting with other counties in our area such as being part of a regional community corrections program," Biesterveld said. "Discussions about regional specialty courts — like veterans and drug courts — have been ongoing within our judicial district."
Biesterveld is the latest Indiana trial court judge to be featured in the Indiana Lawyer spotlight series focused on the state's judicial officers in more rural communities. Here's what he had to say about being a judge, the practice of law and life off the bench.
What's something you've learned about yourself since taking the bench?
Since I've taken the bench, I've learned that listening is the most important part of the job. Every case, no matter how important, deserves a judge's full attention.  Every case that comes before you on any given day is that litigant's most important issue and deserves to be treated in that fashion.
What has been the most fulfilling aspect of serving as a judge?
I take pride in making sure that everyone gets their day in court. The right to be heard is what makes our system of legal justice the best in the world.
Name a memorable moment or experience from your time as a judicial officer that you'll never forget.
I can't say that I have one particular moment that I will always remember, but I will fondly remember the numerous jury trials that I have presided over. That experience from start to end is something that I will cherish and feel a sense of pride about.
What's your favorite thing you do once you get home at the end of the day?
I like to spend time with my family and friends, which has been a challenge since (the COVID-19 pandemic). My wife and I live just outside of Petersburg on 11 acres, which includes a two-acre lake. Luckily, we get to spend time outdoors with our kids and grandkids. Fishing is my favorite pastime and I try to take a fishing trip with my sons at least once a year.
What's a song, book or podcast that you've been gravitating toward recently?
As a history major in college, I really get a lot of enjoyment from studying the past. As a kid growing up in Wisconsin, Vince Lombardi and the Green Bay Packers played an important part in my life. I recently read a book by Dave Maraniss entitled, "When Pride Still Mattered." It is a history of the life of Coach Lombardi and his early career in Green Bay. I am also interested in the history of the Orphan Train children relocated from the eastern United States throughout the Midwest. My grandmother was one of those children, which makes that history hit closer to home.
Where do you receive inspiration and/or encouragement?
I receive inspiration from my family. Every parent wants something better for their kids and wants them to grow up to be a good person. In my family I am lucky to have an elementary school vice principal, an attorney and a nurse. I am inspired to see their continued growth in our small community in their volunteerism with local organizations and their own families. I am proud of what they have accomplished so far and look forward to what they will continue to achieve.
If you could change one thing about the practice of law, what would it be and why?
If there were one thing I could change about the law it would be to bring back civility. Young lawyers don't seem to have that as a goal any longer. It is "win at all costs," and that approach is not a good trend. I was fortunate as a young lawyer to be around a local bar and judges who guided me in the art of civility. I try to instill that in any of the young lawyers I am around.
What is one thing you wish the legal profession knew about you that they don't already?
The one thing I wish the legal profession knew about me that they don't already know is how much I appreciate my fellow judges and local attorneys for their support and consideration. When my wife was diagnosed with cancer several years ago, many stepped up to help my family, and there is no way that they can know how much that support meant and continues to mean to me today. I have now developed mad nursing skills that I didn't know I had in dealing with continued medical issues, and that would be impossible without their support.•
Please enable JavaScript to view this content.