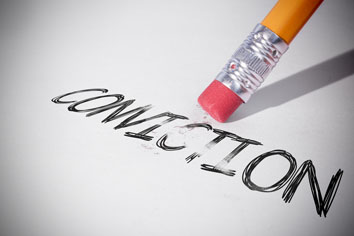 The Bloomington Expungement Help Desk, founded by Indiana University Maurer School of Law graduates Jessica Beheydt, David Medley, Ingrid Barce and Natalie Fiacco, offers free expungement services to individuals facing roadblocks to housing, jobs and opportunities due to their criminal record.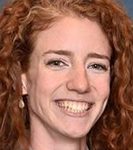 Through their work, the graduates formed a partnership between IU Maurer, Indiana Legal Services and re-entry nonprofit New Leaf New Life to launch the Expungement Help Desk for members of the community in early 2019.
Beheydt postponed the help desk's original launch date of August 2019 after receiving a cancer diagnosis just weeks following her law school graduation in the spring. Although she was unable to run the help desk and take the bar exam at the time, Beheydt is now cancer-free and running things full-speed ahead.
"I ended up having to push back the open date to January 2020, then at the same time I was studying for the bar," she said. "It was a busy time, but it was a lot of fun trying to get that off of the ground finally, after having to wait so long."
Rolling out
During opening at the New Leaf New Life physical location in Bloomington, Beheydt and her team of seven IU Maurer students worked on getting their systems in place, managing case flow and determining who would be responsible for certain tasks.
"You always have an idea of what's going to work and you have this beautiful plan in your head. Then you actually start trying to do it and you realize very quickly what doesn't work," she said.
Originally, Beheydt said the team had thought that more people would want to come in person to do intakes. But they quickly realized coming into a physical space wasn't as convenient as applying online or speaking over the phone. Transportation varied for each client, making accessibility tricky.
Another issue to tackle was effective communication among the help desk team members. The solution, Beheydt said, was a master spreadsheet accompanied by the Indiana Legal Services case management system.
"We have two different ways of tracking our cases and it, for the most part, prevents things from falling through the cracks," she said. "We are constantly going back and forth making sure that we are updating every case and making sure clients feel that they are being heard and if they have any questions then they know exactly who they need to reach out to."
Ultimately, the hope is that clients of the help desk don't feel like just a number.
"We want to make sure they feel like they are not wasting our time or bothering us, that they can really just call about anything if they need help," she said.
Switching gears
The help desk had exactly two months of in-person interaction with clients before having to close its physical space due to COVID-19. The team had just started getting good word-of-mouth and distributing flyers, letting everyone know free expungement help was available.
"That was really difficult. It felt like we were letting down the community; of course, no one really had a choice at that time," Beheydt said.
Shifting tactics wasn't as challenging as it could have been when the pandemic hit. After informing its community partners that the help desk would be virtual for the foreseeable future, the team got back to work by answering calls and working with clients online.
"We were already working remotely by being at New Leaf New Life instead of at Indiana Legal Services," Beheydt said. "So our entire system was already designed to be remote work, which made it perfect for the transition. We were already designed for that, so that was good."
Since its launch in January, the help desk has served 145 clients with 118 expungements granted. Of those, the help desk worked with 64 clients from 31 Indiana counties. Of the remaining clients, 81 advice letters were mailed out to individuals who were not currently eligible for an expungement.
Eighty-two cases are currently open and pending, Beheydt said. Additionally, the help desk has assisted clients in securing a total of $7,442.50 waived in court costs, filing fees, fines and other fees.
Getting experience
The first few months were critical, Beheydt said of the launch. Students were a massive help getting the system off of the ground, helping to draft templates and letters and offering suggestions for improvements. Since January, IU Maurer students have clocked 1,500 hours of time worked with the help desk. It's received funding through the IU Center for Rural Engagement to help pay the law students for their work, Beheydt said.
During her 1L spring semester at IU Maurer, Margaret Bott began volunteering at the expungement help desk every two weeks. After learning the ropes, Bott spent eight hours a week working with clients during the summer.
"It's been really great. I get to write the petition — I don't file it — but I am there from start to finish and that is really interesting," Bott said of working with expungement clients. "I feel like it is very tangible and hands-on and I feel like it's a really good learning experience."
For Nathan Danish, an IU Maurer 2L, working at the help desk has also been enjoyable. With no prior experience in criminal law, he said Beheydt has been an incredible mentor. He plans to continue volunteering at the help desk in the upcoming semester.
"She is really great at keeping a tight-knit group of student interns who process a huge number of cases per week. It has been really great to have her explain what expungement is to me and explain the impact it has on people's lives," he said.
While the work might often be filling out forms and collecting financial information from clients, Bott said the work is really important and impactful for clients.
"I often think about how much power lawyers have to do good for people. For a law student and a lawyer, it's not rocket science, but without Jessica or the other students to help … it's complicated if you don't know what you're doing," Bott said. "We hold a lot of knowledge and power to help people."
A year in review
Despite some setbacks, the early days of the help desk suggest a promising future. Coming up on its one-year anniversary, the desk is fully functioning and running strong. Beheydt said the progression has more than she could have hoped for.
"I'm so excited for the future of the help desk. I saw these numbers and I was blown away. I'm absolutely thrilled," she said.
Beheydt plans to leave her position with the help desk in August 2021 when she wraps up her 2019 Skadden Fellowship. The team is currently seeking funding for a full-time attorney to fill her spot with the hope of being able to continue the expungement work for years to come.
"I can't even think of the number of people who could benefit from the service that we haven't been able to reach out to," she said. "The more efficient we get with these cases and more volunteers that we are able to train to have on board, the more people we will be able to help. That's incredibly exciting."•
Please enable JavaScript to view this content.