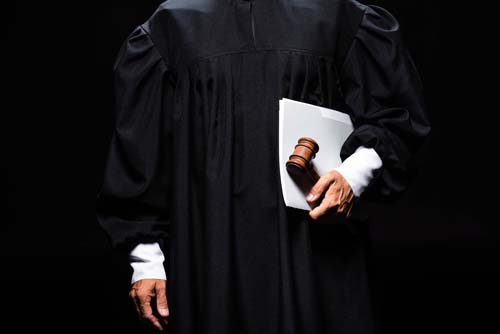 The law has always been part of Greene Circuit Judge Erik "Chip" Allen's life in some form or another.
His father was an Indiana State Police Officer, and he had other family and friends in law enforcement who exposed him to that world. So, as he started to consider his own career options, the law was on his radar.
But instead of law enforcement, Allen opted for the practice of law, believing that career path would offer him the opportunity to work in his hometown of Bloomfield, where he could build the life he envisioned.
"I love it here in Bloomfield and I'm very committed to the community, and I started thinking about careers that would allow me the opportunity to make a living and have the flexibility to live where I wanted to live and do some things I wanted to do," Allen explained. "The law fit that, with having the exposure in my background and thinking about what I wanted out of life."
Starting out as a general practitioner, Allen said he always had the bench in the back of his mind. The opportunity came in summer 2006, when Gov. Mitch Daniels appointed Allen to succeed a long-time judge who was retiring.
Allen then won the November judicial election later that year and has stayed on the Greene Circuit bench in the nearly 17 years since.
"There's no other job that I hope to ever have during my working life," he said. "It is truly an opportunity to make a difference for people in their lives."
Allen is the latest Indiana trial court judge to be featured in Indiana Lawyer's Spotlight series profiling judges in more rural communities. Here's what he had to say about life on and off the bench.
 Where did you grow up?
I grew up here in Bloomfield in Greene County. I've lived here virtually all my life, with the exception of a short time when my dad got on the State Police and we lived in Boone County for a short time. Otherwise, I lived here except when I was in college and law school.
Where did you go to college?
I went to undergrad at Indiana University in Bloomington and law school at Indiana University in Indianapolis.
What year did you graduate law school?
1999.
Tell me what got you interested in pursuing a career in law.
As I said, my dad was a state police officer, and I've got several family members — my brother was a state police officer, my best friend's a state trooper and I had other family members — that are in law enforcement, so the law was kind of always in front of me. But probably as much as anything, I was just starting to think about what I wanted to have as my life priorities once I was getting later in my college time, and really determined that I wanted to live where I grew up in Greene County.
When you graduated, what kind of law did you practice?
I started out in a general practice small firm and had tremendous mentors. I had the opportunity to do just a little bit of everything, from public defense work, private criminal defense, we represented schools and towns, the hospital board, did transaction work and family law — just did a little bit of everything.
Did you stay with that same firm until you became judge?
I was with the same firm and then had the opportunity to work part time in the Clay County Prosecutor's Office for a while. Then just a little over a year before I was appointed as judge, I was appointed as a chief deputy prosecutor. That was a full-time position, so I closed out my private practice at that point.
Tell me about becoming a judge.
I was appointed and started July 31, 2006. I was appointed by Gov. Daniels. We had a long-term judge, Judge David Johnson, on Greene Circuit Court that preceded me, and he had served just short of 30 years. I was fortunate enough to receive the appointment at the time that I did and have been very blessed with the position.
Was being a judge something you were always working toward?
When I was in law school and looking at what I thought I wanted out of not just my life but my professional life, as well, looking at my strengths and weaknesses, I thought that being a judge here is something that would really suit what I had to offer. Hopefully I've been able to be a good fit for the community, as well.
Looking at those strengths, specifically, what do you think you bring to the role of a judge?
Hopefully patience, the ability to hear each side of cases, and listen to people and really give consideration to their position. I don't think anybody could ever expect somebody to always agree with you, but really, my goal is to hope that everybody feels they've had the opportunity to present their case and they've been listened to, and just give my best effort to take the information I have and make the best decision that I can.
What do you enjoy most about your job?
There are a lot of things that I really enjoy about the job. You always figure that in most circumstances, people are coming into the courtroom at some of their most challenging times and you have the authority to give them a break when it's warranted, or hold them accountable in more extensive ways when that's warranted, but also you just really have the resources and the authority to make decisions to help people out and guide them to better decision-making and better circumstances in their life. It's very rewarding when that works out.
Oftentimes you see it in criminal cases — folks that have been held responsible for decisions they've made, they've probably gone to prison for a period of time. We have the opportunity to follow how they're doing, modify their sentences and it's really rewarding when you have somebody come back and say, "That's what really needed to happen, I've really made a change in my life." You see those folks move forward and they really have made a positive change for themselves and their families, and to play a small part in that is very rewarding.
On the flip side, what's difficult about the role of judge?
Oftentimes, you have to make decisions that immediately impact people's lives and you don't always — and very seldom, actually — know whether that decision is the right or wrong decision. You just take the information you have, consider the law and do the best that you can. But I always say that oftentimes, cases with bad facts are horrible circumstances, but they're not particularly hard decisions. A lot of family law cases where families can no longer live together and you have to make a decision — perhaps by becoming a part-time parent when they're both really good people — those were really hard decisions. The impact that you have on people's lives is immediate, and you never really know for sure if that's the best decision or not.
Are there any challenges you think your county faces being smaller and more rural?
That's a question that we all deal with a lot looking at our resources — that's the easy response, I think, is having access to services. I think everybody struggles with that, large and small areas. But in the more rural areas, certainly mental health providers and substance abuse providers and just service providers for all the needs — it's getting tough to find those services and people to do a good job with it and get people into those services in a timely manner. We all struggle with those issues in larger areas and in the more rural areas. But we're also seeing, and we're not unique in this, really the number of lawyers in the rural communities, we're struggling to meet the need for lawyers and hiring, whether it's public defenders or in the prosecutor's office or just having private attorneys. I think there are opportunities in the rural areas, but we're just not able to either have people come back home that are from the rural communities or draw people in right now to meet the need for legal services. And that's really a challenge.
I've heard about some efforts to create regional areas where counties can share some of the services or resources you're talking about. Have you had the opportunity to participate in any of those?
I've not officially participated in any of the discussions with that, but I'm aware of what you're talking about, and from the allocation of resources perspective, that's probably good when you can combine resource from various areas; that's a positive thing. But the allocation of the resources and where that would get used, I think that would be a challenge in some respects, but I've just not had enough information on that to really determine all the challenges or all the benefits that there would be for us in that type of situation.
What's it like for you to do this work in the same place where you grew up?
Overall, it's a wonderful experience. I wouldn't want to do anything else. I truly enjoy my job each day; there's never a day that I don't want to come to work. But it does have its challenges. There are times you're having to deal with circumstances with people that you've known in your past or know a little bit in the community, and sometimes that gets a little uncomfortable. But I always feel like if you just do what you feel is right, do the right thing, that you can move forward with that and avoid a lot of the issues.
When you're not working, what do you enjoy doing?
I enjoy spending time my family. I love high school basketball and other high school sports; my kids have been involved with that. We attend things as family, we spend a lot of time outside. My wife and I and the kids would go riding our side-by-side Polaris Ranger out through the county, and just spending time with family and friends and doing different things that we enjoy.
Anything else about your job you want to share?
In rural communities, I think we're very blessed. We have a tremendous bar association here in Greene County, and I think we've always been well-served. Our emergency services are outstanding, our public defense services are outstanding, and I think we've always had solid individuals serving in our judicial roles and in our prosecutor's office. People are very well-served, whether it's a criminal case or a CHINS case or any other type of case. Everybody does their job and understands that each of us has a job to do, but once we're out of the courtroom or out of litigation, everybody has good relationships. It's really rewarding to have those relationships with the other attorneys, and I'm just very proud of the attorneys that we have here in the county; they do a very good job. Those relationships are really nice to have, and I'm not sure that you have the opportunity to have really good relationships in all circumstances.•
Please enable JavaScript to view this content.