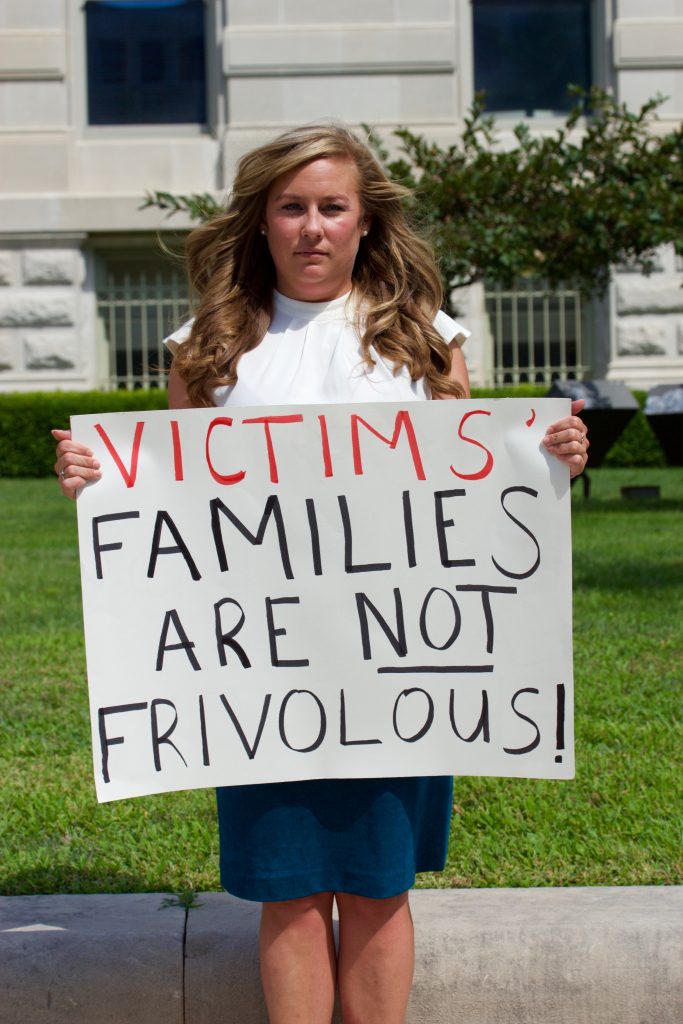 A text message turned Indianapolis attorney Ashley Kincaid Eve's morning from hopeful to devastated.
Waking up was bewildering after a night of protesting the planned federal execution of Daniel Lewis Lee, who was on death row for killing a family in the 1990s as part of a plot to build a whites-only nation. Despite opponents' several attempts to halt the execution, it went ahead after the U.S. Supreme Court gave it a green light in a 5-4 decision hours earlier.
The last thing Eve expected was a message saying the stay had been lifted and Lee was already dead.
"You go to bed with hope thinking there is no way in the United States – supposedly one of the best countries in the world – that these kinds of decisions are going to be made in the shadiest of circumstances while citizens are asleep under the cover of darkness," she said.
Eve was one of more than a dozen death penalty protesters who claimed that their First Amendment rights were violated when Indiana State Police set up roadblocks that kept capital punishment protestors almost 2 miles away from the federal prison in Terre Haute while three executions took place there last month.
She and other protestors subsequently filed a lawsuit against ISP in Ashley K. Eve, Abraham J. Bonowitz, Bill Pelke, Karen Burkhart, Rev. Bill Breeden, Death Penalty Action, Indiana Abolition Coalition, Sisters of Providence of Saint-Mary-of-the-Woods, Indiana, v. Superintendent, Indiana State Police, in his official capacity, 1:20-cv-2036. 
Represented by the American Civil Liberties Union of Indiana, the protesters asked the Southern Indiana District Court to issue an injunction that would allow them to protest immediately outside the main entrance during federal executions scheduled for later this month and September.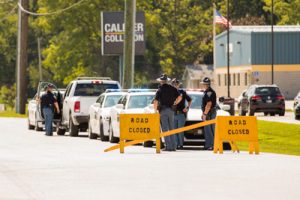 State police quickly agreed to stop blocking roads to the prison, however, filing a joint notice in federal court last week that says ISP will no longer prevent demonstrators from convening near an intersection across from the facility. In return, the protesters' lawsuit will be dismissed.
But as she has sat a distance away last month watching state police come and go as the executions took place, Eve felt "deeply disturbed."
"There was no rational argument whatsoever that could explain or justify not allowing us near the prison," she said. "I felt like if my own state police are going to violate my constitutional right to help publicize a killing that theoretically Indiana does not have an interest in, I wanted to stand up and say that was wrong."
Finding her foe
Eve's introduction to capital punishment was at the age of 13, when she heard enthusiastic discussions about the execution of 1995 Oklahoma City bomber Timothy McVeigh. So when she was invited to take a criminal justice class years later in 2008, she was intrigued.
During the class, renowned death penalty foe Monica Foster spoke about her experience as a freshly graduated law student taking on the case of Gary native Paula Cooper, who was sentenced to death in 1986 for her involvement in the fatal stabbing of 78-year-old Ruth Pelke. Cooper, 15 when the crime was committed, was the nation's youngest person to be put on death row at age 16.
Foster, who is now chief public defender for Indiana Federal Community Defenders, spoke to Eve's class about her work with the victim's grandson, Bill Pelke, to get Cooper's sentence commuted to a prison term. Eve's interest in the issues around capital punishment was piqued. 
"Just seeing Monica speak in the first place – she's a spitfire and she was so passionate. And I remember thinking, 'That's exactly the kind of person I want to be.' I want to do something that gives me that kind of passion and cause in the world," Eve recalled.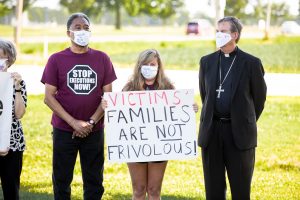 Although she hadn't totally decided on whether to attend law school, Eve did decide to get more actively involved in anti-death penalty matters. That summer she attended the Abolitionist Action Committee's Annual Fast & Vigil on U.S. Supreme Court's sidewalk in Washington D.C., where she met the event's founder, Bill Pelke.
"That event transformed my life. I got to know Bill, but also leaders in the abolition movement. Then I met a lot of death row exonerees and people with their family members on death row that really impacted me," Eve said.
But learning about the controversial 2011 Georgia execution of Troy Davis — who proclaimed his innocence but was denied relief even after multiple witnesses recanted — convinced Eve that law school was her only option moving forward.
"To live in a country that allows the execution of innocent people devastated me and floored me," Eve said. "It pretty much convinced me that I had to go to law school to help expose to fatal flaws in our system and turn it into the just system that we all believe that it is."
Becoming a leader
Upon graduating from Indiana University Robert H. McKinney School of Law, Eve spent more than a year doing trial work with the Marion County Public Defender Agency — a job she got after working on three death penalty cases during law school.
Having recently stepped away from her public defender position, Eve is now moving into more of a leadership role in the movement to abolish the death penalty.
"With the ramping up of the federal execution, it feels like a really good time to make that leap," she said. "I have always looked at my legal career as a calling, and it was the death penalty that definitely got me there."
In her steps toward becoming a leader in the death penalty abolition movement, Eve is already serving as an active presence and voice against capital punishment. Helping to initiate the lawsuit against the ISP was a major component of that.
"Honestly this lawsuit is almost like a dream come true," Eve said. "Twelve years ago I remember dreaming about the day when I would have the education and experience and knowledge to really make a difference in the field. The past 12 years have been about trying to be someone who can make an impact.
"I finally feel like I can be the leader in the death penalty movement that I have always wanted to be," she added.
Pelke, who has become good friends with Eve since meeting on the Supreme Court's steps, said he is encouraged by her.
"To see a young person with that passion, to me, is very refreshing. I want to do all I can do to encourage her to continue," Pelke said.
Eve is currently an advisory member of Ohio-based Death Penalty Action and plans to get more involved in a consultant role. In the meantime, she's busy with her private practice but hopes to launch a nonprofit that seeks to create awareness of social justice issues in the future.
But the ultimate goal for her legal career, Eve said, is to represent inmates on death row.
"It doesn't matter what anybody does. I'm a public defender, so at heart I'm charged and tasked with defending those accused of sometimes horrible things," Eve said. "I can't help but empathize with the person being executed. I acknowledge that what they did was evil, but I can't help but see the evil present in the premeditated killing of another person (through the death penalty)."
Please enable JavaScript to view this content.