Wabash College junior Cooper Smith, who has interned with legal organizations and has plans to become an attorney, has earned a Harry S. Truman Scholarship, one of just 58 undergraduates across the country selected for the national fellowship award.
"This is an honor I've dreamed about for a while," Smith said in a press release. "I'm going to meet with other phenomenal young leaders from so many different professional and personal backgrounds. I'm excited for the opportunity to get to know and collaborate with the other 57 winners."
The Harry S. Truman Scholarship Foundation seeks to identify and support rising "agents of change" in society who are deeply passionate college juniors engaged and committed to addressing pressing issues through public service. The foundation nurtures the aspiring leaders by recognizing and rewarding their commitments to careers in public service.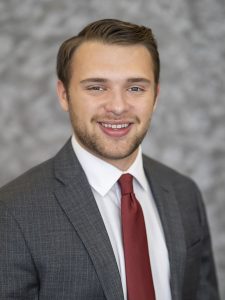 Smith, a native of Sellersburg, is the eighth Truman Scholarship winner from Wabash College and the first since Timothy Flowers in 2005.
A political science and history double major, Smith is currently studying abroad in Valparaiso, Chile. He has served as the news editor of "The Bachelor," the college's student newspaper; as chair of the Constitution, Bylaw and Policy Review Committee of the Wabash Student Senate; and treasurer of the pre-law society. Smith is also a two-time winner of the Wabash Moot Court competition.
Beyond the Wabash campus, Smith has served internships with the Legal Aid Society of Louisville, Kentucky, the Innocence Project of Florida and the Indiana Attorney General.
"The application invites students to identify a problem or need in society that they are committed to working on and to articulate their vision for completing that work," Wabash College Fellowship Advisor Susan Albrech said of the Truman Scholarship.
"There is no doubt that many Wabash men will go on to make a significant impact in their chosen field and in wider society, but what really stands out about Cooper is how much work he has already done towards addressing the problems he sees," she continued. "Cooper has demonstrated a level of commitment and vision beyond what is commonly seen in someone his age."
Scholarship winners come from many academic backgrounds and may hold a vision for change in any area of local, state, national or international society. Smith's focus is on the intersection of criminal justice reform and economic justice.
Nick Maraman, a 2010 graduate of Wabash College, was Smith's supervisor at the Legal Aid Society in Louisville during winter break 2020-2021 and the summer of 2021.
Maraman said that even as an undergraduate, Smith has a sophisticated understanding of the law's impact on the indigent. He is genuinely interested in a public-service career that drives reforms for the marginalized and is highly motivated to work with and for colleagues and clients.
"Each and every one of the students who works at a legal aid office sees the impacts that our laws have on our vulnerable clients," Maraman said. "Cooper was the rare student who delved into these issues a step further. He would fully immerse himself in the law and offer possible solutions. He is interested in the law and public policy for all the right reasons. For him, the goal is to make people's lives better, to make our communities better, and to make our country better."
Please enable JavaScript to view this content.