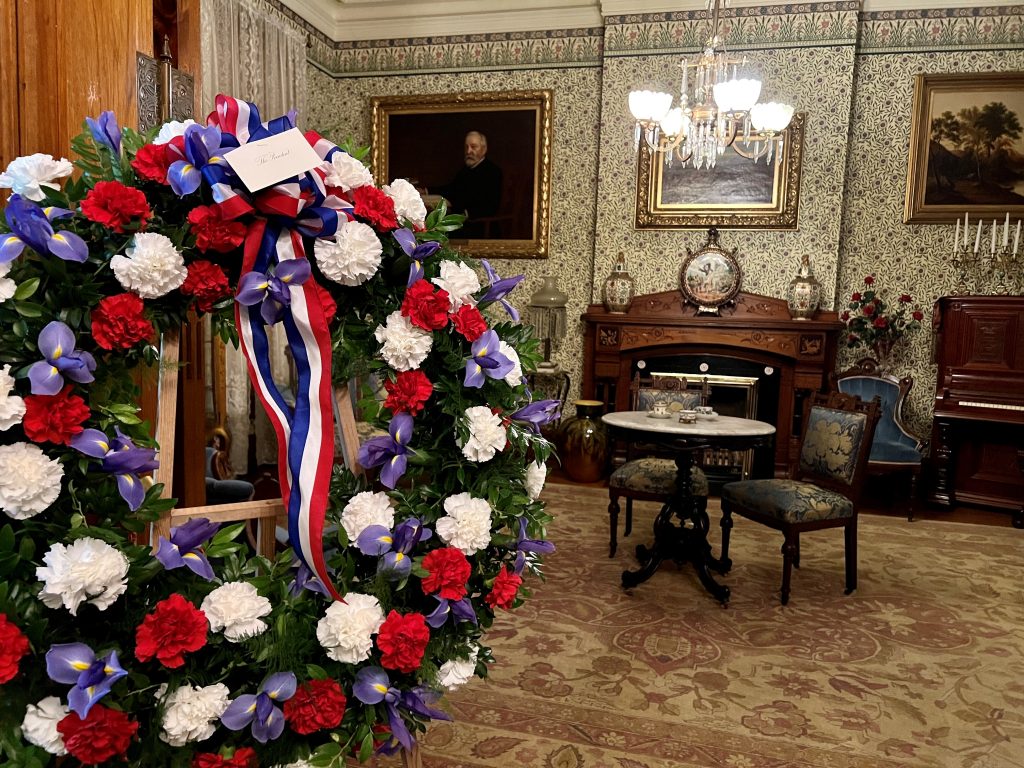 To commemorate President Benjamin Harrison's 189th birthday, a wreath sent from the White House will be laid at his gravesite in Crown Hill Cemetery in a special ceremony Friday morning, which will be followed by a celebration at his home Saturday with free tours and, of course, cake.
The wreath — featuring red, white and blue flowers and a card from President Joe Biden — is currently on display at the Benjamin Harrison Presidential Site. It will be placed at the Hoosier president's tombstone in a ceremony that will begin at 11 a.m. tomorrow and is open to the public.
Every year, the White House sends wreaths to be laid at the burial sites of former presidents to honor their service. The annual wreath-laying ceremony for Harrison is done jointly by the presidential site and Crown Hill.
"It's our charge to help steward that legacy of Benjamin Harrison as America's Hoosier president, really to better share and understand those things that he did in life," Charles Hyde, president and CEO of the Benjamin Harrison Presidential Site, said. "And for Crown Hill, their charge is to steward Harrison's remains in death."
On Aug. 20, Harrison's actual birthday, the presidential site will celebrate from 10 a.m.-3 p.m.
Visitors can tour the first floor of his 10,000-square-foot Italianate Victorian family home and sing "Happy Birthday" while enjoying a complimentary piece of cake. Also, guests will be able to enjoy the new outdoor Sarah Evans Barker Citizenship Plaza, which includes displays of America's founding documents and a "Book of History" listing the names of every person naturalized as a citizen at the presidential site.
Even Indianapolis attorney Charles Braun will be on hand, reenacting the 23rd president.
"He is both very knowledgeable about Benjamin Harrison and has an uncanny resemblance to him," Hyde said of Braun.
Those wanting to attend Saturday's festivities are asked to pre-register.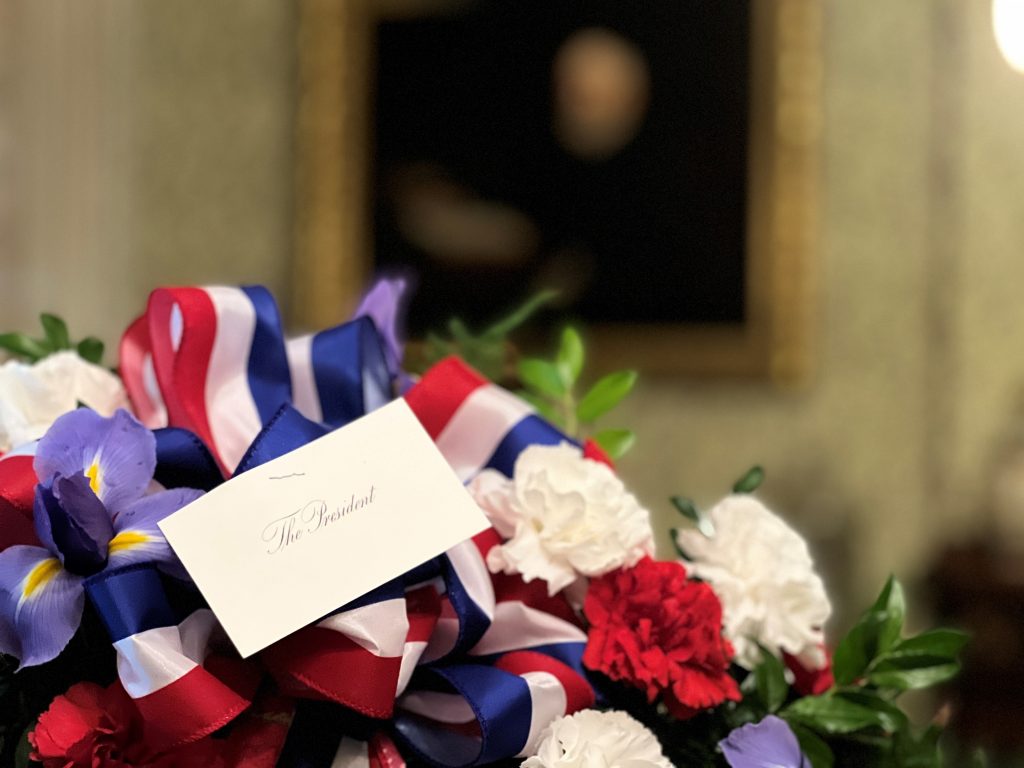 The wreath-laying ceremony is part of a "great tradition" of sitting presidents recognizing those who have held the country's highest office, Hyde said. Putting aside politics, the wreaths are a way for presidents to honor the legacies of their predecessors.
That tradition was punctuated in Indiana when President Theodore Roosevelt took time from an official visit to the Hoosier State to place a wreath on Harrison's grave.
While president, Harrison had given Roosevelt his first job in the federal government. The two had clashed occasionally, but they respected each other.
Roosevelt brought the wreath with him from Washington, D.C., and laid it on Harrison's tomb without any media or public fanfare. Later, in response to a letter from Harrison's widow, Roosevelt wrote a note acknowledging he had left the wreath as a way to pay his respect to his "old chief."
The Benjamin Harrison Presidential Site has Roosevelt's note in its collection.
"To have that note, to understand that larger story of presidential leadership and legacy, it gives you some really great insights, I think, into certainly those two individuals and their relationship, but it also speaks to the larger American story," Hyde said. "It makes that all the more powerful."
Please enable JavaScript to view this content.