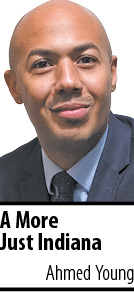 May 2011 was a magical time for me, personally and professionally. I completed all course work and passed exams required to participate in the annual commencement at Indiana University Robert H. McKinney School of Law. I began the march toward the bar exam while continuing to juggle family and work, with an eye toward the future.
A legal education was a continuation of my pursuit to serve, grow and challenge myself intellectually. During the course of the three-year commitment, I was able to do all three, with varying degrees of success. I volunteered on several initiatives connected to and away from the law school. I stepped into arenas that prior to my matriculation, I had not entertained or feigned interest in experiencing. The challenges presented satiated my thirst for rigor and thought-provoking dialogue. I left McKinney a more thoughtful, committed lifelong learner who was primed to have an impact.
What I did not anticipate was how emotional I would feel as I got closer to commencement. The accomplishment was not lost on me. As a student of history, I have been intimately aware of the role laws, attorneys and judges have played in the American experiment and the continued evolution of the United States.
Without a direct challenge to unjust laws and practices, the status quo becomes a dominant force that permeates life, cultures and the practice of law. Direct confrontation epitomized the spirit of many living in segregated America leading up to civil rights movement of the 1960s. From Dred Scott's decision to sue, though unsuccessfully, for his family's freedom upon stepping into a free state in the 1850s to Ida B. Wells suing a train company for unfair treatment and most importantly exposing to the world the realities of American life — particularly the horrors of lynching — while highlighting the intersectionality of race, voting and feminism.
The courage of Wells and Scott was a precursor to an uprising in direct action that became known as the civil rights movement, where citizens openly rebelled against repressive laws and practices; in courts of law, jails, across bridges and farms our fellow Americans sacrificed life and limb seeking a better country. Charles H. Houston was a key figure in challenging the legality of Jim Crow laws, homing in on schools and housing. The NAACP strategy was multifaceted and multijurisdictional. He helped train and lead a cadre of attorneys who traversed the country challenging entrenched racist practices and policies. One attorney who was trained and mentored by Mr. Hamilton was Supreme Court Justice Thurgood Marshall. Justice Marshall was one of many attorneys who leveraged their legal education to combat injustice.
Of a similar mold was the late Vernon Jordan. Though not a Hoosier native, Mr. Jordan spent significant time here in our beloved state, dating back to his undergrad years at DePauw University. His time in Greencastle tested his mettle, being the only African American of the then 400 students in the segregated downtown, as well as playing catch-up upon the realization that he was not adequately prepared for the academic challenges he found on campus. Though he successfully completed his studies, the challenges served as a reminder of the work needed to create a more equitable society. He left the confines of DePauw to the more hospitable and welcoming campus of Howard University, where he studied law at the same school Houston served as dean.
After graduating from Howard's School of Law, Jordan returned to his place of birth, Atlanta, to practice law. He immediately became active in litigation challenging discriminatory practices in higher education. Those experiences dovetailed perfectly into even more direct activism as he transitioned into leadership roles with the local National Association for the Advancement of Colored People and other related organizations. The departure from the direct practice of law continued as he stepped into the limelight as the leader of two prominent organizations, the United Negro College Fund and the National Urban League. During his time with UNCF and the Urban League, Jordan not only expanded membership, but he also created new allies while confronting systemic racism that impacted the lives of millions of Americans.
Jordan returned to practice law and continued his advocacy while bringing attention to diversity, equity and inclusion before it became en vogue during the last 10 years. The corporate boards he was a member of and in many instances led, paved the way for entrepreneurs, attorneys and others who had been denied access and respect for generations.
Jordan inherited a deep commitment to service and the upliftment of the Black community. This spirit was initially planted growing up in Atlanta, continued to be nurtured while attending DePauw and began to blossom at Howard University. That spirit was articulated very clearly during the commencement address Jordan delivered back on May 14, 2011. He took the stage and wore the graduation attire like a seasoned professional. After a few student and faculty speeches and awards, former IU McKinney Dean Gary Roberts took the stage to introduce Jordan.
The typical commencement speech follows a formula of retelling one's personal history, what it took to be successful, then concludes with a challenge to the graduates. Jordan's may have followed a similar construction; the substance moved me and reverberates to this day. He spoke about sacrifice, commitment to others, and fighting for justice in a way that I had not heard in person. He made it plain, direct and forward-facing, encouraging me to examine the role I play as an attorney, a citizen and more importantly, a husband and father. Jordan passed less than a month ago. Since then, Howard University School of Law has named their library in his honor while others across the globe told stories of his mentoring, encouragement and legacy.
A legacy that we in the state of Indiana, particularly those practicing law, should recount regularly. Members of this bar must stand for justice; we must act in the best interest of those who have less access to power and empower those who have been historically oppressed. Why? It is the just course of action that will make all of our lives richer and more fulfilling.•
• Ahmed Young is general counsel and chief of external affairs for Indianapolis Public Schools. Opinions expressed are those of the author.
Please enable JavaScript to view this content.