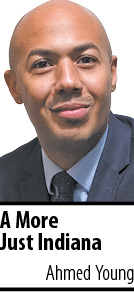 "None of us can rest, be happy, be at home, be at peace with ourselves, until we end hatred and division."
"When you see something that is not right, not fair, not just, you have to speak up. You have to say something; you have to do something."
"A democracy cannot thrive where power remains unchecked and justice is reserved for a select few. Ignoring these cries and failing to respond to this movement is simply not an option – for peace cannot exist where justice is not served."
— John Lewis
A collective approach to evaluate, critique, plan and deconstruct inequities within the legal system is the only way we can improve a legal construct created more than 240 years ago. A bit closer to home, 204 years ago, Indiana was granted statehood, with the adoption of the Indiana Constitution coming nearly 35 years later. Our very own state Constitution, similar to the U.S. Constitution, lays out a very ambitious goal in its preamble. The preamble of the Indiana Constitution states, "To the end, that justice be established, public order maintained, and liberty perpetuated; We, the People of the State of Indiana, grateful to Almighty God for the free exercise of the right to choose our own form of government, do ordain this Constitution."
Justice. Order. Liberty.
These three words are paramount to the successful establishment, maintenance and development of a representative democracy. Justice. Order. Liberty. Our nation's founding leaders spent significant time unpacking, constructing and warning our citizenry of the trappings and potential greatness of the system being cultivated. As our systems evolved through legislative, executive and judicial actions, inequities developed and were exacerbated, leading to significant access and outcome disparities. From the private practice of law to public service; from civil to criminal courts; from leveraging influence to being voiceless; we have an obligation to study how laws are being made, executed and evaluated.
More often than not, one's experience with the law may be determined by race and/or class. These two drivers predict with high degrees of certainty how an individual will navigate the legal system, be it civil or criminal. Privilege, wealth and power have for too long given those who possess them a leg up when it comes to navigating our legal system. It is incumbent upon practitioners to push the scales of justice toward fairness and balance.
Fortunately, we are not starting at level zero. Chief Justice Rush recently expressed in her Statement on Race and Equity, "To be sure, the complexities of race in America will not be solved by simply saying we will try to do better." I applaud her leadership. For years, the Indiana Supreme Court and bar associations across the state have sought to diversify the practice of law. Diversity is one prong of a three-point commitment that we must undertake in order to live up to the preamble of the Indiana Constitution. Though our state Supreme Court lacks racial diversity, the entity has invested in ICLEO since the summer of 1997. Former Chief Justice Randall T. Shepard, in collaboration with Gov. Frank O'Bannon and the Indiana General Assembly, established the Indiana Conference for Legal Education Opportunity "to assist Indiana minority, low income, or educationally disadvantaged college graduates in pursuing a law degree and a career in the Indiana legal and professional community." Indiana Code § 33-24-13. Since its inception, ICLEO alum have left an indelible mark on the Indiana bench and bar.
Organizations across the state have dedicated human and financial resources to build a diverse pipeline of talent that helps achieve their organizational goals. Law firms have created scholarship programs seeking to attract the best and brightest. Public defender agencies and prosecuting attorney offices compete for talent through mission alignment and direct targeting of potential hires.
One may argue that the pool of applicants has grown significantly while others push back on that notion. We must ask, what happens when an underrepresented candidate gets in the door? Is she entering an environment that challenges and values her unique skills and perspectives? It cannot simply be a numbers game; we must examine the quality of experience and ability to retain and nurture talent.
After a cursory study of our various bar associations across the state, there are various forms of commitments to diversity and recent work to address systemic inequities. The Indiana State Bar Association articulated a number of noteworthy commitments. IndyBar's mission is "To serve our members, promote justice and enhance the legal profession." The Marion County Bar Association strives for "Fairness. Justice. Equality."
Across the country, municipalities, state governments and related entities are finding ways to study and present data and solutions to multigenerational issues. Consider the New Jersey State Bar Association's newly minted Commission on Racial Equity in Law, which is "a panel of leaders in the profession that will take an incisive study of the legal system to identify methods of addressing root causes of inequities in the profession and in the law." This year the State Bar of California published its first annual Report Card on the Diversity of California's Legal Profession, which included a call to action for professionals. The Illinois State Bar Association approved a resolution that will create an association-wide program to further support and promote equal justice and full equality for all. How do we, in the state of Indiana, synthesize our efforts into a coordinated plan of action that addresses statewide and local issues of inequity? I call for our state Supreme Court, bar associations across the state, solo practitioners and major law firms, elected prosecutors, and public defenders to form a commission to dissect, then deconstruct, systems that are racially biased and lead to inequitable opportunities and outcomes for historically marginalized communities.
In the spirit of the human, civil and voting rights icon John Lewis, let's get into some good trouble together.•
• Ahmed Young is general counsel and chief of external affairs for Indianapolis Public Schools. Opinions expressed are those of the author.
Please enable JavaScript to view this content.