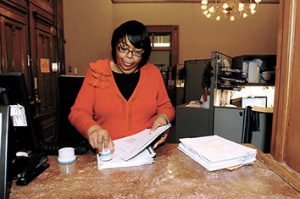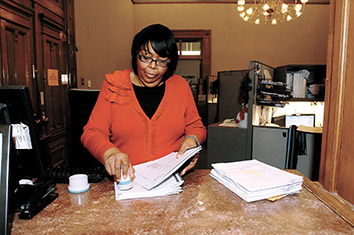 For the first time in Indiana's history, lawyers and litigants will no longer be able to file appeals the way it has typically been done.
Read More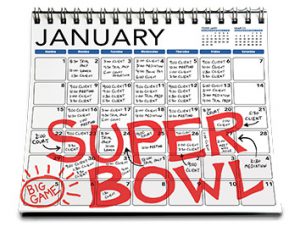 Law firms and courts in Indianapolis work to ensure smooth operations during Super Bowl week.
Read More
Figures in the latest Judicial Service Report show near record-level filings continue and that the state needs more judges.
Read More
As of Jan. 1, Indiana has 12 pro bono districts, down from 14. Some districts saw no change in their boundaries. But all saw a sharp decrease in funding from the year before, marking the third straight year of declining funds.
Read More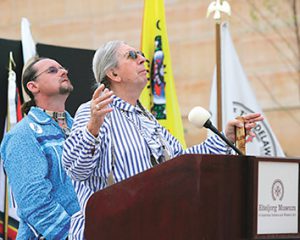 State senator says acknowledgment of the tribe is overdue.
Read More
Attorneys help plan for the big event in February 2012 in Indianapolis.
Read More
New laws and policies are prompted by the long-term effects of head injuries in sports.
Read More
The Indiana Lawyer would like to revive the trial report section of the newspaper in 2012.
Read More
Author Kim Brand says: you don't like passwords or complicated password policies and you don't think a secure password is worth the trouble.
Read More
Marion Circuit Judge Lou Rosenberg ruled Wednesday that Indiana Secretary of State Charlie White was ineligible to be a candidate for the state office in the November 2010 election because he allegedly committed voter fraud. Now, an appeal is being planned and many believe the case is on a fast-track to the state's highest court.
Read More
The Indiana State Archives will offer training in January and February for state and local governments on how to protect documents and records – such as deeds and payroll records – before, during and after disasters.
Read More
Hammond City Court Judge Jeffrey A. Harkin will begin serving his 60-day unpaid suspension on Dec. 27 as a result of an agreement he reached with the Indiana Commission on Judicial Qualifications and approved by the state's highest court.
Read More
Indianapolis-based Bingham McHale is merging with the regional law firm Greenebaum Doll & McDonald effective Jan. 2, the two firms announced Wednesday morning.
Read More
The 7th Circuit Court of Appeals has ruled that Indiana is allowed to enforce the statute that restricts out-of-state robo-calls while an appeal on the issue is ongoing.
Read More
Indiana Gov. Mitch Daniels shouldn't be excused from appearing for a deposition in a lawsuit challenging the cancelled multi-million dollar contract with IBM to modernize the state's welfare system, according to Marion Superior Judge David Dreyer.
Read More
The Mexican American Legal Defense and Education Fund has filed a lawsuit on behalf of La Union Benefica Mexicana, a nonprofit organization in East Chicago, protesting two previously unchallenged portions of Indiana's new immigration law.
Read More
Two women face charges – including forgery and theft – for filing false claims with the Indiana State Fair Remembrance Fund and the Indiana Tort Claim Fund, the Marion County Prosecutor's Office announced Tuesday.
Read More
Read who's been suspended from the practice of law in Indiana.
Read More
The Indiana State Bar Association's Young Lawyers Section sponsored families this past Christmas.
Read More
Read about the 2012 Defense Trial Counsel of Indiana board of directors.
Read More
Three hundred sixty five days sounds like a long time, but 2011 has flown by very quickly. This is my last column in Indiana Lawyer.
Read More
Charging juveniles as adults is a topic that has garnered media attention lately with a rash of gun-related deaths among teens. It's also an area where we need to balance sympathy for the victims and for the minor offenders.
Read More
Attorneys looking to profit from their experiences at trial take note: the principles behind the so-called "Son of Sam" laws, which prohibit criminal defendants from profiting from the publicity of their crimes, may apply to you too, at least during the pendency of a criminal case.
Read More