JULY 2-15, 2014
Same-sex couples rushed to obtain marriage licenses and get married after a federal judge overturns Indiana's ban on same-sex marriage, but a stay was issued just two days after the ruling. Some attorneys are concerned people with legal masters degrees may begin taking work from lawyers. Most of Indiana's new laws took effect July 2. A complete list of the new laws and effective dates is available here.
Two days after a judge overturns Indiana's ban on same-sex marriage, the 7th Circuit Court of Appeals granted the state's request to stay the ruling pending an appeal.
Read More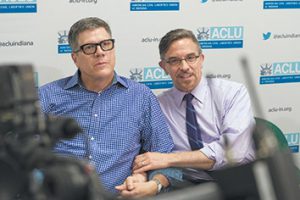 The race to the courthouse began for many couples shortly after Richard Young, chief judge of the U.S. District Court for the Southern District of Indiana, issued a ruling that declared Indiana's ban on same-sex marriage unconstitutional and permanently enjoined the state defendants from enforcing the laws barring same-sex marriage.
Read More
In Marion County, the funding shortfall is projected to be $4.6 million for 2015. Courts are routinely dealing with persistent shortfalls to support guardians ad litem appointed to represent juveniles in child in need of services cases.
Read More
Not quite 50 years have passed since Indiana University's law school in Indianapolis moved from the Maennerchor Building. The old place is long gone, but some of its last graduates gathered recently to share memories of a time that holds special meaning.
Read More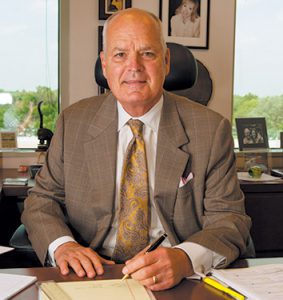 Faegre Baker Daniels LLP attorney Norman Tabler has found blog writing to be the perfect medium for his brand of humor and insight. The mundane topics he makes funny; the lively developments he makes hilarious.
Read More
Many new laws take effect July 1. View a complete list of the laws enacted during the 2014 legislative session.
Read More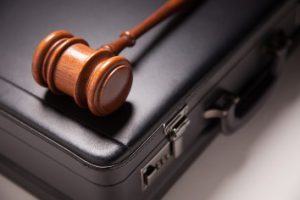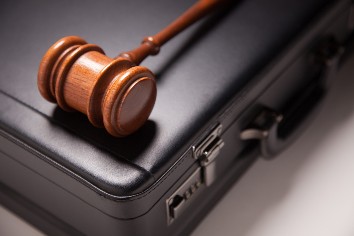 The move by two Indiana law schools to follow a national trend and offer master's degrees to non-lawyers has many practicing lawyers asking where the graduates of these programs will fit into the legal profession.
Read More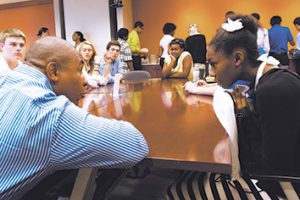 Harrison Ndife and his peers gathered at the end of a long week to kick back, talk shop and do a little networking. A rising sophomore at Terre Haute South High School, Ndife had just completed the Summer Legal Institute along with 39 other eighth-graders and high-schoolers. They learned what it will take for them to become lawyers and where their place in the profession might be.
Read More
One of the most useful tools in discovery is the Rule 30(b)(6) deposition, allowing a party to depose an entity, which must then produce one or more witnesses to testify to enumerated topics.
Read More
As part of your cross-examination, you wish to attack the expert's work. You're supposed to ask about the methodology, assumptions, procedures and how the opinion of value was determined. These are standard questions asked in cross-examination that we expect to hear. What about those questions that are not standard, but just as effective if not more?
Read More
Bob Hammerle says if movie heroes are more irritable than loveable, no film can succeed. In "The Grand Seduction," they were dedicated to a fraud that you sadly grew to resent.
Read More
The Court of Appeals recently brought us the story of a woman, her dog and her not-so Gandhi-like attempt at passive resistance when her dogs were investigated for biting. The question before the Court of Appeals was whether this passive resistance was criminal.
Read More
"If you could do it all over again, would you still be a lawyer?" Anyone reading this has probably been asked the question. I myself cannot think of anything else that I would do, and of course, my answer is "Yes!"
Read More
Attorneys and sponsors who are late in reporting attendance to the Indiana Commission for Continuing Legal Education will be subject to up to a $50 fee, according to an order released by the Indiana Supreme Court.
Read More
The Indiana Court of Appeals will hit a milestone this week when it convenes at Trine University in Angola.
Read More
Candidates for judicial office should not use photographs of courtrooms in their campaign materials, and only incumbent judges should be depicted in judicial robes in campaign ads, according to an advisory opinion from the Indiana Commission on Judicial Qualifications.
Read More
Indianapolis attorney and blogger Paul Ogden has been suspended for 30 days by the Indiana Supreme Court based on comments he made regarding a judge who presided over an estate case involving Ogden's client.
Read More
Read recent appellate opinions involving Indiana cases.
Read More
Read who's been recently suspended by the Indiana Supreme Court.
Read More
I just finished last weekend attending the 2014 Bench Bar and my expectations were wildly exceeded. I had numerous people tell me, our Executive Director Julie Armstrong, and our board members that this Bench Bar was the best that they had ever attended.
Read More
The lack of licensed attorneys willing to assume responsibility for routine family law matters is a universal concern for pro bono legal service providers. Although volunteer programs such as the IndyBar's Legal Line and Ask A Lawyer events provide general information to direct those with legal needs in the right direction, these independent events do not provide the ongoing legal services often necessary to fully resolve a particular issue.
Read More
Getting Along is Not Wrong, an initiative of the IndyBar Standing Committee on Professionalism, is the impressive collection of such positive and compelling behavior.
Read More
Last week, upon petition by five Native American individuals, the Trademark Trial and Appeal Board (TTAB) cancelled six trademarks bearing the word "Redskin" registered to the Washington, D.C., based NFL team between 1967 and 1990.
Read More