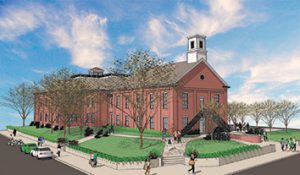 At one of the state's most-visited tourist crossroads stands a courthouse at a crossroads of its own.
Read More
Chief Justice Brent Dickson led the Indiana Supreme Court for just two years, but attorneys who practice before the court said his decision to hand the reins to a colleague is in keeping with the leadership tone he set. Dickson expects to step down from his position as chief justice sometime before Sept. 1.
Read More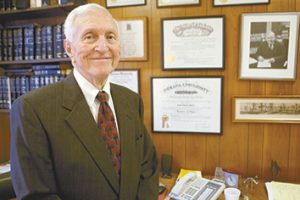 Frank Gilkison Jr. built a distinguished reputation with superior legal skills and a quick smile.
Read More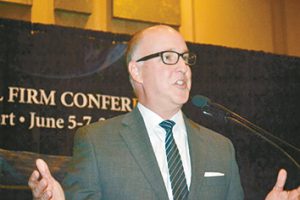 With a focus on "The Future of Law" and highlighted by a healthy dose of ethics and a look at coming changes and challenges, the Indiana State Bar Association's Solo and Small Firm Conference at the French Lick Resort drew the second-largest crowd in the event's history, organizers said.
Read More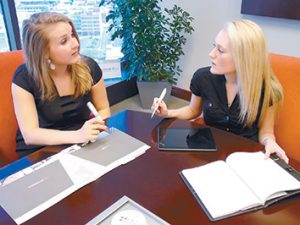 To get a job as a lawyer, applicants need legal skills, such as analytical thinking, but employers today are also looking for new hires who have the so-called "soft skills."
Read More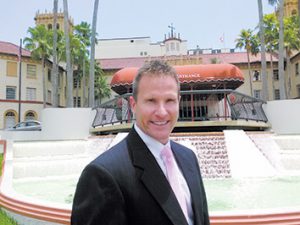 Robert Wade took it as a challenge when a colleague told him a few years back he'd never be able to launch a national health care practice from the South Bend market, that instead he would need a Chicago or Washington, D.C., address.
Read More

Changes in a person's will and estate plan that vary from equal distribution of assets among heirs, as favored by law, should raise red flags, elder law attorneys say.
Read More
How do governments work to ensure that their practices are such that they are wholly within the First Amendment's Establishment Clause?
Read More
Bob Hammerle suggests you see "Chef" before eating at a restaurant because you will warmly embrace every moment of that evening.
Read More
This article (and maybe some YouTube searching) will give you a starting point to help turn your dreams of organized and easy-to-understand data into reality using Microsoft Excel.
Read More
Indiana Court of Appeals Judge Patricia Riley writes in the first of a three-part series about what she observed while at Guantanamo Bay, Cuba, for hearings regarding the accused bomber of the USS Cole.
Read More
The Supreme Court of the United States unanimously held Thursday that funds contained in an inherited individual retirement account do not qualify as "retirement funds" within the meaning of a bankruptcy exemption.
Read More
The Obama administration's move to expand its student loan repayment assistance program – an initiative which may help some lawyers struggling with debt – has put another spotlight on the debate over the rising cost of law school tuition.
Read More
The Indiana Lawyer congratulates the individuals listed below on passing the February 2014 bar exam. Many of these new, aspiring lawyers participated in an admission ceremony held May 20 in Indianapolis.
Read More
Read recent decisions from Indiana appellate courts.
Read More
Indiana Lawyer has been recognizing exemplary attorneys in our state since 2006 with the Leadership In Law awards. In recent years, we have asked the honorees – both seasoned veterans and those with only a few years of experience under their belts – to share practical advice that they received or, in retrospect, wish they had received, as young attorneys. New lawyers entering the practice in 2014 can soak up the wisdom shared and learn from these lawyers' experiences.
Read More
Read who has been disciplined by the Indiana Supreme Court.
Read More
When you assist and prepare an expert witness and ask him to formulate his opinion, you may wonder whether your oral and written communications with the expert will be discoverable. Being required to disclose such communications in discovery depends on whether your case is in federal or state court since the federal and Indiana rules currently differ as to what is protected.
Read More
Volume XI of the DTCI Indiana Civil Litigation Review is now in the planning stages. The board of editors is seeking ideas and authors for articles for Volume XI, deadline September 2014.
Read More
It's no secret that Indianapolis is home to many talented, dedicated legal professionals. Give deserving colleagues the recognition they deserve: the nomination period is now open for two IndyBar awards, the Women and the Law Division's Antoinette Dakin Leach Award and the IndyBar Paralegal of the Year award.
Read More
More than 100 members of the bench and bar gathered to celebrate the arrival of warm weather with colleagues at the Women and the Law Division's annual Summer Reception, held Tuesday, June 10 at the Indiana Historical Society.
Read More
By the time you are reading this article, I will be on my way to the 21st Annual Bench Bar in Cincinnati, Ohio. So, I asked myself when I attended my first Bench Bar, what is a Benesch commercial real estate lawyer going to do at a Bench Bar Conference? The answer? Lots of things.
Read More
The IndyBar Diversity Job Fair is enjoying the national spotlight as a recipient of the 2014 Partnership Award from the American Bar Association (ABA). The fair was selected for the award in early June; IndyBar representatives will accept the award during the ABA's Annual Meeting in Boston this August.
Read More
Have you found yourself wanting to use your tax knowledge to benefit members of the community? Wouldn't it be great if there was a way? Now there is! The Neighborhood Christian Legal Clinic (NCLC) has partnered with the IndyBar Tax Section to create a unique opportunity for tax practitioners to use their tax knowledge in a new way
Read More
Building on the success of the past two years, the IndyBar Paralegal Committee presented its third "Careers in Law" Fair Wednesday, June 11.
Read More