Friends, family and colleagues will soon gather to say goodbye to the current longest-serving member of the Indiana Supreme Court.
A celebration honoring retiring Justice Steven David's career will be held at 2 p.m. Aug. 30 in the Supreme Court courtroom in Indianapolis.
David will step down on Aug. 31 after nearly 30 years as a judicial branch leader. He was appointed to the Supreme Court in 2010 by former Gov. Mitch Daniels and was previously an elected trial court judge in Boone County, where he served for more than 15 years.
In November 2021, David, 65, announced his retirement plans after his wife, Catheryne Pully, an attorney and a commander in the U.S. Navy Reserves, was called to active duty.
On June 10, Gov. Eric Holcomb selected the most junior Court of Appeals of Indiana judge, Derek Molter, to fill David's vacancy. Molter, 40, will be sworn in on Sept. 1. A public investiture is planned for a later date.
During his time on the high court, David served with eight justices and authored more than 200 opinions.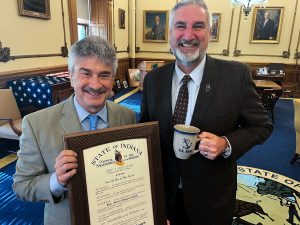 On Aug. 16, Holcomb honored David with the Sagamore of the Wabash, which is the highest honor the governor of Indiana can bestow and is given to an individual who has rendered distinguished service to the state and/or governor.
The celebration for David will be livestreamed at courts.in.gov.
Last week, it was announced that 12 Hoosier lawyers and judges submitted applications to fill Molter's COA vacancy. After the seven-member Indiana Judicial Nominating Commission interviews the applicants, it will submit three names to Holcomb, who will then have 60 days to select the new COA judge.
Please enable JavaScript to view this content.