Following a year unlike any other, 2021 dawned with both hope and trepidation. The world had largely adjusted to life in a pandemic, but the dangers of the virus lingered. A rancorous election cycle was over, but partisan politics boiled over on Jan. 6. Businesses renewed diversity pledges, but many consumers were skeptical.
As 2021 ends, some things have changed. For one thing, there are now three COVID-19 vaccines available. But other things are the same: the pandemic is not over, political polarization remains strong and tough conversations about race in America continue.
Here's a look at the top stories reported on by Indiana Lawyer in 2021, as voted on by the IL staff. Repeated numbers indicate a tie.
1. Lake, St. Joseph County judicial selection legislation
Tied for first place among this year's top stories is an issue specific to the Hoosier legal profession. In April, Indiana Gov. Eric Holcomb signed House Enrolled Act 1453, changing the composition of the judicial nominating commissions in Lake and St. Joseph counties.
Some background: Merit-based judicial selection is not widespread in Indiana. Appellate judges are chosen through the merit selection process, but just four counties use the same process to fill their superior court benches: Allen, Lake, Marion and St. Joseph. In these instances, a commission comprised of both attorneys and nonattorneys, plus at least one appellate judge, interview judicial candidates, select a group of finalists and submit the names of the finalists to the governor, who makes the final selection. Many people praise judicial selection, as opposed to judicial election, as ensuring partisan politics are kept out of the judiciary.
But others criticize the merit selection process, especially at the trial court level. The argument is that if some Hoosiers get to elect their judges, then all Hoosiers should. Racial disenfranchisement is also a major concern in the merit selection process, as judicial selection is only used in Indiana counties with high minority populations.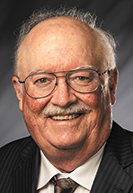 Against this backdrop, Rep. Mike Aylesworth, R-Hebron, authored HEA 1453 as a legislative "reset" of judicial selection in Lake and St. Joseph counties. He said lawyers in those counties had complained about the judicial selection process becoming politically biased, so he wanted to change the system to offset that bias. Now, instead of commission members appointed by the local bar, both JNCs are comprised of three members appointed by the governor, three appointed by the county commissioners and one Supreme Court justice — Justice Mark Massa in Lake County, and Justice Geoffrey Slaughter in St. Joseph.
The bill received almost zero public support during the 2021 session of the Indiana General Assembly. Representatives from the local benches and bars traveled to Indianapolis to oppose the legislation, arguing it removed mandatory attorney input from the commissions and eliminated existing diversity benchmarks. But none of the lawyers who asked Aylesworth to author the bill testified — a fact he attributed to their fear of retribution.
Despite that opposition, the bill advanced and became law. In the end, the JNCs were repopulated with a mix of attorneys and nonattorneys, and the law provided that at least one member of each commission must be a woman, and another must be a minority. The restructured JNCs got to work quickly, interviewing candidates to fill superior court vacancies caused by judicial retirements and one judge's sudden death.
But the fight over judicial selection is not yet over. The city of Hammond and its mayor, Democrat Thomas McDermott filed a lawsuit arguing the merit-based selection process used in Allen, Lake, Marion and St. Joseph counties violates the Voting Rights Act of 1965. According to the complaint, 82% of white Hoosiers vote directly for their judges, while 49% of minority Hoosiers and 66% of Black Hoosiers have an "abridged voting right." That "abridged" right is seen in counties where residents can only vote to retain their judges after the judges have been selected by a commission, the plaintiffs allege.
Initially, the lawsuit sought to stop the process of filling the vacancy on the Lake Superior Court created by the death of Judge Diane Boswell in October. But the plaintiffs have since withdrawn their motion for a preliminary injunction in favor of giving the defendants — the Lake County JNC, Lake County Election Board, Secretary of State Holli Sullivan and state of Indiana — additional time to establish full and open elections for Lake County residents.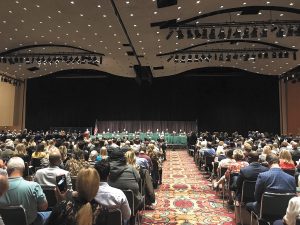 1. Indiana's first Uniform Bar Exam
Also tied for first in this year's top stories is a historic moment for the administration of the bar exam in Indiana. In July, the state administered the Uniform Bar Exam for the first time, yielding a 69% overall pass rate — a slight improvement over previous years' rates.
Again, some background: The American Bar Association has been encouraging states to do away with their state-specific admission exams in favor of the UBE since 2016, and the state of Indiana has been formally studying the UBE since early 2019. That's when the Study Commission on the future of the Indiana Bar Examination began its in-depth review of the Hoosier State's lawyer admission test. The commission was created in late 2018 following multiple years of successive declines in Indiana's overall bar exam pass rate.
In December 2019, the commission formally recommended the state adopt the UBE, finding the former Indiana Bar Exam placed a "cognitive overload" on examinees. The format of the Indiana-specific test included seven topics in the Multistate Bar Exam, which is a six-hour, 200-question multiple choice exam, plus another 11 topics on the Indiana essay portion, for a total of 18 distinct topics. In contrast, the UBE includes only five additional topics on the Multistate Essay Exam portion, plus the seven topics in the multiple choice section, for a total of 12 distinct topics.
While many supported Indiana's adoption of the UBE, the support was not unanimous. Three members of the study commission opposed the switch, arguing Indiana would lose control over its exam while examinees would not learn substantial Indiana law prior to admission.
But in November 2020, the Indiana Supreme Court officially announced that the state would make the switch to the UBE in July, making the February 2021 exam the last to include Indiana-specific essay questions. The state amended its Rules of Admission to the Bar and the Discipline of Attorneys in March in preparation for the switch, including allowing for the automatic review of test results that are just under the 264 needed to pass. Also, out-of-state lawyers who are admitted to the Hoosier bar must complete an Indiana Law Course within six months of admission.
Ahead of the implementation of the UBE, the February 2021 test yielded disappointing results. The overall pass rate was just 49%, the second-lowest rate since 2002. The previous exam administered in August 2020 had yielded a 74% pass rate following a test that was delivered remotely and for which examinees were allowed to reference their books and notes.
The July 2021 test was also administered remotely due to the ongoing COVID-19 pandemic, but it was not open book. The results, released in September, showed a 78% pass rate for first-time test-takers but just 27% for repeat takers. In July 2019, the last time the Indiana Bar Exam was administered in its traditional format, the overall pass rate had been 65%, four percentage points lower than the July 2021 overall rate.
Following the state's first UBE, a question arose: Will Hoosier test-takers use the new exam to gain admission in other UBE states? Each of Indiana's neighboring states have adopted the uniform exam, as have 38 states total. Initial Indiana Lawyer reporting has shown that many admittees plan to stay in Indiana with their Hoosier license, but they appreciate the flexibility of being able to practice in nearby states without having to take another licensing test.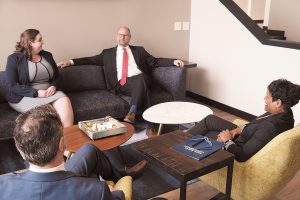 3. Return to work/school
If 2020 was the year of the shutdown, 2021 was the year of the return — mostly.
The widespread rollout of three COVID-19 vaccines in late 2020 and early 2021 opened up opportunities for students, including law students, to return to the classroom and businesses, including law firms, to return to the office — again, mostly.
Let's start with law firms. Speaking with Indiana Lawyer, firm leaders have repeatedly said that 2020 taught them an important lesson: Not all employees need to be in the office every day. "Hybrid schedules" became the dominant phrase, with firms setting certain benchmarks to determine when/if lawyers and other staff should return to the office.
For example, associates were often viewed as needing to come to the office more often so they could be supervised and have in-person professional development opportunities. More seasoned lawyers were given more latitude, but warning signs such as a drop in billable hours could signal a need for in-office work.
Jared Correia, founder of Red Cave Consulting, told Indiana Lawyer in the summer that the pandemic was a "referendum" on the business side of running a law firm. Going forward, Correia said firms will have to intentionally innovate their workplace practices in order to keep and retain talent.
Some firms set hard return-to-work dates. Barnes & Thornburg LLP in Indianapolis, for example, brought its employees back to the office on June 14, as did the Indianapolis office of Taft Stettinius & Hollister LLP. Both of those firms said there were employees who had already returned to the office before that date, but the official return-to-work dates were made in light of public health guidance and safety protocols.
Faegre Drinker Biddle & Reath was among the firms that utilized a phased approach to returning to the office. Faegre's plan, called the Return to Onsite Work Plan, set Oct. 4 as the date for its employees to provide proof of vaccination and to transition to a hybrid workplace model. Ice Miller LLP set its return-to-work date at Nov. 8.
Other legal organizations reported to Indiana Lawyer over the summer that their employees — many of whom had been vaccinated — had already returned to work, but the question was when to allow for in-person client meetings.
In law schools, the start of the fall 2021 semester marked a return to in-person classes, but students, faculty and staff were still expected to wear masks and practice social distancing. During the preceding spring and fall semesters, classes and even legal clinics had transitioned to a largely virtual model, and students and faculty say those virtual experiences helped them see the importance of the in-person connections they were missing. Programs such as summer associateships were also impacted by the pandemic, with some firms canceling their associate programs due to the pandemic and others requiring the law students to work remotely.
MORE: Honorable mentions: Top stories of 2021, continued
4. Continued conversations about race
In 2020, the death of George Floyd, a Black man, at the hands of Minneapolis police sparked a national outcry about race in America, specifically as it related to the relationship between law enforcement and minority communities. Though the outward fervor was not as loud in 2021, the passion was still there as advocacy groups, both in Indiana and nationwide, continued to call for widespread reform.
One of the first groups in the Indiana legal community to get involved in these conversations about race was the Indiana State Bar Association. Through a program known as "Open Conversations," Indianapolis public defender Angka Hinshaw and Indiana Supreme Court Justice Steven David hosted monthly conversations about race and culture within the legal community. The idea of Open Conversations was to promote honest dialogue about race issues within the profession; to promote that honesty, participation was limited only to those who registered, and the monthly programs were never recorded.
Meanwhile in the Indiana Statehouse, a bipartisan bill aimed at increasing police accountability received unanimous support from the Indiana General Assembly. Authored by Rep. Greg Steuerwald, House Enrolled Act 1006 included provisions for mandatory law enforcement de-escalation training, misdemeanor penalties for officers who turn off body cameras with intent to conceal and bans on chokeholds in certain circumstances, among other provisions aimed at reducing "bad actors" within law enforcement.
Also in 2021, several high-profile cases involving allegations of racial discrimination went to trial. Most notably was the case against Derek Chauvin, the former Minneapolis police officer responsible for Floyd's death. Chauvin was convicted in April of murder and manslaughter after he pinned Floyd to the pavement, keeping his knee on Floyd's neck. Then in December, Chauvin pleaded guilty to violating Floyd's civil rights.
In Georgia, three white men were convicted of murder in December following the February 2020 shooting death of Ahmaud Arbery, a Black man who was chased by the white men as he was running through a residential community. The three men — Travis and Gregory McMichael and William "Roddie" Bryan Jr. — are also set to go to trial on federal hate crimes charges in February.
But in Kenosha, Wisconsin, Kyle Rittenhouse was acquitted of multiple charges including homicide, attempted homicide and recklessly endangering safety after he fatally shot two and wounded a third during a 2020 protest following Floyd's death. Rittenhouse and his victims are white, but many viewed the Kenosha shooting as a race-based hate crime because the protestors whom Rittenhouse shot were supporting the Black Lives Matter movement.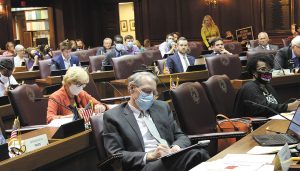 4. Redistricting
Making headlines both nationally and in Indiana this year was the issue of redistricting, the once-a-decade redrawing of legislative maps that follows the national census conducted every 10 years.
A delay in the release of the federal census data — the U.S. Census Bureau didn't release the full final numbers until August — meant Indiana lawmakers were not able to draw the lines for the Indiana House and Senate and statewide federal congressional districts during the traditional 2021 legislative session. Instead, lawmakers reconvened in September to approve the maps.
But much work was done before September arrived. In April, initial figures were released showing that Indiana's population grew 4.7% between 2010 and 2020, from about 6.5 million residents in 2010 to about 6.8 million in 2020. In May, Indiana Lawyer reported that rural and urban interests were seen as competing, with rural residents complaining that the state's more metropolitan areas were taking an outsized role in the Legislature and overlooking the needs of rural Hoosiers.
By the summer, calls for public participation in the map-drawing process had begun. The Indiana General Assembly hosted a series of public hearings across the state in each of Indiana's nine congressional districts. The theme of the comments in those meetings was that lawmakers should stay away from gerrymandering — the process of drawing political maps to favor one party over the other. There was particular concern that the Indiana GOP would use the redistricting process to secure its longtime supermajority in the Statehouse.
Independent advocacy groups also opened up avenues for public participation. In particular, All IN for Democracy created an Indiana Redistricting Portal and called on "citizen cartographers" to create their own maps based on the census data.
Draft maps released in mid-September didn't show a huge change in Indiana's political landscape. The maps — which were later approved — showed Indiana keeping its seven Republican-held seats and two Democrat held-seats in Congress, though the Marion County district was shifted north while the Johnson County district was shifted from Rep. Trey Hollingsworth's district to Rep. Greg Pence's.
Certain changes to the state-level districts were seen as targeting specific lawmakers. GOP Rep. John Jacob, for example, said his district was shifted out a predominantly Republican area to a more Democratic area — a move Jacob, who is more conservative than other members of the Indiana GOP, speculated was designed to boot him out of office.
Individual Hoosiers and state Democrats called out the Indiana Republican Party for allegedly gerrymandering the maps. But the Hoosier GOP maintained the new districts were in keeping with the census data and were drawn to keep communities of interest together.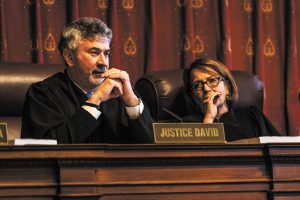 4. Justice David announces retirement
The Indiana Supreme Court will have a new justice come this time next year.
On Nov. 3, Steven David, the high court's longest-tenured justice, announced his plans to step down from the bench in the fall of 2022.
David explained he felt he needed to step away after his wife, Catheryne Pully, an attorney and a commander in the U.S. Navy Reserves, was called to active duty.
David has served his state and country for his entire adult life.
After graduating from Indiana University Robert H. McKinney School of Law in Indianapolis in 1982, David served in the U.S. Army Judge Advocate General's Corps on active duty until 1986, then on reserve duty until 2010. He was mobilized post-9/11 to Iraq and Guantanamo Bay, serving as trial counsel, defense counsel, military judge, training officer, staff judge advocate and commander. In 2007, he was selected by then-Secretary of Defense Robert Gates to serve as chief defense counsel for the Office of Military Commissions.
In civilian life, David's law career started in Columbus, where he practiced personal injury law, family law and civil litigation, before he moved to Boone County to serve as in-house counsel for Mayflower Transit Inc.
David was elected to the Boone Circuit Court in 1994, presiding over civil, criminal, family and juvenile matters until his appointment to the Supreme Court by then-Gov. Mitch Daniels in 2010, succeeding former Justice Theodore Boehm.
Just because he's stepping down from his spot on the bench doesn't mean David won't stay involved in the law.
Upon retirement, David said he intends to serve as a senior judge and will continue to chair the Commission on Equity and Access and the Indiana Conference for Legal Education Opportunity. Additionally, he said there are "several" other initiatives his colleagues have asked him to stay involved in.
Oh, and for fun he plans on climbing Mount Kilimanjaro and competing in triathlons in retirement.
Applications to succeed David will become available during the first week of January. David's retirement means Justice Mark Massa will hold the title of longest-serving justice, followed closely by Chief Justice Loretta Rush.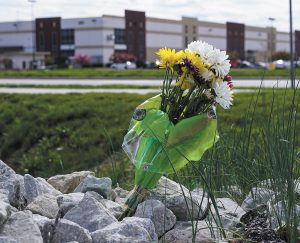 7. Indy mass shooting leads to questions on state's 'red flag' law
A mass shooting at an Indianapolis FedEx Ground facility shocked the city, state and country and opened up questions about the effectiveness of the state's "red flag" law this past spring.
On April 15, Brandon Scott Hole, 19, killed eight people and injured several others with a rifle before fatally shooting himself at his former place of employment near the airport.
In the aftermath, it was discovered that Hole had agreed to surrender a .410-gauge shotgun and not request its return when FBI agents investigated the teen in March 2020 after his mother called police to say that her son might commit "suicide by cop." Due to the information collected at the scene, Indianapolis police placed Hole under an immediate detention and transported him to a hospital for evaluation.
Days after the shooting, Marion County Prosecutor Ryan Mears said his office did not file a follow-up petition under Indiana's red flag law because it had already achieved its objective of removing the firearm from Hole's home.
Hole was able to legally purchase the two rifles used in the shooting.
In May, Marion Superior Presiding Judge Amy Jones, who oversees the filings of red flag cases in Marion County, issued new guidance: All such reports would go straight to her courtroom instead of the prosecutor's office. Indianapolis police would have 48 hours to submit those filings, and two judges will then decide within 14 days whether to hold a hearing.
Last month, three members of the Sikh community affected by the shooting announced they are seeking compensation from the city over claims that local officials failed to pursue a court hearing that could have prevented the shooter from accessing guns used in the attack.
7. Nation still looking for answers after Jan. 6 Capitol riot
Nobody will soon forget the date of Jan. 6, 2021.
At the start of the new year, hundreds of rioters invaded the U.S. Capitol in Washington, D.C., seeking to stop the certification of now-President Joe Biden's electoral victory.
Five people died as a result of the riot and more than 140 police officers were injured when the mob overtook the Capitol. Four police officers have since committed suicide since the event.
Then-President Donald Trump was subsequently impeached on charges of incitement of insurrection by the U.S. House of Representatives before he was acquitted by the Senate.
Hundreds of individuals are facing charges in relation to the attack. More than 727 people have been charged so far, and the FBI is still asking for help to identify individuals involved.
A committee was formed to investigate the attacks this past summer and held its first hearing on July 27. The U.S. House committee is still investigating the attacks and will continue to work into 2022.
The Biden administration has also continued to pursue records from the days leading up to the attack. The U.S. Court of Appeals for the District of Columbia Circuit ruled this month that Trump cannot claim executive privilege to shield documents related to that day from the House committee.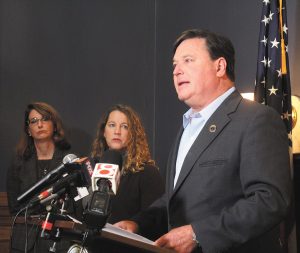 9. Legislature looks to ban employer vaccine mandates
The availability of COVID-19 vaccinations grew exponentially at the start of the new year, helping Hoosiers return to a greater sense of normalcy.
Now, all healthy adult Hoosiers — and most all children — can get the potentially life-saving injection with ease.
However, many Hoosiers are still hesitant. As of Dec. 20, 3.5 million individuals were fully vaccinated — roughly 50% of the state's total population — according to the Indiana State Department of Health.
As a result of low vaccination rates in many states, the federal government has since tried to enact policies requiring health care and private employers to mandate vaccines in the workplace. Legal challenges have attempted to stop both measures, and the Indiana House GOP has drafted a bill aimed at allowing employee religious exemptions "without further inquiry."
A House committee hearing was held Dec. 16 in preparation of taking swift action once the legislative session starts Jan. 4. The bill includes administrative actions that Republican Gov. Eric Holcomb says would allow him to end the statewide COVID-19 public health emergency order that's been in place since March 2020.
The hearing came as COVID-19 cases and hospitalizations surge in Indiana. In Mid-December, hospitalizations topped 3,000 people for the first time in nearly a year.
MORE: Fascinating faces, lawyers we lost and discipline decisions
10. Holcomb files lawsuit against law limiting emergency powers
The powers of the executive and legislative branches in Indiana are in an intense legal battle that will continue into the new year.
During the pandemic, legislative leadership became increasingly frustrated with the extension of the public health emergency by Gov. Eric Holcomb — So much so that they passed a bill, House Enrolled Act 1123, to limit his powers.
The new law establishes a process for lawmakers to call the General Assembly into an "emergency session." The governor has argued the law violates a state constitutional provision that says only the governor can call the Legislature into a special session after it adjourns, which is normally late April in odd-numbered years and mid-March during even-numbered years.
Holcomb has since filed a lawsuit questioning the constitutionality of the law.
The Marion Superior Court sided with the Legislature, finding HEA 1123 is authorized by Article 4 Section 9 of the Indiana Constitution.
On Nov. 17, the justices agreed to fast-forward the appeals process to challenge the bill, transferring the case to the high court. Oral arguments in the casewill be heard on April 7.•
-Compiled by Olivia Covington and Jordan Morey. The Associated Press and Indianapolis Business Journal contributed to this report.
Please enable JavaScript to view this content.