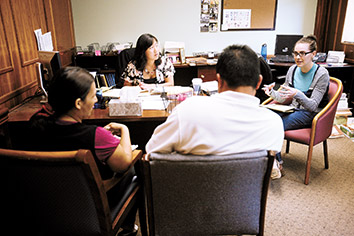 Following Arizona's passage of a law that would allow local and state law enforcement to arrest people on suspicion
that they are living in the United States as illegal immigrants, a number of lawsuits were filed in response to the law, Senate
Bill 1070. Arizona Gov. Janice Brewer on April 23 signed the law, which will go into effect July 28.
An Indiana senator has since stated he will propose a similar bill during the 2011 legislative session. Meanwhile, immigration
attorneys and victims advocates are reading up on the Arizona law and bracing themselves for what a similar bill in Indiana
could mean for their clients.
Perhaps the most significant of the lawsuits is Friendly House, et al. v. Michael B. Whiting, et al., filed June
4 by a civil rights coalition, which aims to stop the law from going into effect until it is reviewed for constitutionality.
That coalition includes the American Civil Liberties Union, Mexican American Legal Defense and Education Fund, National Immigration
Law Center, Asian Pacific American Legal Center, ACLU of Arizona, National Day Laborer Organizing Network, and the National
Association for the Advancement of Colored People.
The American Bar Association publicly supported the civil rights coalition when it filed an amicus brief in the case June
30.
Abel
"While the ABA typically files amicus briefs only in the highest federal or state court that will consider a matter,
the ABA believes the issues before this Court are of such significance to the American people and the practice of law that
they must be addressed at this stage of the proceedings," the ABA wrote in the brief.
The ABA stated four concerns arising from the Arizona law – the potential for racial profiling by law enforcement;
detention of citizens and non-citizens; how the bill would affect the justice system, particularly for indigent defendants;
and how the state law could conflict with existing federal laws.
In Indiana, Sen. Mike Delph, R-Carmel, announced he plans to introduce similar legislation during the 2011 session. During
the 2009 and 2010 sessions, he introduced bills that would have required the Department of Correction to evaluate and report
citizenship and immigration status of committed offenders. In 2009 and 2010, each bill respectively passed the Senate: 37-13
in 2009 and 46-4 in 2010. But both bills died in House committees.
Meanwhile, immigration attorneys and victims advocates have expressed their concerns.
Angelin Fisher, an attorney for the Neighborhood Christian Legal Clinic in Indianapolis, represents clients on their immigration
cases, including applications for U-Visas and visas under the Violence Against Women Act, both of which are for immigrants
who are witnesses and victims of crimes.
She has been working closely with the Marion County Prosecutor's Office to collect information about how immigrants
have helped law enforcement by reporting crimes.
While a spokesperson for the prosecutor's office said they would not comment for this article, Fisher said there were
almost 300 U-Visas pending in Marion County alone.
She said if a bill similar to the Arizona immigration bill were to pass in Indiana, "it would have a chilling effect"
on how immigrants have been interacting with law enforcement in reporting and preventing crime.
Josh Abel, NCLC executive director, agreed.
"I can say our Immigrants in Crisis Program is incredibly important because it gives a voice to some of the most marginalized
people in our community. If you are an immigrant without status who is a victim of a violent crime or domestic violence, without
the possibility of a U-Visa or VAWA Visa, you won't be encouraged to report that crime. If we had a law like the one
in Arizona, forget it, you won't get victims to report crimes."
To help encourage communication between immigrants who don't trust law enforcement due to experiences in their native
countries, and law enforcement officers, Fisher has also supported outreach efforts in other counties, including Tippecanoe
and Bartholomew.
Goldberg
Melody Goldberg, director of the Migrant Farmworker Law Center of Indiana Legal Services, also regularly interacts with immigrants,
including many who permanently live in the U.S. but are from Mexico and other countries.
Even without a law like Arizona's in place in Indiana, she said, the workers already have misconceptions.
She said that most immigrants will not take the time to read the entire bill and will likely base their perceptions of the
law on rumors and what the media reports.
Fisher added the Arizona law could also affect how non-profit organizations interact with undocumented workers. This concern
was discussed at a conference for domestic violence victims advocates in Arizona this spring.
Advocates at that conference were concerned that the law could affect how domestic violence shelters screen their victims.
This was also a concern for shelters and agencies who regularly work with hotels because hotel owners might no longer agree
to house victims when the shelters are full.
Blomquist
Kerry Hyatt Blomquist, legal director of the Indiana Coalition Against Domestic Violence shared her concerns for victims
of domestic violence who fear being deported if they report their abusers to law enforcement.
"From our perspective, such a law would be illegal," she said via e-mail. "Indiana has a victim's
rights statute which says, in part, that all 'victims have the right to be treated with fairness, dignity and respect.'
Victims also have a codified right to be 'free from intimidation, harassment and abuse' according to this same
code section: Indiana Code 35-40-5. If we make calling the police or seeking personal safety, or asking that the laws of this
great country be enforced – if we make these actions unfathomable for fear of persecution, then it truly is open season
on all those who don't 'look like they come from here.'"
Fisher has also noticed the fears her clients have expressed.
A woman from Latin America who is now in the U.S. legally but has been working with Fisher to help her husband and children
also receive legal status, spoke through an NCLC interpreter for this article.
While the client was grateful for the work Fisher and NCLC have done, her expression changed dramatically when asked about
the Arizona law.
If a similar law were to pass here, the interpreter said, the client feared that her husband would be picked up by the police,
she wouldn't know or be able to contact him. She would also be left alone to take care of her five children.
The client also added she hoped President Barack Obama would address immigration reform. He did talk about the need for comprehensive
immigration reform during a speech July 1 at American University School of International Service.
While it remains to be seen whether or how the Arizona law will affect immigrants in that state, and whether or if a similar
law would pass in Indiana, Fisher said she doubted any immigration attorney would think it's a good idea.
"They are coming here because they feel welcome," Abel added. "If we shut the door with a harsh law like
the one in Arizona, it would be an unfortunate situation in central Indiana. It would greatly affect the workforce, the fabric
of our society."•
Please enable JavaScript to view this content.