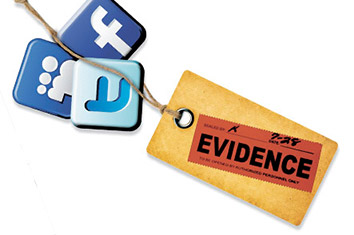 Millions turn to Facebook and Twitter to constantly update friends and family about what's happening in their personal
and professional lives. But as those instant updates become a staple in people's lives, those social media networks
are becoming a more common part of the litigation process in state and federal courts.
In Indiana, U.S. Magistrate Judge Debra McVicker Lynch ventured onto that front earlier this year in an employment sexual
harassment case. She allowed the defense to have broad access to the plaintiffs' social network sites as discovery about
their mental states, and held specifically that any privacy concerns by the employees about releasing a full array of online
social media information were overridden by the fact that plaintiffs had already shared the information "with at least
one person."
 
The ruling is one that employment attorneys say they haven't seen before in Indiana, but one that's only likely
to become more common as social media use and discovery ramps up.
"Her order is very interesting and certainly very timely, because if we haven't already, we all are going to
have to start dealing with social media discovery issues more in the future," said Baker & Daniels partner Stuart
Buttrick, who closely followed this case and issue. "This is a really big deal and the first of its kind in our jurisdiction."
In this case of EEOC v. Simply Storage Mgmt., LLC, No. 09-1223, the Equal Employment Opportunity Commission had
sued on behalf of two female self-storage firm employees, targeting the property manager and associate manager at the business.
The suit contends that the two employees and other similarly situated female employees were subjected to unwelcome sexual
groping, sexual assault, and sexual comments by the male property manager. The two females alleged that the sex harassment
resulted in severe emotional distress, and that became the litigation point in federal court.
 
Buttrick
Hitting at the two females' mental state, the defense requested extensive information from their social media accounts
and wanted as discovery all profiles, status updates, wall posts, groups joined, causes supported, photos, applications, and
the like that "reveal, refer or relate to any emotion, feeling or mental state, as well as communications that reveal,
refer or relate to events that could reasonably be expected to produce a significant emotion, feeling or mental state."
The EEOC objected, arguing that they should only have to produce information directly referencing the sexual harassment allegations.
But with her May 11 order that followed a conference the previous month, Magistrate Judge Lynch ordered that the two women
turn over that online information from their Facebook and MySpace accounts. She ruled the EEOC's view is too restrictive,
and limiting what's available could create a standard that likely wouldn't include every clearly relevant communication.
"It might not, for example, yield information inconsistent with the claimants' allegations of injury or about
other potential causes of the injury," the magistrate wrote. "And although some employees may note occurrences
of harassment in their profiles, not many employees would routinely note non-events on their profiles such as, 'My supervisor
didn't sexually harass me today.' A definition of relevant SNS content broader than that urged by the EEOC is
therefore necessary."
Her ruling relied largely on two Canadian cases from the Ontario Superior Court of Justice: Leduc v. Roman, 2009
CanLII 6838, and Murphy v. Perger, [2007] O.J. No. 5511. In Leduc, the court overturned the trial court's
holding that the existence of the plaintiff's Facebook account was not reason to believe it contained relevant evidence
about his lifestyle. In Murphy, that court ordered a plaintiff in a motor vehicle suit to produce copies of her Facebook
pages, agreeing with the defendants that the pages were likely to contain photographs relevant to the plaintiff's damages
claim and because the plaintiff had opened the door by serving photos of herself in various activities pre-accident.
 
Katzenstein
Another case Magistrate Judge Lynch cited was Bass v. Miss Porter's School, 2009 WL 3724968 (D.Conn. 2009),
which she said used a discovery procedure that could be appropriate in this jurisdiction and if any other disputes surface
about the EEOC's compliance with the order. Still, the Bass case and these facts led Magistrate Judge Lynch to determine
that not all of the plaintiffs' social networking site information should be produced. But she found that even if the
sites are "private" or locked out to the general public, they'd still have to turn over the information.
But in regard to past work history, Magistrate Judge Lynch found that the information didn't have to be produced and
followed what many courts have done nationally. Her rationale follows the ruling from two years ago in Woods v. Fresenius
Med. Care Grp. of N. America, 2008 U.S. Dist. LEXIS 3756 (S.D. Ind. Jan. 16, 2008), that the past work history of the
two plaintiffs need not be produced as the defense had failed to demonstrate its relevance to the particular claims and defenses
in this case.
Attorneys for the EEOC declined to comment about the issue generally or specifically because the case remains pending, and
the Indianapolis attorneys at Bose McKinney & Evans – Dan Emerson, Emily Yates, and Andrew McNeil – did not
return messages from Indiana Lawyer for comment.
But those who've observed this case and issue and have encountered social media discovery in litigation say the ruling
has significant meaning as society further embraces these types of online resources. Some have described it as landmark.
At Baker & Daniels, Buttrick and his colleague Krissy Katzenstein wrote a legal advisory about the order once it came
out in May, and they have been contacted by attorneys, writers, and bloggers about it since then.
"This wasn't a garden-variety emotional distress, but more severe, and there's no application at this point
beyond the most severe of these types of employment cases," Buttrick explained. "But her holding and rationale
is equally applicable to less severe cases where someone may be less traumatized at a particular time, and it's something
that everyone should keep in mind. It can be helpful or hurtful depending on what side of the fence you're on."
Though it goes in the company's favor, the ruling should also be viewed as a "warning shot" because it
could easily be applied against a defendant in the future, Buttrick said. Defense attorneys should be advising their clients
to review their conduct and policies on social networking, and those of their employees. They need policies that put management
and employees on notice about what's acceptable in the workplace, and possibly even in personal and off-duty settings
if those might influence the workplace, he said.
From the plaintiffs' bar perspective, Indianapolis employment and civil rights attorney Ryan Sink at Haskin & LaRue
said these types of requests are becoming more common and he's seeing the requests come up more during depositions and
interrogatories. But unlike this Simply Storage case, he said his observations in recent years have been that there needs
to be some reasonable standard and basis for requesting certain amounts of social networking information.
Typically, Sink says he asks during a deposition or interrogatory whether someone has an account and will then focus in on
receiving messages or posts about that specific employment issue at hand, he said.
"You're looking for e-mails or documents about the mental state of decision-makers, or the employee if you're
looking at it from the defense side," he said. "We're trying to go into that social media world more, but
what I don't do, as they did in this case, is request a full print off or full account. This doesn't change my
opinion that you shouldn't automatically expect for it to be the full account, because that's a fishing expedition
and is not proper. You need a basis for going in there."•
Please enable JavaScript to view this content.