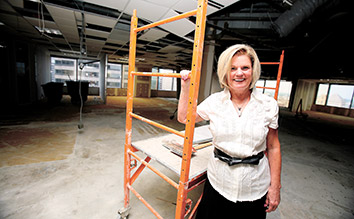 Editor's note: This story has been corrected.
Bricks and mortar aren't what the practice of law is about for attorney Brian Powers. So, he does without them in the
traditional sense.
Instead, the 35-year-old attorney who's been practicing for five years operates a "virtual" office mostly
based on technology, meaning he takes his practice wherever needed to serve his clients. The concept is one that's found
scattered throughout the country, but appears to be unique in Indiana at this point.
But the idea may grow as technology evolves and the practice of law continues changing, particularly as the economic climate
finds more new and veteran attorneys out of work or stepping away from traditional law firms. Though technology-based practices
aren't mainstream at this point, what Powers is doing illustrates more generally how law practice business development
has changed through the years.
"I've always had a little different philosophy on how you can practice law and use technology, beyond what most
lawyers and firms use for doc management and e-mail or calendaring," he said. "It's the centerpiece of my
practice, and I really enjoy practicing law this way."
Powers started a career in environmental engineering at an Indianapolis firm after graduating from Syracuse University. But
his interest drifted away from engineering, so instead he embraced the online boom and started a dot.com out of his Ohio State
University apartment. He eventually returned to Indiana and started a different Internet business in downtown Indianapolis,
on the fourth floor of the building shared with Morton's Steakhouse. But that lasted only about three years, and he
ultimately went to law school.
In early summer 2009, he launched the virtual Law Office of Brian V. Powers, Innovative Counsel. His staple is his online
practice at www.bvplegal.com.
He's set his practice up to be portable, capable of practicing anywhere in order to make the process more efficient
and cut his costs. Though he spends about 60 percent of his time working from home, Powers said the virtual nature of his
firm means that he doesn't need to be there and could pick up and go anywhere at any moment.
"I don't need traditional office space because that's not what practicing law is about," he said.
"They're paying for my legal advice and help, and they don't care about a nice office with a receptionist.
They just want someone who gets the legal work done well for them."
Purely a transactional lawyer, Powers said he rarely ever steps into a courtroom.
He represents business clients on matters ranging from corporate transactional matters, entrepreneurial legal services, startup
law, mergers and acquisitions, and Internet law/software licensing. He also advises his established clients on issues such
as real estate matters, regulatory compliance, business advisory services, strategic planning, business restructuring, and
general corporate counseling. Most of his clients are businesses based in Indiana or operating inside the state, as well as
clients located in Singapore and on both coasts, Powers said.
If there is a home base, it would be his home in Carmel. That's where his dining room serves as the conference room
and he has a desk. But mostly he's on the move, with his laptop, iPhone, and iPad.
That means no copiers and as little paper as possible. Though he gets large amounts of paper every day, Powers scans and
shreds it as quickly as possible, unless there's a legal reason to keep a paper copy. The web-based technology he uses
is Clio, which allows him to input all of those
documents into a system that compiles and processes the data. Receipts are scanned and the software extracts the information
and loads it into Quickbooks, and then into an online accounting program.
On the accounting side alone, Powers said he spends only about 30 minutes on it during the course of a month. The same goes
for marketing, which mostly revolves around his website and two blogs. Just like him, clients can log in to access their account
information as needed, viewing or paying bills if they want.
He's found all kinds of technology uses to help him in his practice, such as a Smart Pen that digitally records everything
he writes and converts it into an online-searchable form. That also has a recording capability, allowing him to even add voice
notes to his written notes for later review.
Attorney Brian Powers has opened a virtual law office largely based on technology that means he doesn't need a physical
office space. (IBJ Photo/ Perry Reichanadter)
Admittedly, he said most of his clients are under the age of 45 and are the more "tech savvy" ones who are more
accepting of this virtual practice concept. Some communicate with him by social media or texting, though Powers admits that's
not the preferred method of attorney-client communication and he wants to have as much phone or in-person contact as possible.
"The way my practice is setup has opened some doors for me, because I just don't get perceived as having a brick
and mortar office building for my services," he said. "But while that's opened some doors, I'm sure
some have probably been turned off by this and never picked up the phone. But that's fine, because I'm happy and
my clients are happy as far as I know."
Powers realizes that he wouldn't have been able to design his practice this way five years ago, and definitely not
10 or 25 years ago. The profession changes so rapidly that it's tough to know what the future might bring, but he's
interested in seeing the changes now just as he finds it fascinating how longtime attorneys have evolved through the years.
One of those is veteran litigator Linda Pence, who's been practicing for 36 years, been in public service and Big Law,
and has observed those business development changes firsthand.
Pence opened a firm in 1986 and watch it eventually become one of the fastest growing in the state before it dissolved almost
a decade ago, and most recently she's teamed with a longtime colleague to launch a new small firm in Indianapolis.
Earlier this year, she and partner David Hensel launched Pence & Hensel. They are temporarily situated in a former insurance
company building but expect to move into a new office by early November, she said.
When Pence opened her first firm in 1986 after years of working at the U.S. Department of Justice, she recalls how little
technology was a part of that process.
At that time, she received a $30,000 bank loan for startup costs, such as buying office equipment and supplies. She recalls
having a five-page list of items an attorney should consider when opening a traditional law office. Back then, computers didn't
resemble what exists today and Web pages just didn't exist.
Her firm merged in 1995 with what became Johnson Smith, and that lasted until it dissolved in 2002.
"I learned that in a big firm you have to deal with more partners and more people, and decisions take a little longer
and cut into how the firm runs overall. By its very nature, a big firm needs more rigid policies and procedures and that can
slow you down," she said.
Still, what Pence said hasn't changed about the practice of law – a point that highlights how Powers' practice
is thriving – is the relationships with clients.
"That relationship with a client is still the same, even if everything else is different," she said. "The
basics of a lawyer sitting down, having basic facts, and offering legal advice are the same. As a lawyer, you still need a
brain and the ability to ferret out facts, and to advise people on what you understand to be the law. We haven't seen
the end of that hallmark."•
Please enable JavaScript to view this content.