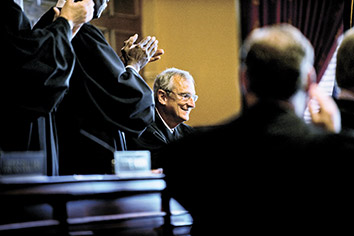 Aside from writing precedent-setting decisions and rules that govern the entire Hoosier legal community, now-retired Indiana Supreme Court Justice Theodore R. Boehm said there's one significant part of his legacy on the state's highest court that is mostly overlooked.
That is an atomic wristwatch he bought several years ago; it communicates every night with the Naval Observatory in Ft. Collins, Colo., to be accurate within one-tenth of a second. With a court tradition dictating that the second-newest justice lines up his four colleagues to enter the Supreme Court courtroom at precisely 9 a.m., having this watch and its precision accuracy has had a significant and practical impact on the court's functioning.
As he put it during his recent retirement ceremony, he joked that this watch was his "only significant contribution to the judiciary."
"Until now, I have not claimed public credit for this achievement, accomplished over considerable tripping, stumbling, and dithering by those behind me," the 72-year old justice said at the ceremony Sept. 30. "In the future, Justice (Robert) Rucker will be the herder of the gaggle of felines, and as a token of my respect and sympathy, I am pleased to present him with this genuine used atomic watch."
Marking the end of a 14-year career as one of the state's top jurists, Justice Boehm told that story after many of his colleagues from the judicial and attorney ranks made their own remarks and tributes about his legal career. Well-wishers gathered inside the ornate third-floor Supreme Court courtroom at the Statehouse, celebrating the judicial career of a man who's been an Indiana attorney since 1964 and had served on the high court bench since 1996.
Though his atomic watch story and other remarks brought laughs from those attending, the backdrop to the event was Justice Boehm's accomplished career on the court and his time in the legal community. As a justice, he'd authored about 480 majority opinions and 80 dissents, and his judicial tenure included the creation of the oral argument webcasting, writing new appellate rules, leadership on a jury pool project, and a 2000 constitutional amendment that changed the Supreme Court's jurisdiction to a mostly discretionary role.
Those in the legal community say that Justice Boehm's legacy will be long-remembered and that he's served on the court in a time when the administrative side has grown significantly, and he's allowed the overall justice system to become more efficient. At the same time, both judges and lawyers and other public officials point to his non-legal involvement that has made Indiana a better place.
"Ted Boehm has found appropriate ways to be of this community and of this entire state community," Gov. Mitch Daniels said. "We're so fortunate that he came our way. That a person of this degree of talent was willing to lend and invest in year after year, chapter after chapter, in diversity of ways to the like we haven't seen. He's been a major part in the establishment of a national reputation that Indiana has as fine a supreme court as the country knows. He leaves to his successor and to his colleagues a very, very high target in order to maintain that stellar reputation."
Indianapolis Bar Association president Christine Hickey thanked Justice Boehm for his service on the court and his leadership in the local bar association, legal community and larger civic roles. She announced the IBA is commissioning a biography to preserve his judicial legacy for future generations.
Former law clerk Cynthia Bauerly, who in June 2008 became the commissioner of the Federal Election Commission in Washington, D.C., represented those who've clerked for Justice Boehm through the years. She talked about his writing being clear and concise and "full of more baseball analogies than one might expect," and that he was someone who clearly understands the law and its implications.
"Justice Boehm makes the work of judging look easy," she said. "Certainly there are arguments to construct and caselaw to explain and cite into context, but at the end of the day even the hard cases looked easy for him. I think it was because he was confident of his conclusion, whether expected or not, popular or not, whether subject to political or press criticism. In each case, whether majority opinion or dissent, with humility, humanity, and sometimes humor, he's explained why the law in his view required that result."
In his goodbye speech, Justice Boehm noted that he'd be taking on the role of arbitrator, mediator, and "perhaps a few other roles" at Van Winkle Baten Rimstidt Dispute Resolution, an Indianapolis-based firm that was founded in 1995 and describes itself as the state's first and oldest ADR-devoted firm.
Justice Boehm also said he didn't plan to vanish from the public arena and that his many years in state government have given him some perspective of issues that need addressing. He criticized the many duplicative government services noted in the Kernan-Shepard report on local government reforms. He also criticized the current judicial selection slating system in Marion County that he described as "a scheme that purports to place the selection in the hands of voters but in practical effect leaves it under the control of a few party officials."
"There are several pernicious results, not the least of which is the judges become a vehicle for raising funds for political parties," Justice Boehm said. "Despite widespread derision, even ridicule of this system, few in government have the will to challenge it."
Before concluding the ceremony for a reception, Justice Boehm made a point to answer the age-old question about what judges and justices wear beneath the black robes. He unzipped the robe and to applause and laughter, revealed his attire underneath: an Indiana Pacers jersey of No. 33 player Danny Granger that he wore over an Indianapolis Colts jersey of No. 18 quarterback Peyton Manning.•
Please enable JavaScript to view this content.