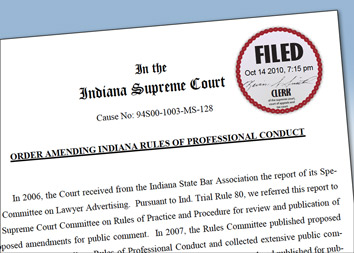 If you practice law in Indiana, new rules are at your doorstep for how to go about attorney advertising in this state.
The changes are wide in scope: from law firm names to how attorneys contact accident victims and issues such as using social media and online tools.
 
But while historic in the sense that this is the first change of its kind in a generation, the state's legal community has a mixed reaction to the revisions that take effect Jan. 1, 2011. Many practicing attorneys criticized what was or wasn't done, while even the former disciplinary chief who'd reviewed and enforced the conduct rules for 18 years said these changes create ambiguity and could bring confusion.
"This is somewhat reorganization, a shift to more guidance than a specific list of dos and don'ts," said Indianapolis attorney Don Lundberg, who served as the state's disciplinary chief from 1991 to 2010. "What used to be black-letter rule with dos and don'ts has now been shifted into the comments portion. That may help lawyers interpret what the rules mean, but you can't violate a comment to the Rule of Professional Conduct … . You have to violate an actual Rule of Professional Conduct. That may or may not be significant."
The Indiana Supreme Court on Oct. 14 culminated a five-year revision process by approving changes to the Indiana Rules of Professional Conduct – specifically 7.1-7.5. The rules are aimed at bringing Indiana more in line with what most of the nation has already done in following model
rules adopted a decade ago by the American Bar Association, and Chief Justice Randall T. Shepard said the revisions will liberalize some of the areas where the state has been more conservative on attorney advertising.
Rules were tweaked in 2000 by the ABA but that meant little to Indiana except for including some e-communication aspects. Revisions happened in 1987, but were mostly just a copy-and-paste job from what existed nationally and what Indiana already had in place for two decades. But in late 2005, the ISBA began studying the issue and a special committee began meeting to explore potential revisions before approving proposed changes in October 2006. The court's Committee on Rules of Practice and Procedure has reviewed and tweaked the potential changes during the past four years, publishing proposals for public comment in 2007 and again in November 2009.
"Taken as a whole, this is a much more modern and flexible approach to the questions our profession faces, and those issues lawyers and their clients face," the chief justice said.
They provide commentary for each revision to help attorneys understand the rationale and what the rules mean, and the changes include more focus on law firm trade names and the creation of a 30-day prohibition on attorneys being able to directly solicit potential clients after an accident or disaster.
Generally, the new rules say lawyer advertising is permissible as long as it's not false or misleading, but the court left unresolved pressing issues such as whether "Super Lawyer" designations should be allowed and how the state might create a review system for pre-approval, as well as points about online resources that have become more prevalent in recent years.
Nickloy
"This is a very complicated set of rules that touches on large dollar issues and affects every attorney at some level," said Noblesville attorney Jeff Nickloy, who chaired the ISBA's special advertising rules review committee. "These had remained unchanged for 20 years, at that point in the face of national issues and new technology."
Left unresolved
The court didn't specifically address social media or some of the more modern online resources attorneys now use, and many in the legal community are criticizing that lack of attention. Nickloy said the committee discussed those issues but that ever-evolving technology is a moving target and it would be pointless to address those issues specifically because they change so often. For example, social media was just getting off the ground when the ISBA began exploring these changes, he said.
Mulvaney
Indianapolis attorney Karl Mulvaney, who chairs the ISBA's Legal Ethics Commission, noted in a report to the bar leadership that future issues warranting review might include: material submitted to blogs and social media and how those are subject to attorney advertising rules, and the question of when information submitted by or on behalf of lawyers to the Internet, blogs, and social media might be considered "public communication" within the meaning of the advertising rules. Those issues tie into what the ISBA Legal Ethics Committee is exploring, as it's formed a subcommittee during the past year to address ethical issues regarding the use of social media.
Overall, Nickloy and Mulvaney haven't yet been able to provide their analysis of what the new rules mean and how they differ from what had been proposed. Mulvaney describes the existing Indiana rules as being conservative, and this will offer more flexibility.
The Disciplinary Commission is reviewing the revisions and isn't yet prepared to offer comment on what's changed, according to executive secretary G. Michael Witte.
But his predecessor Lundberg, who left that post in January, said he isn't sure what to make of the new rules.
"We're kind of in the same position we were before, with the court taking broad concepts and offering guidance on how we translate those rather than spoon-feeding answers on whatever the issue might be. I'm not sure if they go far enough, but this has clearly been a bar-driven effort on a consumer protection issue and I wonder how much lawyers are at the heart of this. So often, the devil is in the details, but I just don't know how to comment on whether this is good or bad."
Attorneys such as John Conlon in Westfield, who volunteers with the state bar association's ethics hotline, said the revisions don't provide enough guidance on many areas, such as social media use and whether specific attorney designations can be used. Others wonder if they'll need to seek out ethics opinions from the ISBA to flush out interpretations on these and other issues that will likely arise.
While a $50 filing fee for attorney advertising remains in effect as it has since 2005, the rule doesn't change anything about the process of how that money is used once the Disciplinary Commission receives it. Many lawyers want to see a pre-review process on attorney advertising, as other states have done to provide a "safe harbor" for careful attorneys, but the ISBA couldn't come to a decision on that and the court left it alone. Nickloy said at the time that the perceived administration burden created by such a system was too expensive.
Some attorneys dismissed that reason, saying they must send money to a state-run Disciplinary Committee that isn't required to even review their materials and let them know about potential issues before they become misconduct actions.
"We have here a system of ambush," said Bloomington personal injury attorney Kenneth Nunn. "Other states have pre-approval and lawyers sleep at night. In Indiana, lawyers make a mistake and then get their heads chopped off. The revision just doesn't help us at all and seems to only be interested in hitting the lawyers' pocketbooks."
Most agree that it's still too early to know what kind of enforcement they might expect from the revisions and how they'll be viewed overall once in effect.
"This liberalizes the rules quite a bit, but the jury's still out on what extent this shift should be viewed as liberalization or a streamlining of the rules themselves," Lundberg said. "As with most things, it will take some time to tease out the significance of all of this and we'll have to see what happens with enforcement."
Of the five rule sections revised, attorneys found the changes outlined in the following provisions to be the most noteworthy. A full version of the new rules is available online.
Rule 7.1
The previously reserved Rule 7.1 has now been written as a broad, comprehensive rule that captures all communications about a lawyer's services. Lundberg said it caught his eye that the previous rule prohibiting communication contained six words: "false, fraudulent, misleading, deceptive, self-laudatory, or unfair." Now, the new 7.1 simply uses the words "false" or "misleading."
To Lundberg, that almost expands the potential use of materials that might be self-laudatory – such as the "Super Lawyer" or "Best Lawyer" designations. He also said the court has interjected the phrase "material misrepresentation" into the rules, which he finds as interesting.
Lundberg added that the court has given attorneys the option to advertise about their professional liability insurance coverage, something that he describes as a modest attempt to recognize an issue that's been gaining steam nationally in the past five years.
Comments talk about attorneys not advertising misleading information or implications of potential results someone might receive, or including dramatizations of an event unless it's specifically pointed out.
Rule 7.3
One of the most publicized parts to the general public has been one specific provision in this revised rule, dealing with direct contact with prospective clients. The new 7.3(b) deals with what some have dubbed "ambulance chasing," or the practice of lawyers contacting victims immediately after an accident or disaster. Now, attorneys must wait at least 30 days before any direct solicitation concerning personal injury or wrongful death.
"This restriction is reasonably required by the sensitized state of the potential clients, who may be either injured or grieving over the loss of a family member, and the abuses that experience has shown exist in this type of solicitation," Rule 7.3(b)(3) states.
Lundberg said a minority of states have taken that step and the Florida Bar Association took the lead on that issue years ago, but it's controversial and he isn't sure what the impact will be for Indiana. He described the provision as one-sided, because no complementary restriction exists on tortfeasors who might have caused the injury or an insurer contacting a victim within that 30-day period.
The Indiana Trial Lawyers Association issued a statement when the new rules were adopted that says it supports the idea, but some Hoosier attorneys say that's one of the most troubling parts of these new rules.
In Bloomington, Nunn disagrees with the new rule and said it withholds valuable information from people who need it. He'll likely have to stop sending many direct solicitations that he does now during that initial time period, Nunn said.
"This is a really bad idea, and the public's been cheated out of a tremendous amount of information they might need," he said.
Plaintiff's attorney Rick Hovde in Indianapolis said his firm has fundamentally always been opposed to sending communications within 30 days, but he understands why it's an issue. Insurance companies might be able to use that lag time to contact victims or even take depositions that could hurt cases in the long-run, he and others say.
Valparaiso attorney Kenneth Allen said he likes to give people more credit that they can find an attorney if they truly want one in those initial 30 days. He thinks the positive outweighs the negative on this, and that hopefully the change means people won't be barraged with brochures and ad materials immediately after something happens.
"Frankly, I think it should be longer and I'd like to see the rules open up even more," he said. "But I hope the new advertising rules make it easier for us to convey truthful information to people in need of lawyers and they can have access to that information on their own terms."
Rule 7.5
Some attorneys throughout the state say they're mostly concerned about revisions that deal with law firm names, something that Lundberg even described as one of the most significant revisions with practical implications for the bar. The chief justice said those topics have come up in litigation and this revision is designed to address that.
Specifically, 7.5(d) says, "Lawyers may state or imply that they practice in a partnership or other organization only when they in fact do so." A comment to that rule explains that "lawyers sharing office space facilities, but who are not in fact associated with each other in a law firm, may not denominate themselves as, for example, 'Smith & Jones,' for that title suggests that they are practicing together in a firm."•
Please enable JavaScript to view this content.