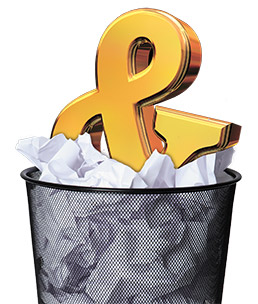 New attorney advertising rules adopted recently by the Indiana Supreme Court have some lawyers throughout the state worried that they're being forced to change their law firm names from what's historically been allowed.
Legal letterhead and law firm names may need to be shuffled if restrictive interpretations are correct about the new conduct code on attorney advertising. The verbiage changes have some wondering whether the Indiana Supreme Court is targeting some solo practitioners and smaller groups of associated attorneys throughout the state. Not everyone agrees that anything of significance has changed, and it could come down to how the state's lawyer discipline agency decides to enforce the rules that it describes as more permissive than before.
 
"Our overall opinion is that there's nothing here that really is a major, earth-shattering move," said G. Michael Witte, executive secretary of the Indiana Disciplinary Commission. "One of those is the law firm and trade names aspect, and how it's taken a prior rule addressed in the negative and turned it into a positive that gives attorneys more guidance. This is still restrictive, but it puts into a positive light that you're permitted to use trade names as long as you meet certain conditions."
The analysis of Indiana's new advertising rules follows action from the state's highest court on Oct. 14, which culminated a five-year revision process by approving changes to the Indiana Rules of Professional Conduct 7.1 to 7.5. A specialized Indiana State Bar Association committee proposed changes to the current rules that have been in place for more than 20 years, and after the House of Delegates approved the proposal in October 2006 the Rules of Practice and Procedure and Supreme Court spent the next four years reviewing and tweaking what might be changed. The final changes were announced and approved during the ISBA's annual meeting last month, and they take effect Jan. 1, 2011.
Chief Justice Randall T. Shepard says the rule changes are aimed at bringing Indiana more in line with what most of the nation has already done in following model rules adopted a decade ago by the American Bar Association. He added that the changes will liberalize some of the areas where the state has been more conservative on attorney advertising.
The rule at issue
One of the revisions raising the most concern throughout the legal community is in Rule 7.5, dealing with law firm names. Indiana's former disciplinary chief Don Lundberg, who spent 18 years reviewing these conduct matters before leaving the disciplinary commission for private practice at the start of 2010, describes that aspect of the changes as the most significant revision with practical implications for the practicing bar.
Specifically, 7.5(d) says, "Lawyers may state or imply that they practice in a partnership or other organization only when they in fact do so." A comment to that rule explains that "lawyers sharing office space facilities, but who are not in fact associated with each other in a law firm, may not denominate themselves as, for example, 'Smith & Jones,' for that title suggests that they are practicing together in a firm."
When the latest proposed rules were posted online last year, an additional sentence was tagged on to that comment: "However, if Smith & Jones indicate specifically the nature of their relationship, such a disclaimer may be sufficient to avoid a violation of the rule."
That latter section was added by the ISBA advertising rules committee, but it's not clear why that section was ultimately not adopted by the Supreme Court. Pressed on those details, public information officer Kathryn Dolan told Indiana Lawyer that the court declined to comment on the reasons or discuss how it might have evolved to what was recently adopted. Dolan said the court received and reviewed various proposals from many parties and wasn't prepared to analyze one portion of the overall changes.
From the ISBA perspective, attorney advertising committee chair Karl Mulvaney in Indianapolis and Noblesville lawyer Jeff Nickloy who headed up the special subcommittee said they added the disclaimer-aspect of the comment into the rules prior to sending the proposal to the Supreme Court. They didn't know why the court decided to leave it out, though. Nickloy hadn't had a chance to review this change to the law firm name section to comment on the potential impact, and Mulvaney said he understood where the new rule could present problems. Another member of the ISBA committee, Indianapolis attorney Jon Pactor, said he's also wondered since the rule revisions were released whether it would still be permissible for a firm to be called "X & Associates," if there are no associates or only one associate; or to what extent it is permissible to be called a law group?
The disciplinary commission's longtime staff attorney Chuck Kidd, who served on the 2006 ISBA advertising rule change committee and has dealt with the advertising disciplinary issue, said he's pleased with what the court approved on Rule 7.5.
"That's an important change because it allows lawyers to do things they've wanted to do before," he said, noting that attorneys can now use their locations or other points of pride as part of their names. "It's not a free hand to do what you want in a firm name, but this is a middle of the road rule that offers guidance."
Though some attorneys might be worried about the use of the word "association" in their names, both Witte and Kidd said the rules are permissive and that they clearly allow for partnerships or other organizations to be mentioned as long as the attorney is not advertising something that's false or misleading.
"By stating positive, the rules give more guidance," Witte said. "This rule really comes back full circle, closing the circle and tying us into 7.1 about not being false or misleading about a lawyer or lawyer's services. The way you advertise yourself in a firm or practice name has to be true."
Indianapolis attorney and legal ethics expert William Hodes, who has taught lawyer ethics at Indiana University School of Law – Indianapolis, doesn't see a problem with the rule.
"I think people are over-reading the rule and comment, and I see this as completely appropriate and not much of a change from the way it was," he said. "As long as you're making it clear that you're not a partnership and are any other type of association or organization, then this should not be any great concern."
Hodes says Rule 1.0 defines a law firm as a place where any lawyer or lawyers in a partnership, professional corporation, sole proprietorship, or another association is authorized to practice law. That rule combined with the new Rule 7.5 offers what Hodes considers a sort of "safe harbor" for attorneys who use disclaimers or specifically separate themselves.
"If you put those definitions together and blend them, then you have something that seems perfectly sensible to me," he said, noting that some lawyers will likely have to change their advertisements if they aren't already doing so. "The basic rule is the same and it's absolutely routine. But you have to make it clear, and if you're not, then the first thing you have to do as a lawyer is burn all of your stationary."
Both Witte and Kidd emphasized that it will take some time for cases to be analyzed using these new rules, but in the meantime they plan to travel statewide and help attorneys recognize what the changes are and what they might mean come the start of 2011.
Lawyers remain worried
For practitioners such as Donald Doxsee in Fort Wayne, that could be a significant issue once the new rules take effect. His letterhead and advertising materials include two other names and the disclaimer that they're "an association, not a partnership." But the new rules would make that impermissible, according to his reading.
"This will affect all of us, particularly those who don't say what we do and just use the title," said the 47-year practicing attorney, who explains he started practicing when attorneys weren't ethically able to put their names in telephone books. "I'm concerned and we'll have to go back and look at this," he said. "I am surprised they went that far and I wasn't aware of it. If that's a correct interpretation, everyone here would have to (change) their letterheads (and) just mention the one lawyer. Maybe we'll have to seek an ethics opinion for some clarification."
In Indianapolis, attorney Aaron Freeman with the association of Ladd Thomas Sallee Adams & Freeman said he and his colleagues have also been watching these rule revisions and are concerned about the changes.
He said the attorneys who practice in that office are separate and share office expenses, but they work to make it clear to the public and potential clients that they aren't a partnership or corporation. On their wall plate inside the office and on every mailing they include the language about being an association.
"We've always tried to go above and beyond what's required in anything we communicate, and we take the position of trying to be honest about who we are and not be ambiguous about the fact that we're associated in this way," he said. "We read that disclaimer provision about a year ago and thought we were fine, but with that part of the comment being gone, I'd presume that it might say what we're doing now isn't good enough. If that's the case, I think there's a lot of firms and attorneys who will have to change what they do. We're in the dark like everyone else is right now."
Solo practitioner Kenan L. Farrell in Indianapolis, who chairs the solo and small firm committee of the Indianapolis Bar Association, says the rule would have impacted him in the former office he worked where eight names were joined together as an "association of attorneys." But he doesn't have concerns about rules that require transparency.
"I do see how the new rule could present a problem for this type of designation," he said. "Presumably, there have been complaints in this area. But if the rule results in greater transparency, I don't think it's a bad thing, even if it requires new signage."•
Please enable JavaScript to view this content.