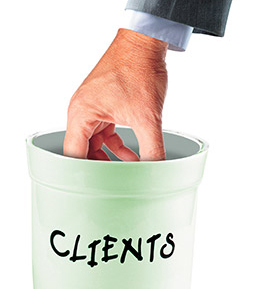 Attorneys know they aren't supposed to reach into a client's cookie jar and take money that doesn't belong to them or fail to provide the legal services they've vowed to perform.
But sometimes, lawyers behave badly, and clients can find themselves cheated. A legal malpractice action might be a remedy, but sometimes former clients are left without what they might consider a real remedy for what has happened to them.
That's where the Indiana State Bar Association sees a place to step in and do what it can to try and help repair the legal profession's bruised and battered image that stems from these kinds of dishonest circumstances. Specifically, the Clients' Financial Assistance Fund is a voluntary attempt by the legal profession to help those who've been victimized by dishonest attorneys.
"We have some lawyers who give the profession a bad name, and I think it's a good thing for the state bar to do – and lawyers to know – that this resource is available for some clients who've had negative experiences out there," said Indianapolis attorney Seamus Boyce, vice chair of the fund program. "We don't see ourselves as judges, but just attorneys who are trying to do a good service, like public relations for the legal profession."
Nearing its 50th birthday after being formed by the House of Delegates in 1961, the fund receives about $2 from every state bar member's annual dues and the money usually rolls over to the next cycle. Most states have a similar fund, though some are run by the judiciary or state rather than through the state bar association.
Those attorneys who've been a part of the program for years say this is an unprecedented time due to the amount of claims coming in regarding a single attorney.
In fact, association records show that the complaints against one attorney this year are on pace to exceed the amount filed for all attorneys during the past decade, but it's still unknown what the total might be and whether some or all of that money will ultimately be given to those victims.
 
That individual is a now-disbarred St. Joseph County attorney, Rod Sniadecki, who nearly 100 clients have expressed interest in complaining about because of his conduct.
The Indiana Supreme Court struck his name from the attorney roll back in May, after finding that the solo practitioner admitted to the bar in 1992 had violated the terms of a previous suspension imposed for having a sexual relationship with a client and then lying about it, as well as hiring a suspended attorney to perform various legal duties. Sniadecki also took on conflicting roles as counsel for a divorcing wife while representing both her and the husband in a joint bankruptcy case.
In disbarring Sniadecki, the justices found he'd committed misconduct by not notifying all active clients of his October 2007 suspension. He also accepted new clients and represented them during his suspension. The misconduct ruling found that Sniadecki directed his legal secretary to forge several documents and gave false sworn statements to the Disciplinary Commission during its investigation of the disciplinary case, took money from clients without repaying it, and falsified loan documents and attempted to obstruct justice when trying to get a loan to repay a client through mortgages on his law office and new law office properties.
Following that disbarment, the St. Joseph Prosecutor's Office turned over its criminal investigation to the U.S. Attorney for the Northern District of Indiana to consider possible forgery, perjury, and attempted obstruction of justice charges. No charges or indictments have been made public at this time, according to the federal court docket.
The Sniadecki situation has created a new phenomenon for the ISBA's victim fund that it hasn't faced before, according to Boyce and current chair, Gary Stage in Indianapolis.
In the past decade, records show the ISBA has paid out nearly $276,414 to dozens of applicants who've proved they were victimized by their attorneys. Stage says the fund administrators meet every other month and usually discuss about eight to 10 cases, and most of the claims range from $500 to $5,000. The ISBA doesn't have a historic breakdown of how many attorneys have been the subject of claims each year, but the amount submitted against Sniadecki is nearly at the level submitted against all attorneys during the past decade.
Stage
More than 90 applications from different individuals have been requested, and so far 44 of those have been returned for a total of about $200,163, the ISBA reports. Stage says that the fund is more than able to handle the excess, with most recent figures from Oct. 31 showing a total $560,156 in the fund. Almost $20,000 has been collected so far since July 1 and about $31,000 has been paid on attorney claims, though none of that has been related to Sniadecki because applications are still being accepted and reviewed.
A hurdle the fund faces with Sniadecki, though, is that current rules limit the amount of money that can be paid out for one attorney to $50,000.
"It's been interesting to me about the history of this program, but in studying that history and talking to those who've been around, no one can recall anything like this happening," Boyce said.
Stage has been involved with the program for six years, served the past three as chair, and agreed that the large number of claims against Sniadecki is unprecedented and could force fund administrators to ask the ISBA's governing board for additional revenue to give to applicants. While he and Boyce believe that the request is rare but has been made before, neither they nor other long-time members could pinpoint an example of that cap being increased.
The rules stipulate that not more than $15,000 can go to any one applicant and that $50,000 is the total that can be collected for any one attorney's conduct, but if the board agrees to exceed that amount it cannot be more than an additional $10,000.
"They might increase it past that $50,000 mark, but I doubt it would get anywhere near $200,000 even if all those claims were found eligible," Stage said, pointing out that he couldn't speculate about ongoing or future investigations or what could be determined. "Theoretically, we'd ask for approval and allocate on a pro rata basis, maybe paying three-fourths of the claim amounts. But we don't know, because we've never had to apply that type of thing before."
Both lawyers said that they act as filters for the applications to determine if any fraud or misconduct happened, but sometimes that just doesn't warrant recovery through this fund and is more suitable for a court action, they said.•
Please enable JavaScript to view this content.