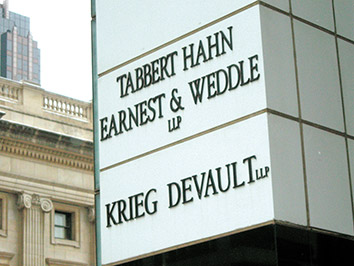 Most of the lawyers at a civil litigation firm in Indianapolis are departing for one of the city's largest law firms at the end of the year, dissolving a firm with a rich history that's been around in some form since the early 1980s and has included some high-profile attorneys such as Birch and Evan Bayh.
Five partners and four associates from Tabbert Hahn Earnest & Weddle are joining Bose McKinney & Evans at the beginning of the year, both firms confirmed with Indiana Lawyer on Dec 4. Another partner departed earlier that week to create her own family law practice on the north side of Indianapolis, which means only four active members will remain once the move happens Jan. 1.
The lawyers joining Bose are: name partners Gregory Hahn and Robert Weddle, partners Matthew W. Conner, Mary M. Ruth Feldhake, and Chad T. Walker, and the four associates David J. Duncan, Joel T. Nagle, Kevin M. Quinn, and Elizabeth Schuerman.
 
"We don't even know what to call this at this point, except maybe a business combination," said Hahn, who's been a name partner at the firm for a little more than 20 years. "Overall as a law firm, we have a number of national and international clients and this just gives us a bigger platform to represent those interests. I'm very excited about this. They're great lawyers and have a great reputation, and this combo will help everyone go to a bigger plateau."
Bose managing partner Jeff Gaither said this symbolized the union of 'two like-minded teams" sharing a "collaborative creative culture that fosters partnerships" among the respective lawyers for added value to clients.
The smaller firm has struggled in recent years to compete with larger firms that can offer more for clients searching for a "one-stop shop," and Weddle said they've been discussing this possibility since mid-October. The two firms were both looking at lateral hires, and their long-established relationship was the starting point for discussion about possibly joining together. All the mid-sized firm partners agreed to move forward on exploring possibilities, according to Hahn and Weddle, and they said this moved behind the scenes until now to allow the attorneys to notify their clients of the changes and discourage gossip from surfacing in the legal community.
"It's like dating – they do a little and then we do and it just kept evolving," said Weddle, who's been with the firm for more than a decade and serves as managing partner. "You have to move fast enough so that all the rumors don't start materializing, and if it doesn't go through it just feels weird and awkward for everyone."
Tabbert Hahn Earnest & Weddle's practice includes various civil litigation areas.
But the public affairs, medical malpractice, and pharmaceutical defense areas mainly drew the firms together, they said.
Now, the departing attorneys will join those practice groups within a larger law firm that Indianapolis Business Journal listed earlier this year as city's fifth largest, giving it about 116 lawyers. IBJ is Indiana Lawyer's sister publication, as both entities are owned by IBJ Media.
Weddle, who practices in the medical malpractice and pharmaceutical defense areas, said that Bose wanted to expand that area of focus and this allows them to do that.
This also means that the governmental affairs affiliate known as Tabbert Hahn Ping Global Strategies will become an ancillary organization of Bose McKinney & Evans, taking on the new name of Bose Ping Government Strategies. Hahn described Bose as having one of the biggest and best governmental affairs groups statewide, possibly even in the Midwest, and said this union matched well for everyone involved.
With all but four lawyers leaving, the remaining attorneys are name partner Lante K. Earnest, partners David Shelton and Robert Daniels, and associate Mark Pizur. Co-founder Don A. Tabbert, who is 82, remains as of counsel along with Joseph Hammes and Alan Nelson.
Partner Judy Tyrrell left Dec. 1 to establish her own family law-focused firm on the north side of Indianapolis at Keystone at the Crossing.
Those remaining attorneys plan to go off on their own and it's not sure at this time what they may do, according to Weddle. A date has not yet been established for an official dissolution of the firm, but it's expected near the end of the year, he said.
"When you're a small firm, a closure is like a family coming apart," Weddle said.
This dissolution means the end of a firm that's been around in some form since about 1988, and is currently located on the 19th floor of the Regions Bank Center across from the Birch Bayh Federal Building. But the firm has its roots in what had been established as a public affairs specialty firm in the early 1980s in Indianapolis and Washington, D.C., by Tabbert, a one-time congressional candidate who served as U.S. Attorney in the Southern District; former Sen. Birch Bayh, and James B. Capehart, an attorney admitted in 1960 who is part of the same family that includes the senator Birch Bayh defeated in the 1962 U.S. Senate race and another Capehart who was part of the law firm formerly known as Krieg Devault Alexander & Capehart.
The firm known then as Bayh Tabbert & Capehart brought in high-profile names through the years, including a young Evan Bayh who worked there briefly before being elected Indiana Secretary of State and later governor and U.S. senator. That firm began disbanding in 1985, and Tabbert remained as the only one of those three original partners to anchor and nurture what eventually became Tabbert Hahn Earnest & Weddle.
Though this change does alter the legal community in Indianapolis and statewide, it doesn't rise to the level last seen in 2008 when Sommer Barnard became Taft Stettinius & Hollister and Locke Reynolds merged with Frost Brown Todd.
Earlier this year, the regional law firm Benesch Friedlander Coplan & Aronoff merged with the Indianapolis-based Dann Pecar Newman & Kleiman to become simply known as Benesch/Dann Pecar in this market.
Some speculation continues about other law firm mergers or acquisitions in the works, but this is the only one made public at this point before the year comes to a close.•
Please enable JavaScript to view this content.