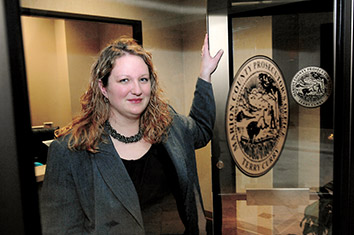 When it comes to human trafficking, most people who are unfamiliar with the crime visualize one person holding another hostage and giving them limited contact with the rest of the world. Some envision a basement in a dungeon-like setting with chains or other restraining devices, say advocates for victims of human trafficking.
The reality, they say, is far more commonplace. In many cases, the victims are able to leave to run errands or meet with others, but considering the psychological and emotional torture – not to mention possible debts to their oppressors – they don't end up leaving on their own.
One case in point is the Jan. 25 conviction of Chris Smiley on human trafficking charges by a jury in Marion County. On Feb. 9, Smiley was sentenced to 10 years.
 
While this is not the first known case of human trafficking in Marion County or Indiana, it is the first time a case has gone to trial in Marion County. And it is among the first, if not the first, in the state, said Marion County Deputy Prosecutor Mary Hutchison. She and Marion County Deputy Prosecutor Jody Hilger have worked on cases involving victims of human trafficking, and they represented the victim in this case.
In previous Marion County cases that involved human trafficking, either the defendant(s) fled the country, the victim(s) chose not to be witnesses, or the defendant(s) agreed to a plea to other charges that carried the same weight as the human trafficking charge.
This Marion County human trafficking case involved a woman – a U.S. citizen and Indianapolis resident – who was forced into prostitution as a result of someone else's drug debt, an all-too-common scenario, Hutchison and Hilger said.
In addition to the human trafficking sentence, Smiley was sentenced to four years on a battery conviction, four years on an intimidation conviction, and 545 days on a strangulation conviction. The sentences will run concurrently. He will also serve five years on a possession of cocaine conviction that will run consecutively.
In this particular case, Hutchison said, the victim, B.A., worked in a strip club and was forced into prostitution to pay off the drug debt. In actuality, she earned more than the original debt. The money she earned covered expenses for her, Smiley, and four others.
B.A.'s name will remain confidential in accordance with the Indiana human trafficking statute that went into effect July 1, 2007, I.C. 35-42-3.5-4.
B.A.'s ordeal began in February 2010. She was 19 years old and Smiley was a friend of a friend. She had been missing for three or four weeks before it was reported to police, also fairly common in these kinds of cases.
There are a number of reasons why victims like B.A. aren't reported as missing immediately, Hutchison said. Typically, the family prefers not to get involved with police or they assume the missing person is OK.
B.A. and the other women in her group were found by police March 19, 2010, and Smiley was charged in July 2010. Start to finish, B.A.'s ordeal lasted about one year.
B.A. was located when a 17-year-old, who was in charge of setting up B.A. with clients, used the cell phone to call her mom and tell her she had been raped. Based on that call, the police found B.A. and the others the next day in a hotel room on the eastside of Indianapolis where they had been staying. B.A. was found hiding in the bathtub, where she was told to stay by the others in the group.
Hutchison said Smiley moved B.A. and the others from hotel to hotel. Hotel records helped in the prosecution of the case. Moving around a lot is also fairly common for trafficking cases, she added.
Much of the time, trafficking involves victims staying in hotels, which is another way of isolating them, Hilger said. To help combat that, Hilger, Hutchison, and a statewide taskforce of law enforcement officers, lawyers, and service providers are working together to provide resources that will help hotel personnel recognize warning signs. In this case, a hotel employee noticed the victim had a black eye but didn't recognize any other circumstances as unusual.
Kuzma
Abigail Lawlis Kuzma, a member of the taskforce and director and chief counsel of the Consumer Protection Division of the Indiana Attorney General's Office, first came in contact with human trafficking victims when she was executive director of the Neighborhood Christian Legal Clinic.
She and others are working on training detectives and police officers to recognize trafficking cases. There is a sense of urgency because many involved in preventing human trafficking are concerned that when the Super Bowl comes to Indianapolis in 2012, there will be an increase in the number of detected and undetected trafficking incidents. The taskforce plans to work with individuals and businesses in Indianapolis who may have contact with those who are here for the event, as well as possible victims, to ramp up awareness, recognize warning signs, and know who to call for help.
"Getting the word out is critical. The victims themselves are like domestic violence victims. They are always isolated. If they are immigrants, they often have language barriers and physical barriers that make them isolated. They don't ask for help. We have to find them. That's a huge challenge," Kuzma said.
Hutchison said it is also important for lawyers to be aware because if they have a client who's a victim, they can alert the prosecutor to check out the situation.
After she was found, B.A. received counseling. She worked closely with the deputy prosecutors and the detective. Hilger and Hutchison told her that she would only need to address Smiley once, to identify him, and the rest of the time she would be addressing the jury.
"During the trial process, the dynamic of power is flipped in favor of the victim," Hilger said.
After she learned Smiley was convicted, B.A. called Hutchison. "This means they listened. They listened to me and believed me," B.A. told her.
To report an incident of suspected human trafficking, call 911 if there is an immediate danger, or contact the Indianapolis Trafficked Persons Assistance Program 24-hour hotline at (800) 928-6403.•
Please enable JavaScript to view this content.