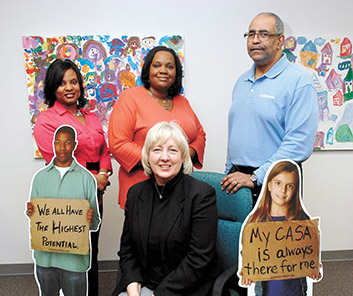 Having volunteers and staff who can relate to families that interact with Court Appointed Special Advocates programs has proven invaluable to a number of county-level CASA programs in Indiana.
Indianapolis-based Child Advocates Inc. will receive the National CASA Inclusion Award for its inclusion and diversity plan March 20 at the National CASA conference in Chicago.
Overcoming ethnic and cultural barriers is not only important in urban areas like Marion County, but also in rural areas where there has been an influx of immigrants in recent years.
Having an inclusion and diversity plan, said Leslie Dunn, director of the Indiana Office of GAL/CASA, "is not just the right thing to do – because it is – but it's the right thing to do for kids."
Dunn said she has encouraged all county-level CASA programs to look at what they are currently doing and what they need to do to encourage diversity in terms of recruitment of volunteers and staff. She also asks program administrators to evaluate the training they offer to volunteers regarding cultural differences they will likely face when working on cases.
She praised the efforts of Child Advocates Inc. for their diversity and inclusion plans, including a program the organization hosts, "Undoing Racism."
Executive Director Cindy Booth also credited her staff, including Gregg Ellis, the Juvenile Court program director, who has been instrumental in getting a staff in Juvenile Court to reflect the population that court will interact with.
In Marion County, she said, 50 percent or more of all Child in Need of Services cases involve children who are African-American.
As for recruiting and training volunteers, Booth and others at the organization, including Volunteer Director LaDonna Wattley and Volunteer Coordinator Dionne Jones, have worked on the organization's recruiting efforts, including visits to churches and community organizations with high African-American memberships.
Child Advocates has also hosted training sessions at workplaces, including trainings at downtown Indianapolis law firms and a recent session at Baker & Daniels' office on Indianapolis' north side. The at-work trainings help improve another type of diversity – they tend to bring in more male volunteers.
Booth, Dunn, and other CASA directors agree that this is important because many children in CHINS cases don't have a positive male role model, and having a male volunteer shows them that men can care about them. Dunn added that county-level CASA directors have emphasized to potential male volunteers important aspects of the job such as problem solving and research, not just the nurturing aspects they might already know.
In addition to the volunteers who work directly with clients, Booth said there has also been more of an effort by Child Advocates Inc. to recruit diverse board members who will provide input on the organization's efforts regarding issues of inclusion and diversity.
Dunn mentioned she was impressed with what other county-level CASA programs were doing in Indiana.
Cass County Child Advocates in Logansport has been actively seeking more ways to reach out to the Hispanic community following that population segment's growth from about 1 percent of the population in 2000 to at least 13 percent in 2008, possibly more considering the number of undocumented workers.
Program Director Stephanie Winkel said the organization had an intern, who is Hispanic, who was a great help because she went with volunteers to meet families. The intern is still somewhat involved with the organization, and other Hispanic students who attend Ivy Tech have been helpful.
"The (Hispanic) community tends to be close-knit and distrustful of outsiders," Winkel said. "There is also a misconception of CASA and what we do. They wonder, are we law enforcement? Are we there to judge them?"
It helps, she said, to have Spanish-speaking volunteers, but she has learned that it's even more helpful to have someone who can relate on multiple levels.
"We need a person to act as a bridge, someone who looks like them, talks like them, and understands where they are coming from," she said.
Dunn
Finding that "bridge" was especially important in Cass County where a number of cases remained on the waitlist because no one in those families spoke English. In some cases, they wouldn't even open the door when CASA representatives visited.
"We found that just having someone knock on the door to say, 'Hola,' and reassure them we're not looking to deport people or there to judge them, but we're here to help the children, made a big difference," she said.
They found that even if a Hispanic person wasn't with the volunteer on subsequent visits, the family was more likely to trust the volunteer because of previous interactions.
Having volunteers who relate to the families is important in any situation, Winkel said, including another group she has been working to recruit – women who were or are single mothers who can relate to other young single mothers.
The director of Knox County CASA in Vincennes, Dena Held, has also been actively working on issues of inclusion and diversity in her county. That organization has formed the Knox County CASA Inclusion and Diversity Advisory Council. The 15-member group considers different issues impacting the CASA and includes people from the community with a variety of CASA program experience levels.
The group consists of former foster care youth, foster parents, professionals in the medical field, those with an expertise in economic disparity, and others who can help connect Held to different groups in the area to help build the organization's volunteer base in terms of African-American and male volunteers.
Dunn said the efforts of county programs have been innovative and important, including recruiting efforts by Vigo County CASA in Terre Haute to work with African-American fraternities and sororities and their alumni groups; and Lake County CASA, which she said was second to Child Advocates in Marion County in terms of recruiting diverse volunteers.
One area that Dunn said county-level CASAs still need to put focus on is in the diversity of their staffs.
"Having a diverse staff is extremely helpful because it shows you're open and welcoming to all people," she said. "That's just common sense. I think Cindy has been proactive. It's easy to be complacent and say no one has come along. … In Indiana, we may need to be a little more progressive and proactive to go out and seek more diverse entities."
She added that she is working on more training sessions, "… for all of us to understand there are issues, even in smaller communities, and we need to proactively address those issues. We need training beyond cultural competence – but also racial disparity, and how this relates to child welfare. We need people who can be in touch with the people we serve."•
Please enable JavaScript to view this content.