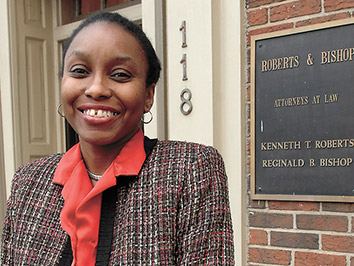 Minority bar associations continue to benefit the Indiana legal community by offering diverse perspectives. Members benefit from networking opportunities, and the bars help to maintain a positive professional presence in the communities they serve. Presidents of the two largest minority bar associations in Indiana, the Marion County Bar Association in Indianapolis and the James Kimbrough Bar Association in northwest Indiana, said they and their members are committed to continuing their missions on these fronts.
Felicia Howells of the Indianapolis firm Roberts & Bishop, was sworn in as president of the MCBA March 9. Shelice Tolbert of Kopka Pinkus Dolin & Eads in Crown Point, has served as the Kimbrough Bar Association president since June 2010.
Howells got involved with the MCBA early in her legal career through the efforts of 2007 MCBA President Jimmie McMillian of Barnes & Thornburg in Indianapolis. In 2010, Howells served as co-secretary with Lakesha Triggs, a Marion County deputy prosecutor.
As president she hopes to grow the bar's membership, which has remained steady over the years, and to keep current members engaged. While the bar association has a few hundred paid members, not all are actively involved and she wants to make sure that all MCBA members are aware of the opportunities that exist.
Another of Howells' goals is to keep the MCBA engaged with the community, including the Boys' Rites of Passage and Girls' Rites of Passage programs for students who are 8 to 14 years old. She is on the lookout for other opportunities that will allow the MCBA membership to give children and young adults a chance to speak with a lawyer or judge about legal careers.
The MCBA, in cooperation with the Center Township Trustee's Office in Indianapolis, will soon start offering legal advice to the community.
Lind
She added the MCBA will continue to work with law students, particularly members of the Black Law Student Association at Indiana University School of Law – Indianapolis. Members of that organization attend MCBA meetings and network with MCBA members, she said.
Past presidents of the MCBA, including Indianapolis attorney Ryan Gardner, president in 2009, and McMillian said they had similar goals for the organization while serving as president and are confident in Howells' abilities to continue the organization's tradition of serving members and the community.
"Felicia became really involved with the MCBA a few years ago. She immediately took the helm of the College Application Drive Committee and did a wonderful job putting together two programs. Her dedication to the organization is readily apparent in everything she does. She quickly gained the respect of our members," Gardner said.
McMillian agreed.
"I think she'll do a fantastic job," he said. "She has a lot of energy and enthusiasm, particularly in respect to uniting and coordinating lawyers in MCBA to match them with resources to improve their abilities to practice law."
Partnerships are important for minority bar associations, McMillian said. For example, the MCBA helped Howells learn about a scholarship to attend the Indiana State Bar Association's Solo and Small Firm Conference.
"The strength of the MCBA has been its ability to partner with other organizations – the Indianapolis Bar Association and the Indiana State Bar Association – so members of all organizations can benefit from our perspectives and the perspectives of others in an organized fashion," he said.
McMillian
Howells said she would also like the MCBA to partner with other professional groups beyond the legal community that focus on minorities.
Jeffry Lind, president of the ISBA, said he welcomes the opportunity to work with minority bar associations like Kimbrough and the MCBA.
"The Indiana State Bar Association is mindful that all bar associations are valuable," he said. "We have tried to spread the word that if any bar association needs our help, please contact us. While monetary resources are more scarce in this economic environment than any of us can remember in our recent past, the ISBA has resources that transcend monetary resources. Our contacts, knowledge from years of bar work, and a membership all over the state may well allow us to assist another bar association accomplish something it hopes to try to (do for) the first time.
"Additionally, bar associations with a project or event that they are very proud of should, please, give us a call. We hope to spread the word about great things that the bar associations in Indiana are accomplishing in their communities," he said.
Tolbert said that the Kimbrough Bar has also maintained a good relationship with the Lake County Bar Association. It has partnered with the Hispanic Bar Association and the Women's Bar Association, both in Northwest Indiana.
In some cases, the Kimbrough Bar has supplemented what the Lake County Bar does, such as the Law Day program. The 2011 Law Day program, which will take place April 29, will have programming by the Kimbrough Bar in Gary, while the Lake County Bar Association will have programs in other communities in northwest Indiana.
The bar has also partnered with a re-entry program in northwest Indiana, Triumphant Transitions.
Gardner
As far as the continuing relevance of minority bars, McMillian and Howells pointed out two recent appointments of African-American women to the federal bench, calling this a historic time.
U.S. District Judge Tanya Walton Pratt was sworn in as the first African-American federal judge in Indiana on June 25, 2010. She serves in the U.S. District Court Southern District of Indiana, Indianapolis Division. That court also announced Feb. 28 the appointment of Indianapolis attorney Denise K. LaRue, who is scheduled to begin her term April 1.
The Kimbrough Bar's annual dinner on April 21 will honor African-American members of the judiciary in Indiana, Tolbert said. Contact her for more information at 219-794-1888.
McMillian said that efforts of the MCBA to encourage diversity in the bench and bar have contributed to these and other nominations of minorities.
"We're giving people a different perspective," he said, adding sometimes it's just the bar's membership working one-on-one with others in the legal community. "Sometimes real change happens over lunch or over coffee by having an open and honest conversation about the challenges both sides face."
As for her term as president of the MCBA, Howells said, "I'm looking forward to this opportunity for growth and looking forward to working with our membership."
She encouraged anyone who wants to get involved to e-mail her at [email protected] for membership information.•
Please enable JavaScript to view this content.