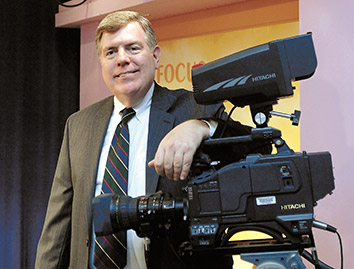 Lawyers and judges who eat, sleep, and breathe the law might find it easy to forget that not everyone understands the finer points of how the justice system works. Issues of public interest, high-profile court cases, and even the day-to-day workings of the court can create drama and lead to misunderstanding.
This is where legal commentators – analysts of the inner workings of the legal system – come into play.
 
Throughout Indiana, a number of attorneys and judges share their professional expertise and insights on legal issues through television and radio shows. A law school dean who comments on various sports topics and has an affiliation with the NFL Network; a former Marion Superior judge who now has a small firm and frequently works with local network stations covering legal news; and a current Marion Superior judge who hosts a monthly show about the court for a government cable access channel in Indianapolis discuss their experiences.
Sports law analyst
If you watch the NFL Network, you may have recognized one of its commentators. Indiana University School of Law
– Indianapolis Dean Gary R. Roberts has been serving as an on-air legal analyst for the network discussing the current dispute between National Football League team owners and players.
 
Roberts
So far, he has done a few call-in interviews, including one on March 11 to discuss the labor negotiations. That interview was recorded at the WFYI studio in Indianapolis and is available on the NFL Network's website.
In that interview, Roberts explained the role of lawyers and the possible trajectory of the NFL labor negotiations through the court system.
When he gives his analysis on any item in sports news, he said, he doesn't take sides and only comments on the legal aspects, such as whether one side has a strong or weak legal argument and why.
During the March 11 interview, Roberts told the other commentators, who were in the NFL Network studio in Los Angeles, that he expected both sides to come to an agreement shortly before the 2011 NFL season is scheduled to begin and that he expects there to be a Super Bowl in Indianapolis in 2012.
Roberts said the NFL Network contacted him to be a commentator likely based on his past analysis for other media outlets regarding legal issues of various sports. The law school dean is a leading expert on sports law and antitrust law and has testified nine times before congressional committees. He is a certified commercial and sports arbitrator with the American Arbitration Association and is a founding member and serves on the board of directors of the International Association of Sports Professionals and Executives.
Roberts said he enjoys explaining the legal issues surrounding sports because there are so many and the latest developments in this area of law are something he studies on a regular basis. He also enjoys doing it because it helps him to promote the law school in Indianapolis.
"It brings our institution into the public's consciousness, where good people are doing interesting things," he said.
When he began his tenure as dean of the law school in 2007, Roberts hoped to incorporate more sports law courses, but he said finding external funding has been difficult. The school currently offers two sports law courses, one taught by the dean and the other by Scott Bearby, managing director of legal affairs and associate general counsel to the NCAA.
Local news analyst
Gary Miller, an attorney who has taught ethics as an adjunct professor and is known for his lectures involving scenes from television shows and movies featuring lawyers that illustrate unethical behavior, can now be seen on television as himself.
Miller
Miller, a former Marion Superior judge who is now a name partner at MillerMeyer in Indianapolis, is a frequent commentator on a number of local network stations that reach audiences in central Indiana.
When he was on the bench, he oversaw a number of high-profile cases and got to know a number of journalists covering those cases. After Miller left the bench, those reporters and producers started calling him.
"Anything that involves the law is something that reporters and news directors want help explaining to the lay audience," he said. "It runs the gamut of Officer (David) Bisard's arrest to Tim Durham's situation, to the woman who took rat poison to self-induce abortion. For all legal issues, reporters are looking for credible sources."
Sometimes he's on-air, and sometimes he is simply asked to explain a legal issue in a way that the reporter can use to make it understandable to viewers during the next broadcast.
When he is going to be on-air, he said, "the very first thing you have to realize is the amount of time you have to explain something is very short. The only thing I know in advance is what's the general topic and do I need to find out a specific law. I will try to put myself in a position of a lay person who will be watching, and say what kind of information about this topic is important."
He said he's yet to get any legal business as a direct result of being on the air, and most of the time when he is on television he is identified as a former judge and not by his firm name. But, he said, that isn't why he does it.
"Anytime they call and I'm in town and available, I'm more than happy to help," he said. "Most of the people I deal with are friends, so when a friend calls I try to help. It's just the way I've always operated."
"Off the Bench"
In Marion Superior Court, a program called "Off the Bench" has covered a number of legal topics since it started airing in 2005. Issues addressed have included alternatives to juvenile incarceration and Marion County juvenile justice reform efforts, re-entry programs, identity theft, voter laws, the justice system's response to mentally ill offenders, and court appointed special advocates.
The program has had four hosts since it started: Judge Cale Bradford, now with the Indiana Court of Appeals; Judge Gerald Zore; and most recently, Judge Robert Altice. The current host is Judge John Hanley, who taped his first show in early March.
In that show, he hosted Marion Superior Judges David Dreyer and David Shaheed who discussed their work with the April 4 commemoration program to recognize the assassination of Dr. Martin Luther King Jr. and the speech Robert Kennedy gave in Indianapolis on his presidential campaign tour that night.
As a student he had done some reporting for his college radio station and newspaper at the University of Notre Dame, and Judge Hanley said he had not been on-air since then. However, he felt fairly comfortable on-air for his first show, he said, and is looking forward to future programs.
Selected "Off the Bench" programs may be viewed online at www.indy.gov. Select "Government TV; On Demand; Special Events" and search "Off the Bench."
While all three commentators got onto television in different ways, a common thread is the desire to explain legal issues to the community in a way that increases understanding of the law and clarifies the legal process.•
Please enable JavaScript to view this content.