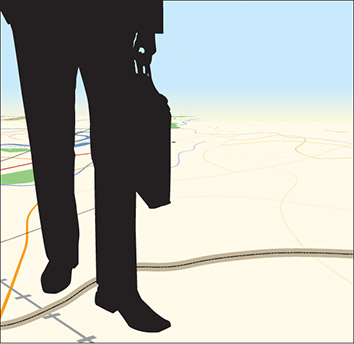 Attorneys in Indiana know that they must meet certain ongoing requirements to maintain their law licenses: CLE hours, and staying abreast of procedural changes. Why, then, would anyone want to be licensed in two states?
For Jeffry Lind, Indiana State Bar Association president, the answer is simple.
"I changed firms, and the new firm had litigation work available in Illinois, and I wanted to help out, do my part, be a team player," he said.
Lind, who passed the bar in Indiana in 1998 and was admitted on motion in Illinois in 2002, practices in Terre Haute, about 10 miles from the Indiana-Illinois border. Like many attorneys who live along Indiana's borders, Lind is able to handle more cases thanks to his dual licensing. But he also encountered challenges when he was admitted to the Illinois Bar.
"Initially, I was the stranger in town when I went to communities in Illinois. At that time, I had practiced 14 years, so it was difficult to walk in as the stranger and as the guy who was granted no respect," he said. Ultimately, Lind said, he enjoyed the challenge of making a name for himself again.
"I have met some great lawyers I would have never met," he said. "It's kind of like expanding your legal community."
Unlike Lind, attorney Susan Kozlowski decided to take both the Indiana and Illinois bar exams right out of law school.
"I figured that was the point in time when I would be most likely to remember the questions and answers, and I was already writing checks, so I might as well fill out an application," Kozlowski said.
"I would tell kids coming out of law school – I think most exams are multistate, I think it's just the essay they have to study up on. So just do it, especially if you live in a border town. People are impressed by that," she said.
Kozlowski runs a solo practice in Crown Point, where her dual-state licensing comes in handy when handling family law cases, particularly when one parent in a divorce moves across state lines.
"Some people will call before they move to see how moving to another state might affect their child support," she said.
In probate cases, too, clients appreciate working with an attorney who can handle complicated estate matters.
"Right now I'm doing one where the person owned property in Illinois, but he died in Indiana," Kozlowski said, adding that a wrongful death lawsuit had been filed on behalf of the decedent. "Now there's kind of a war as to who has jurisdiction."
But according to Patrick Olmstead, chair of the ISBA's Ethics Hotline, some attorneys may misinterpret jurisdiction – or the limits of their ability to work on a case.
Olmstead said an attorney he knew who was living in Ohio and applying to the Ohio bar represented a former Indiana client, who was an Indiana resident, on a will change.
"The Ohio disciplinary authorities found out about the amended will and charged her with the Unauthorized Practice of Law (even though she was an Indiana-licensed attorney taking care of an Indiana client). Other jurisdictions have ruled similarly," Olmstead said.
"As chair of the Ethics Hotline, I also warn people that multiple licenses create unique disciplinary issues. For example, which state's disciplinary rules apply when you're representing an Illinois client? It's a fact-sensitive question," he said.
Olmstead is licensed to practice in Indiana and Missouri. "I tell people that it's a pain, and recommend against getting admitted in multiple states, unless you practice near a border," he said via email. "I do not actively practice in Missouri. Yet, I still have Missouri CLE requirements, bar dues, etc. Even though it's easier when you go on 'inactive' status, it's still a use of your time."
Attorney Candace Armstrong said her motivation for dual-state licensing is likely different than most attorneys'. A 2004 graduate of the Valparaiso University School of Law, she passed the bar in Illinois and went to work for a large law firm in Chicago. But she and her husband found a golf course for sale in Brook, Ind., and decided to buy it. "Golf courses don't come up for sale in a lot of places," she said.
Deciding the commute between Brook and Chicago was just a little too far, Armstrong decided to become admitted to practice in Indiana on-motion and opened a solo practice in Brook, a town of about 1,000 people.
Armstrong sees a niche for herself in Brook, where small, rural businesses may not have easy access to attorneys. At least that's the case in Illinois, she observed. "The attorneys in Illinois seem to be heavily concentrated in Chicago and Springfield," she said.
Armstrong maintains her Illinois license, because some of her clients have businesses on both sides of the border.
When asked about the possible complications of practicing in two states, Lind did not have any immediate or serious concerns.
"In the litigation aspect of it, there's a small learning curve – learning the difference between the court systems," Lind said. "I'm sure there are (complications) in other states, but Illinois accepts my CLE hours," he said.
State laws regarding advertising for legal services vary from state to state, but, Kozlowski said, she avoids any complications by keeping her strategy simple.
"I go nowhere near that flame," she said. "I don't reach out to people. I mean, I advertise, but it's like general phone book or Internet. More and more, most of your business comes from word of mouth; Internet second; phone book last."•
Please enable JavaScript to view this content.