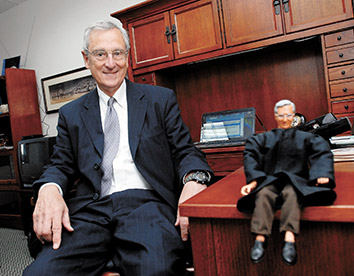 When he was a member of the state's highest court, former Justice Ted Boehm recalls reading a fair amount about alternative dispute resolution and even crafting rules about the topic.
But since leaving the appellate bench in September, he is seeing the modern ADR system for the first time from the trenches.
His verdict: It truly does work.
That is a common theme among jurists-turned-mediators, who may not have been able to personally witness the ADR benefits and only heard stories told by others about how effective an option it can be. Many say they are in some ways constrained by their robes from actually talking to parties and finding mutually beneficial resolutions. Boehm may be unique in moving from the state's highest appellate bench to the ADR world, but he echoes what others have said when making the move.
"Before now, I'd had an Olympian view of mediation," Boehm said, referring to his 14 years on the Indiana Supreme Court. "Not too many former judges are doing this, but I'm a little of an unusual character being the only former justice. As an appellate judge, I read a fair amount about it and helped create some rules but never
witnessed it on the ground level and didn't know what it was truly like. I'm really surprised at how well it really does work."
The first months with Indianapolis ADR firm Van Winkle Baten Dispute Resolution haven't presented any new substantive challenges. The issues he is addressing are much like those he handled both as a practicing attorney and saw from the judge's perspective. Boehm began his legal career at Baker & Daniels in the 1960s before taking on corporate counsel roles at General Electric and Eli Lilly in the late 1980s to 1995. Those jobs gave him the chance to participate in negotiated settlements of many large complex business disputes on acquisitions, dispositions, real estate transactions, and commercial agreements.
All of that combined with his court experience set the stage for what he's doing now. The use of ADR really exploded during the time he was on the bench, so this is his first practical experience participating since that boom happened, he said.
Devoting about a third of his time to mediation work, Boehm said he just recently started handling his first arbitrations and most of his cases at this point have been focused on business, contractual, or regulatory scheme issues between shareholders, corporations, or employees. He hasn't had a personal injury or domestic relations case, which are the most high-volume type, he said.
"I'm really enjoying the mediation so far and like that it's something I can do on my own schedule," he said, noting that his calendar has at least one mediation or arbitration per week. "The issues aren't really different, so it's really just the ADR aspect that I haven't experienced before. My biggest surprise has been how unsurprising it's been so far. But I am really interested to see firsthand how well it works."
Boehm is keeping busy, balancing his time between the dispute resolution firm and other work such as senior judging for the Indiana Court of Appeals. He's also been spending much time handling a high-profile trustee role in the estate of the late Mel Simon, who died in 2009 and whose family is battling in court over how the former mall owner's estate will be split. Boehm is also staying involved in civic activities and the legal community, such as chairing an Indianapolis Bar Association political action committee focused on changing how judicial candidates receive campaign donations.
"I'm trying to keep my hand in the civic and legal communities as much as I can give back," he said.
That schedule flexibility and ability to apply past experience to something new is one of the reasons other judge-turned-mediators agree ADR is an attractive professional option.
Kim Van Valer left the Johnson Superior bench in 2009 to return to her family firm in Greenwood where she is helping to run the office and has created an ADR focus.
"As a judge in my second term, I started seeing that there was so much good I could do if I could just step around that big bench and sit at a table to talk with these people," she said. "I loved being on the bench, but it can be frustrating that you aren't able to just talk casually with people about what options might exist. In court, you're trying to win rather than agree on something."
Though her ADR emphasis at the firm took off slowly, she said it has started to pick up and she is seeing cases from not only lawyer or judicial referrals but unexpected places like church counselors and therapists. She works as a mediator to avoid the "shuttle mediation" method between rooms. Though she's running for a part-time position on the Franklin City Court, Van Valer said she's eager to continue mediation work at the law firm. She also serves as a senior judge statewide and is on the ADR Committee for the Judicial Conference of Indiana.
"If we expect our courts to function as problem-solving centers, we need to send only those cases in which resolutions are impossible between the parties themselves," she said.
Former Shelby Superior Judge Russell Sanders, who retired at the end of 2010, has entered the ADR world as a member of The Mediation Group in Carmel. He's one of two former judges there.
Sanders said his judicial experience gives him a better feel for evaluating cases – he knows how he might approach a case as a litigator or how he would view it if it came before him on the bench – and helps him to craft a mutually beneficial resolution. He uses the perspectives of both as a neutral party.
"This was just too good an opportunity to pass up, getting to stand on the third leg of the system," the former judge said, referencing his 20 years as a practicing attorney and 14 years on the bench. "They're all complementary and a part of what this practice of law is all about – resolving disputes for people. That's why we got into this profession in the first place."•
Please enable JavaScript to view this content.