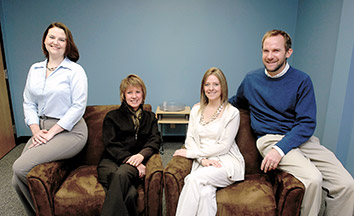 Carol Terzo proudly states that visitors will find no traditional office furniture at The Mediation Option. At this alternative dispute resolution firm on the north side of Indianapolis, even the dry-erase boards – made of bamboo – are designed to feel homey and inviting.
During a mediation, "There can be a lot of down time," Terzo said as she pointed out a room where guests can watch TV, relax, or play Guitar Hero. It's this laid-back atmosphere that Terzo and her associates say distinguish them from other mediators in Indiana.
Trading spaces
Last year, Terzo began to long for a change of scenery. She had worked for the Marion County Prosecutor's Office for 22 years, presiding over many civil and family law cases in her roles as a commissioner, a master commissioner, and a senior judge. And she remembered an ADR course she had taken two decades earlier – perhaps the second such class offered in the state, she recalled.
"I thought it was such a wonderful thing to do," she said about mediation.
So she decided she would open her own ADR office. She mentioned the idea to Lori Anne Perryman, an attorney working in the child support division of the prosecutor's office. She told Perryman about her idea on a Monday, and by Tuesday, Perryman had decided that when Terzo left, she would go with her.
Perryman had worked for 10 years in the child support division and was known for her success in the collection of unpaid child support. But the job was demanding. "It's hard not to take that work home with you," she said.
Also a prosecutor in the child support division, Perryman's friend Elodie Meuser liked Terzo's dream of opening an ADR firm. "I was looking for something different," she said. "I was tired of fighting – I felt like everyone thought I was the enemy."
The three women decided they would begin looking for a space for an ADR office, finally settling on their location at 93rd and Meridian streets because they liked its proximity to Interstate 465.
Meanwhile, Noah Schafer, an attorney in the prosecutor's office homicide unit, heard rumors that his colleagues were leaving to start an ADR firm. "I still thought maybe it was a half-baked idea," he said. But once he talked to them and realized how much research they had done, he figured he should take a chance, and he joined them at TMO.
The four attorneys rounded out the staff with the addition of Emily Bubb, a registered family law mediator. Bubb is not an attorney, but Terzo thinks that's an advantage – not all clients want to talk to an attorney.
"As you look at us, we all have various strengths and weaknesses," said Terzo, who calls herself "the token old person."
Every Friday, the group meets to discuss upcoming mediations and who is best-suited to talk to the parties involved. Terzo said they prefer two mediators to work on a case, a technique known as co-mediation, which she said is new to Indiana.
Some people may be more comfortable talking to a woman, a man, a non-attorney; but most importantly, Terzo said, clients seem to appreciate working with two people. The mediators may not always agree on the best resolution, and as they amicably discuss possible alternatives, clients can witness compromise in action.
ADR v. litigation
People save money by settling disputes out of court. But the less-tangible benefits of ADR may be equally satisfying for TMO's clients and staff.
"Litigation has kind of a cookie-cutter resolution," Schafer said, with outcomes of disputes being limited by the constraints of the court system. Perryman added that even when cases are settled in court, the parties involved are often left wanting something more.
"People didn't have this complete sense of closure," she said of the many cases she handled for the prosecutor's office. "They really wanted to express these other things."
Perryman said that being able to express themselves brings people a sense of relief, and if people can't say what they want to say, sometimes, "It just festers, and the conflict never goes away."
Terzo said it's interesting to watch body language during mediation. Clients who are tense, with their arms drawn close to their body, may – by the end of mediation – be stretched out comfortably on the couch. Mediators can see the relief their clients feel.
All of the TMO attorneys say mediation works for most types of cases, even victim-offender cases. "Except murder," Schafer interjected. And because of their background in the prosecutor's office, Perryman says they are familiar with the tension that can arise from complicated personal disputes. If people should be kept apart, each party can be in different rooms, with the mediators literally going back and forth to reach a resolution.
Terzo said she thinks the cozy, inviting environment may help alleviate those interpersonal tensions, noting that even the tough-guy cable TV installers "oohed" and "aahed" when they saw the space.
Despite their best efforts, some issues cannot be resolved – or at least not completely.
In one case, a time constraint resulted in an incomplete mediation. Mediators resolved all but a few issues.
Budget-conscious clients may hope to achieve a lot in a minimal amount of time. Terzo recalled one mediation in which the clients wanted to resolve their conflict in one hour. While the TMO staff nodded in agreement about that being a short time in which to achieve results, Terzo said they were able to do it. The clients were so satisfied, they came back for further mediation.
Even when mediators can't completely resolve a dispute, Schafer said, "It's never a waste of time." Often, one of the greatest benefits of mediation is simply being able to communicate. "They get to see how to talk to each other," Terzo said.
Building a client base
Some clients find their way to TMO through the Internet, and many come through referrals.
Meuser said if judges have a case in court that they think could be resolved through mediation, they will provide the involved parties with the names of three mediators.
"I've been amazed so far," Terzo said of the volume of clients they have had since opening in January. Schafer said the demand for their services demonstrates the necessity for mediation firms.
TMO's clients sometimes attend mediation on their own, and people with active or pending court cases may bring along their attorneys.
Perryman said busy attorneys appreciate being able to remediate. Meuser recalled that at the prosecutor's office she was unable to spend as much time with clients as she would have liked, which is one reason she enjoys her work at TMO – the time she spends talking to people.
Schafer said people in general may wrongly believe that attorneys deliberately drag out their work to increase billable hours. Quite the opposite, he says, "I think attorneys are happy when things get resolved quickly."
"We make attorneys look good," he said. "Especially when an attorney comes with a client to the office, and the client gets to see (his/her attorney) advocate for them in a way they can't in court."•
Please enable JavaScript to view this content.