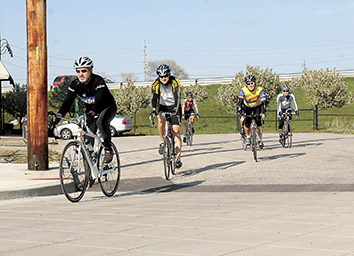 For the past three years, Brett Miller has been riding his bicycle to and from work – a round trip of 44 miles. "At first, it was just to see if I could do it," he said.
Miller, a partner at Bingham McHale in Indianapolis, generally leaves his house around 5:15 a.m. From his Geist neighborhood northeast of Indianapolis, he winds his way down paths and roads to his downtown office in about an hour. After handing off his bike to the parking garage valet, he hits the showers, exchanging bike clothes for work clothes before the workday begins.
Miller, 52, is among a growing number of attorneys who are leaving their cars at home and biking to their daily destinations. Some are new to cycling, and some have been riding for decades. But what they all have in common is a desire to stay in shape.
Fitness and fresh air
Miller said he used to run regularly for exercise, but over time, his knees began to deteriorate.
"Guys that were like me, that ran, are getting old," Miller said. He said that cycling allows him to get a great workout without doing further damage to his knees. "I run maybe once a quarter now."
Goshen attorney Joseph Lehman ran competitively when he was younger. He ran in the first Honolulu Marathon in 1974 and has competed in the Boston, New York and Chicago marathons. Lehman, 61, still jogs about seven miles every morning before he hops on his bike for his 10-minute commute to work.
Lehman bikes at a leisurely pace along the Mill Race Trail to get to his solo office. He calls the trail and its view of the canal "the best part of Goshen."
"I think it's so important to get out of cars and outside," Lehman said.
Greenwood attorney Tim Riffle used to get his outdoor time as a coach for his son's Little League Baseball team. But once his son started middle school and gave up Little League, "I found I had 15 to 20 hours a week I wasn't spending on extracurricular sports," he said. So Riffle decided that he would stay active by riding to his downtown office – a round trip of about 28 miles.
Fort Wayne attorney Charles Bash, 61, said he covers about 20 to 25 miles during an average warm-weather ride. His first 100-mile ride – or "century," in bicycle terminology – was in 1976. "I did at least one century a year for 33 years after that," he said.
Bash had heart surgery in 2009 and said he noticed he lost a lot of strength after the operation. Even so, he logged 5,217 total miles outdoors in 2010, and he plans to ride another century sometime this year.
Joining the bike-to-work movement, Hans Steck began riding to work about three or four years ago as part of a long-term overall fitness plan.
"It's great for two reasons: you get a good deal of exercise commuting back and forth, and it helps me lower the carbon footprint that I'm putting out there."
Steck, a partner at Bingham McHale in Indianapolis, said since he began exercising regularly eight years ago, he's lost between 85 and 90 pounds. Cycling, he explained, is one component of his overall fitness plan.
Logistics
Riffle, a partner at Barnes & Thornburg's Indianapolis office, said the firm provides lockers and shower facilities in the building's workout room. He keeps a couple of changes of clothes downtown and swaps his briefcase for a backpack on days he rides.
Bingham McHale also offers showers along with secure valet parking for bicycles. That has made the decision to commute to the downtown office via bicycle more convenient for at least 10 of the firm's attorneys.
Miller rides almost year-round, unless snow and ice make commuting impossible. Typically, he doesn't ride to work if the temperature drops below 20 degrees, but he said the technological advances in cycling gear can make cold temperatures bearable. "In other words, buy a good jacket," he said.
Miller said if he rides his bike to work and needs to leave the office midday to meet with a client, he may ask to borrow a car from a colleague. But, he said, his clients tend to appreciate his commitment to cycling, and if they know he rode to work, they may offer to come to his office.
Lehman, however, can often be seen pedaling through the streets of Goshen during the workday.
"I'll go out in my work clothes during the day, in my long pants," Lehman said. "For an office person, it's great to get away from the office during the workday."
Networking
Bryan Collins (left) and Brett Miller (right), partners at Bingham McHale, make use of the building's valet bicycle parking. (IBJ Photo/ Perry Reichanadter)
Howard Cohen, member attorney at Frost Brown Todd's Indianapolis office, leads a 21-mile group ride on Tuesday and Thursday evenings. He lives in downtown Indianapolis and thought he'd enjoy getting a group together that would ride from downtown, to the northeast side, and back to the starting point. "I also do it to force myself to ride," he said.
Other attorneys sometimes join Cohen's group – Miller may ride along with them on his way home. Although, Miller explained that he typically combines a little business with pleasure – riding to work with one client and home with another.
Cohen observed that cycling gives lawyers a chance to interact with their clients in a new way.
"Obviously, when we were younger, the thing that people did was play golf with clients … and I think some of us have done that with cycling," Cohen said. "Both have a little social aspect to it."
He said that once a year, he goes on an out-of-state bike retreat with business associates. "It's the kind of thing that people used to do only with golf," he said.
Miller has ridden with many different groups throughout Indianapolis and in doing so has broadened his network of social and business contacts.
"There's a lot of collegiality to riding," Miller said.
The big rides
Many serious cyclists in Indiana have participated in some of the state's large annual rides like the Hilly Hundred and Ride across Indiana (RAIN). RAIN cyclists start the day in Terre Haute and ride 160 miles to Richmond. In 2007, Miller finished the RAIN in 7 hours and 43 minutes – the 97th finisher in a field of 1,002.
Riffle said he has ridden the Hilly Hundred. "But generally, I'm a solo kind of guy," he said.
Bash used to participate in the Hilly Hundred, but he stopped years ago, due to safety concerns.
"It's not that tough," Bash said about the three-day ride. But he said inexperienced cyclists often rode recklessly, with little regard for the possibility of car traffic on the roads. "They go down there and pretend to be Lance Armstrong without knowing what they're doing."
He said he and his wife participate in the PALM (Pedal across Lower Michigan) event, which covers about 280 miles in six days. They also ride in Michigan's annual Shoreline West Bicycle Tour, which offers riders the option of covering 500 miles in nine days, 343 miles in six days, or 160 miles in three days. Bash rides the nine-day course, and his wife joins him to ride the last three days.
For those interested, Bash added, tours in varying price ranges exist.
Extreme biking
This June, Steck plans to participate in his second consecutive The Denver Post Ride the Rockies tour. Riders cover 412 miles and 22,000 feet of vertical ascent over six days as they weave through Colorado's Rocky Mountains, from Crested Butte to Georgetown.
Miller has been on a similar adventure, riding in seven days from Durango, Colo., to Moab, Utah. The rugged trail covers 215 miles of secondary dirt roads. Steep ascents and rapid changes in temperature challenge riders, who camp each night in modular units installed by San Juan Hut Systems. The company offers similarly remote and challenging adventures for hikers, skiers, horseback riders, and hunters.
"I've done rides just about everywhere," Miller said. He plans to take his GT mountain bike back to Crested Butte in August for another seven-day trip.
Closer to home, Riffle routinely rides his bike from Greenwood to Bloomington on weekends – about a three-hour trip, he said. And it was there last year that Riffle discovered a city street can be just as deadly as a slippery mountain pass.
At about 9 a.m. on May 19, 2010, Riffle said he "had an unfortunate incident with a pickup driver." An inattentive truck driver veered off the road and struck Riffle on his bicycle. The accident was the same day as the Ride of Silence, when cyclists around the country ride in memory of those who have been killed or injured while riding.
"I wound up missing 12 days of work – I had a crushed vertebrae in my spine," he said. Doctors put 14 screws in his back to repair the damage.
But two months later, he bought a new bike, climbed back on, and he still rides regularly.
"I guess I would say be careful, and it would be nice if we had any painted bike lines south of Washington Street," he added.
And it looks like Riffle may get his wish. On April 18, Indianapolis Mayor Greg Ballard announced that in May, construction will begin on 35.52 miles of new bike lanes, which his office says will extend from "county line to county line."•
Please enable JavaScript to view this content.