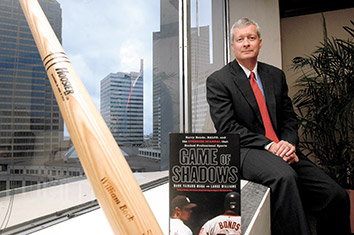 An Indianapolis sports law attorney who was on the prosecution's legal team at the start of the baseball steroid case against Barry Bonds recently witnessed the final "at bat" for the prosecution and defense in a California courtroom.
Attorney William Bock III of Kroger Gardis & Regas traveled to the Northern District of California in San Francisco in March for the trial of the 46-year-old baseball player accused of lying to a grand jury about whether he used steroids or growth hormone during his career.
A seven-time most valuable player in Major League Baseball's National League, Bonds last played for the San Francisco Giants in 2007 and broke Hank Aaron's career home run record with 762. But this federal case has tarnished his career and helped dub the last decade as the steroid era in sports.
"This all brought a lot of attention to the problem of drugs in sports and has led to more resolve in the profession and sports generally," said Bock.
The three-week trial in March concluded a long process by federal prosecutors working to prove that Bonds used steroids during his baseball career and then lied about it under oath.
Prosecutors obtained one conviction on obstruction of justice, the result of Bonds giving intentionally evasive, false, or misleading statements while testifying before a grand jury investigating the performance-enhancing drug use in 2003. Jurors determined that Bonds went out of his way to avoid answering the question of whether his personal trainer at the time had ever injected him.
U.S. Judge Susan Illston declared a mistrial on the other three counts Bonds faced that alleged he lied to a grand jury when he said he never used drugs. Bonds faces a possible sentence of 10 years in federal prison, but he is expected to receive a lighter penalty. A sentencing hearing will be held later this year.
No decision has been made on retrying Bonds on those other counts.
"This case is about upholding one of the most fundamental principles in our system of justice — the obligation of every witness to provide truthful and direct testimony in judicial proceedings," U.S. Attorney Melinda Haag in San Francisco said in a statement about the case. "In the United States, taking an oath and promising to testify truthfully is a serious matter. We cannot ignore those who choose instead to obstruct justice."
Bock's involvement stemmed from his role as general counsel for the Colorado-based U.S. Anti-Doping Agency, where he has served as general counsel since September 2007. The USADA is an independent entity that investigates and prosecutes drug use cases in Olympic and Paralympic sports. Bock has represented the agency when athletes have been accused of violating sport drug testing rules.
Bock's work put him in the pages of a best-selling non-fiction book published in March 2006 – "Game of Shadows: Barry Bonds, BALCO and the Steroids Scandal that Rocked Professional Sports." The authors, two San Francisco Chronicle sport reporters, interviewed Bock for the book.
"Bill is well-schooled on what this is all about and was critical in getting this to where we are today," said Mark Fainaru-Wada, one of the book's two authors who covered the Bonds trial and met with Bock while he was in California. "He has the vantage point that others don't and knows all the players and strategy at the heart of these cases."
Specifically, Bock represented Dr. Larry Bowers, one of the prosecution's early key witnesses who testified about the drugs at issue in the case. Bowers was asked as a private citizen to go on the raid that was a precursor to the trial, and the government has relied on his expertise through the years.
"My role was to prepare him and anticipate the questions he might get while on the stand, and I basically got a sense of where the case was headed based on the sorts of questions being asked," Bock said.
The case started strong, with his client's testimony being one of the key points closing out that first week, Bock said. But some conflicting testimony later in the proceedings from the defense proved to be a difficult hurdle to overcome, leading to the judge's mistrial ruling on three of the counts.
Bock said he found one of the most interesting parts of the trial to be the discussion about a side effect of steroid use on a person's temperament, known as "Roid" Rage – a condition that had been associated with Bonds. The lead defense attorney wanted Bowers to testify that it is difficult to be clear about correlation the data shows between when episodes of anger occurred and when Bonds took the drugs. That, however, proved counterproductive. Instead, Bock's client testified that there is a correlation between those periods.
"That was a situation where the cross examiner just wished he hadn't asked the question, because he got an answer he didn't expect," Bock said. "That was one of the moments where you just have to smile."
Bock said that some reporters attending the trial told him it seemed more like biology class than a courtroom baseball legal drama, but they agreed that his client held his own while on the stand.
"He laid the framework for the government to prove its case later on," he said.
The Bonds trial was the last case in a long line of litigation related to the Bay Area Laboratory Cooperative that Bock has been involved with through the USADA. Overall, the USADA was involved in litigation involving 24 athletes. The last of the USADA BALCO cases ended in mid-March, when track and field coach and agent Mark Block received a 10-year USADA suspension from all coaching and representation of athletes for violating anti-doping rules by administering and supplying what's known as "the clear" and "the cream."
Bock has been involved in cases that haven't included lab-result evidence, and the USADA had to use photo or non-scientific information to prove its cases – setting new legal ground. But the Bonds case, he said, was the most high profile and interesting, in part, because of its unique approach.
"This differed from our cases on the standpoint that many of the athletes we've dealt with were involved firsthand, not like Bonds who was insulated through someone else. That made his case more difficult to prosecute," Bock said. "From our perspective, this is a great victory for clean sports. Hopefully, it's another example that if a federal agent asks you questions, you'd better be truthful. This all brought a lot of attention to the problem of drugs in sports, and has led to more resolve in the profession and sports generally."•
Please enable JavaScript to view this content.