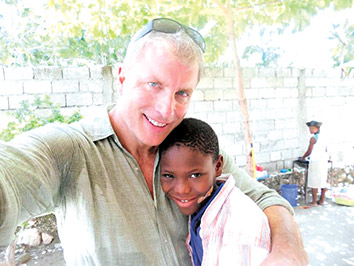 Tim Rowe is a man of many interests. He's been a radio show host, television show host, and nationally touring lecturer. Rowe has served in several community leadership roles during his 25 years as a partner at Indianapolis law firm Rowe & Hamilton. But from an early age, the deeply religious attorney has been driven by a desire to help others.
"I enjoy practicing law, but I really wanted to try to do something on a bigger scale that would enable me to help the world," he said.
Rowe seems to have found his calling in creating a charity – Voice of the Orphan – for the purpose of finding new homes in the United States for Haitian children.
Children in need
Last fall, Rowe and two friends – teacher Michelle See and youth minister Heather Elyse – decided that they wanted to do something to help children in Haiti. Following an earthquake in 2010 that killed about 220,000 people, the already-impoverished country struggled to meet the needs of its population. The quake left behind many orphans. And some children in Haiti, Rowe said, are surrendered for adoption because their families cannot afford to care for them.
After months of planning, Rowe and his friends traveled to Haiti early this year to establish the Giving Hope Rescue Mission in Montrouis, Haiti, about a 45-mile drive north of capitol Port-au-Prince.
"We literally have – every day – parents coming by, wanting to drop off their kids," Rowe said. "We try to take all babies if we can, and our goal is to get them adopted."
Rowe does not think the term "orphanage" is an appropriate label for the home, because in Haiti, orphanages are not permitted to arrange adoptions, he said. The home is considered a crèche, which allows Rowe to seek permanent homes in the United States for the children.
Around 30 children, the oldest of whom is 12, live in Giving Hope's two 2,000-square-foot buildings which separate the children by gender, in accordance with Haitian law.
Rowe said adoptions are pending for six of the children, and two of them will be coming to Indiana to live with See and her family. See and her husband already have a 2-year-old son, and they are licensed foster parents.
"A year and a half ago, we decided that we wanted to adopt through the foster care system here in Indiana," she said. "So we took all the classes, did the paperwork, and became licensed foster parents, and we hadn't received a referral yet. And then Tim and Heather and I started our mission in Haiti."
After going to Haiti, See decided that she would adopt two children – a brother and sister. Giving Hope does not separate siblings for adoption.
Her training as a foster parent will be helpful when integrating the children into the family, See said. But she knows the transition may be challenging for her current family and the new children.
"Some people adopt and they bring the kids home and they expect everything to be perfect, and I don't have that expectation," she said.
Life in Haiti
The United Nations World Food Program estimates that one in five Haitians dies before the age of 40. Rowe said many people may be surprised to learn that in a country where malnutrition is rampant, food costs are exorbitant. A jar of peanut butter, he said, costs $11. He crams suitcases full of food and other supplies each time he travels to Haiti.
Voice of the Orphan's application for non-profit status is pending, and Rowe and his partners cover most of the operation costs – about $10,000 per month. Providing diapers for the home's six infants along with balanced meals and drinking water adds up quickly. The home also employs 15 staff members, including a nurse.
Rowe has been able to buy furniture and other household items in Haiti, where people often sell their possessions on the side of the road. On a recent trip, he bought a TV and VCR, which allowed the children to enjoy the animated film, "Happy Feet," about a tap-dancing penguin.
Rowe, who has no children of his own, feels a strong bond with the residents of Giving Hope, and seeing them smile is one of the most rewarding outcomes of his work, he said. Many of the children were once abused – or left for dead.
"It's an interesting culture; there's not much value placed on children," he said. "We kind of almost have a dumpster ministry where we've let the word out – some people just put their kids in the dumpster, throw them away – so we've at least let the word out that if anybody's going to do that to at least come to us first."
And their recovery has been remarkable, he said.
"We've really seen a transformation in the kids," Rowe said. "We think these kids are gonna do some great things – not only in the U.S., but back in Haiti. I think in any culture you can stereotype, and a lot of times, Haiti gets stereotyped – as lawyers get stereotyped – but there are some really good people there."
Logistics
International adoptions can be expensive and may take years to arrange.
"One of the unique things about Voice of the Orphan is if you go to a lot of the places around (Indiana), a lot of them will charge forty-grand for international adoptions – which is the going rate, but I don't charge anything," Rowe said. "We are literally the cheapest and the fastest. We have an attorney that has some connections in the Haitian government and so … we're hoping we can get our adoptions through the Haitian side in six to nine months and the U.S. side in two to three months. We're hopeful we can get these kids adopted in less than a year." But, he said, "Nothing is guaranteed in Haiti."
Rowe said the cost to parents in the United States will be about $7,500 per adoption, with most of that going toward fees in Haiti.
"We hope to really establish this and then maybe move into Africa. My dad was a missionary in Liberia … we're a Christian group, too."
See has been brushing up on Haitian recipes and learning more about the Haitian population in Fort Wayne, about an hour from her home north of Peru. She said that as a Christian, she feels it is her duty to care about the fate of orphans, and she hopes others will do the same.
"There's lots of ways you can be involved in caring for orphans without taking the plunge and having to adopt," she added.•
Please enable JavaScript to view this content.