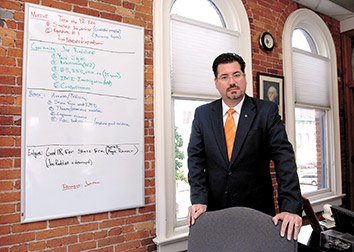 What began with an April 2006 hailstorm materialized into the most intense and significant litigation experience Indianapolis attorney Will Riley has had during his career.
He doesn't shy away from the excitement of the six-week trial and the new perspective that it has given him, but the most headline-grabbing element is the $14.5 million jury verdict he and his legal team won against State Farm Insurance.
"This was the largest jury verdict I've ever had, and it was the most intense trial experience I've had to date," said the Price Waicukauski & Riley partner who's been practicing since 1989. "This almost feels like it should be a career capper, because of the desperate situation my client was in."
This story begins with a hailstorm on Good Friday in 2006.
Tens of thousands of home and business owners filed insurance claims following the severe storm that produced golf-ball sized hail and significant damage. Illinois-based State Farm paid out more than $200
million in claims, but the insurance giant endured a public relations storm of its own when some homeowners claimed they were wrongfully denied.
Policyholders with three different State Farm insurance companies brought a class-action lawsuit in 2007 alleging breach of contract, bad-faith denial of benefits, and unjust enrichment. The homeowners sought damages and an injunction. U.S. Judge William Lawrence decertified that suit after the 7th Circuit Court of Appeal's instruction, and now that case is being taken to the nation's highest court for consideration.
New allegations
But this case involved claims State Farm made against Joseph Radcliff, owner of the multi-state roofing company Coastal Property Management, based on its operations in Indiana. State Farm paid out more than $1.75 million for covered claims from the storm, and in October 2008 the insurer sued on grounds that Radcliff's company committed racketeering and fraud intentionally damaging roofs and simulating hail and wind damage. The Marion County Prosecutor's Office filed 14 felony charges against Radcliff, but those charges were later dismissed.
Radcliff countersued State Farm in March 2009, charging that the insurance company slandered and defamed him with its allegations. As a result of that negative publicity, Radcliff alleged that his personal and business reputations were destroyed in Indiana and nationally, and he had to close his roofing company.
Mark McKinzie of Riley Bennett & Egloff represented Radcliff as his personal attorney, and about a year ago he invited Riley and his law firm to get involved as a result of their handling the federal class-action suit involving State Farm's hailstorm coverage. That experience provided a foundation for this countersuit, Riley says.
From the start, Riley observed that this case would be different because of the large number of depositions happening nationwide as a result of State Farm's use of contract adjusters. The lawyers learned how little training those independent contractors had in surveying this type of damage.
The litigation strategy became clear for Riley and the legal team: Focus on the publicity campaign resulting from negative news coverage of State Farm's denials.
"To vindicate themselves in the court of public opinion, they shifted to more of an aggressive strategy of accuse the accuser," Riley said about State Farm's accusations against Radcliff. "He cannot and could not escape from the negative publicity. That sort of sigma makes it impossible to get a job or even have a life."
Even before the courtroom litigation started, Riley said the case was intense as questions arose in pre-trial motions and interactions about whether all the marketing material had been disclosed by State Farm. No one expected a settlement, he said, and from the start he described a fair degree of tension in the pre-trial motions practice.
"That's not been typical of my experience," he said.
The plaintiff's attorneys had requested and the court ordered State Farm to turn over all documents related to its public relations following the hailstorm, but Riley said they learned the insurer hadn't done that and filed a motion for sanctions. Hamilton Superior Judge Steven Nation allowed that issue to be argued during trial, and Riley said he didn't know how much weight the jury gave those points in the context of the entire case.
With about 40 witnesses during a nearly six-week trial, the experience became more difficult as time progressed, with many live witnesses as well as video-taped testimony. Riley said one witness left on vacation, so they had to read his deposition into the record.
That made document management and coordination even more important for the legal team, Riley said.
"Every lawyer knows this, but what was driven home during this case was the absolute importance of having detailed knowledge of every document produced," he said, referring to the 15,000 pages generated for use during the trial. "That was extraordinarily critical to our case. We lawyers tend to forget that documents can, in a way, make or break the ligation."
Instant online access has made it more difficult to keep jurors interested and focused on the message during long and complex litigation, Riley said.
"We were in week five of the trial and had to be careful about juror fatigue when producing and using all these emails," he said. "Our focus at that point was to only use what was absolutely necessary and wouldn't overwhelm the jury. It's just a herculean effort to get a jury for six weeks, let alone keep them engaged in the process. The fact that they remained attentive is phenomenal, and speaks very well of our American jury system."
The verdict came down on June 29.
Riley recalls being edgy that afternoon – the jury had been deliberating since the previous afternoon. They sent questions out to the attorneys, and Riley says he was heartened at one point because it seemed they'd moved on to the damages question for his client.
"But you never know if that's one juror or a representation of the whole group," he said.
When the jury came back, he says he told an associate that it's that type of waiting game that can take decades off an attorney's life.
"I've never enjoyed the anticipation of it, right there in court before the verdict is read," he said. "It seems to take forever as the juror knows, then the judge knows as he flips through the multi-page verdict form. Then he starts reading."
The words began to blur after the juror's findings of not guilty on the racketeering and insurance fraud allegations made by State Farm, and he heard what he thought was $14.1 million in damages, Riley said. He texted his wife, but then someone told him it was actually $14.5 million.
Though they'd asked for $30 million in damages, both Riley and McKinzie said they are pleased with the verdict and described it as a reasonable decision by jurors.
State Farm's litigation department didn't respond to Indiana Lawyer requests for interviews or whether an appeal may be filed, and attorneys representing the insurer declined to comment. Jan Campbell, listed as an attorney of record for State Farm on this case, said the Indiana Rules of Professional Conduct prevented her from speaking even generally about the case.
Following the verdict, Riley's firm issued a statement on behalf of Radcliff: "I am grateful to those who believed in me and helped me get the true facts before the jury and to the jury for giving me, and my failed company, justice."•
Please enable JavaScript to view this content.