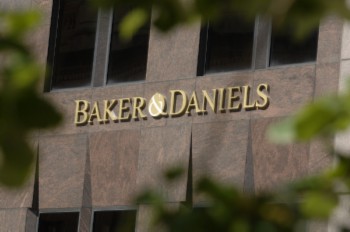 Baker & Daniels LLP, one of Indianapolis' largest and oldest law firms, is in merger discussions with a Minneapolis law firm and hopes to complete a deal in October.
Tom Froehle, managing partner of Baker & Daniels, said he announced to partners on Thursday that the firm is in talks with Faegre & Benson LLP.
With 221 local attorneys, Baker & Daniels is the Indianapolis area's second-largest law firm behind Barnes & Thornburg LLP, which has 228 attorneys. Overall, it boasts 308 lawyers in seven locations, including Chicago; Washington, D.C.; and Beijing.
A merger with the 500-lawyer Faegre & Benson would create the largest law-firm combination involving an Indianapolis firm. More importantly, it gives Baker & Daniels a larger regional presence and greater access to more work.
"As the world gets more complicated and specialized, it really takes more breadth and depth of expertise to serve clients," Froehle said. "We really think this is an opportunity to capitalize on that concept."
The combined firm would have 13 offices. Besides Minneapolis, Faegre & Benson has Colorado locations in Boulder and Denver. It also has an office in Des Moines, Iowa, as well as international outposts in London and Shanghai. Where the merged firm will be headquartered has not been determined, Froehle said.
The Baker & Daniels name, which has stood since 1889, likely would change to reflect a combination of the firms, Froehle said. The firm was founded as Hendricks & Hord in 1863.
Baker & Daniels' leadership had been searching for a partner the past few years before deciding on Faegre & Benson.
"Both have quality practices and there's no overlapping of geography," Froehle said. "We want to give this thorough analysis and careful consideration to do what's best for our clients and people."
Baker & Daniels saw revenue rise nearly 6 percent in 2010, to $152.5 million, while profit per partner increased 2 percent, to $520,000, according to The American Lawyer trade publication. The firm had 119 partners at the start of 2011, according to Indianapolis Business Journal research. The IBJ is the sister publication of Indiana Lawyer. Faegre & Benson's revenue, meanwhile, declined nearly 10 percent last year, to $256.5 million, but profit per partner increased 5 percent, to $530,000. The firm has 203 partners.
Baker & Daniels is a full-service law firm with strong corporate, litigation, bankruptcy and real estate practices. Its high-profile local corporate clients include Eli Lilly and Co., WellPoint Inc., Clarian Health and Simon Property Group Inc.
If the merger is completed, it would be one of the largest law firm mergers in the United States this year, trailing only Chicago-based DLA Piper's (3,448 attorneys) acquisition of affiliate DLA Phillips Fox (600 lawyers) in Australia, according to the Altman Weil Inc. consultancy in suburban Philadelphia.
The trend of mid-size firms growing through mergers or acquisitions has picked up steam in Indianapolis in the past few years.
In 2008, Sommer Barnard PC became part of Cincinnati-based Taft Stettinius Hollister LLP. Later that year, Locke Reynolds LLP hooked up with Frost Brown Todd LLC, also in Cincinnati.
And, last year, Dann Pecar Newman & Kleiman PC became part of Cleveland-based Benesch Friedlander Coplan & Aronoff LLP.
Having a regional presence has benefited the former Sommer Barnard, said Robert Hicks, managing partner of the Indianapolis Taft office.
"For us, our daily life has not changed at all," he said. "We're still the same culture. It's just that we have a much bigger, broader tool box, and we love it."
Nationwide, the number of law firm mergers and acquisitions increased in the first six months of the year compared with the same period in 2010. Through June, 28 deals had been completed, a 47-percent increase from the first half of last year, according to Altman Weil.
Please enable JavaScript to view this content.