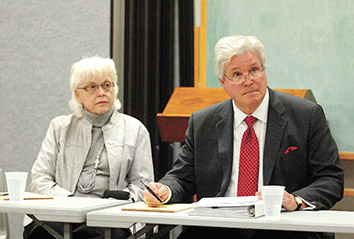 A two-judge task force looking into the operation of Marion County's small claims courts has listened to complaints from the public about inconvenience and confusion with the current system and will consider if any changes are needed.
The feedback makes clear that some people who've been before the courts as litigants believe the system is broken.
Public testimony was taken at hearings held Feb. 22 in Perry Township, Feb. 29 in Pike Township, and March 7 in the Marion Circuit Court, where people talked about their experiences in the nine township courts. They said it was difficult to determine who were court employees and who were attorneys for the debt-collection agencies or creditors. Litigants explained they felt harassed or forced to talk with plaintiff attorneys rather than a judge, and that any effort to argue their side would lead to a loss in court or a greater monetary judgment against them. Many people didn't understand why their case was sent to a small claims court away from the township they resided, saying it would make more sense to have a case filed closer to where they live.
The small claims courts are being put under the microscope following critical news articles in the national media last year suggesting Marion County litigants may not receive the same access to justice in each small claims court or as parties have in other Indiana jurisdictions. The Indiana Supreme Court announced in February that Judge John Baker and Senior Judge Betty Barteau from the Court of Appeals, both with experience at the small claims level, would host the hearings to get feedback about the system and then examine the court structure and operations.
At the hearing held in Judge Doug Stephens' Pike Township courtroom, about 60 people attended and a dozen spoke about their experiences in small claims courts throughout the county.
Roger and Reita Vandrey of Pike Township spoke about having to travel three times to the small claims court in Decatur Township to resolve confusion over the payment of a medical bill from 2002. Although they thought they would see a judge, they were taken after a two-hour wait into a small room with only the bill collector's attorney and told the judge wasn't even in the building. They said they were told to "shut up" when trying to ask questions and were not allowed to speak, and after the debt was eventually resolved, they had to repeatedly request a document from the court staff to prove the matter was completed.
"Nobody wanted to hear our side of it," Reita Vandrey said.
Mariann Hunnicutt from Washington Township talked about having to take a half day off work to travel to a different township for a court hearing on a medical bill debt. She wasn't advised of having the option to change venue until she specifically asked about the possibility, and when she was in court, Hunnicut said she wasn't able to see a judge.
Brandon R. Major, a litigant in a $3,900 lease dispute, prevailed in Center Township Small Claims Court with a $240 judgment in his favor. But a Superior Court review led to a reversal and his having to pay almost $6,000 – with only about $1,100 going to the plaintiff and the rest going to the attorney, he said. He also talked about his observations of intimidating attorney behavior and court staff not helping people who had basic questions about the court procedures.
Some people who have been small claims defendants spoke about court decisions that were not properly recorded, causing them to handle the same case again due to claims that it wasn't resolved, when it had been.
Several attorneys offered their feedback, some defending the system and others criticizing the courts.
Indianapolis attorney Paul Ogden, who represents defendants in small claims court, said he is concerned about the practice of "forum-shopping" and believes the courts need more consistency. He also said attorneys should be required to file all actions in the township where the defendant lives, not just in landlord-tenant disputes as the rules currently require.
Collection attorneys said they have many cases to file, so they often choose a location based on where they can be the most efficient. That involves locations close to their offices and where they are able to easily get court assistance. Several said litigants have notice of their rights, including venue change availability, when they receive suits and notices in the mail.
Phillip La Mere, managing partner at Bowman Heintz Boscia & Vician in Indianapolis, described the term forum shopping as a "gross misnomer" and said it doesn't happen the way the media or defense attorneys say it does. Most often, he said litigants' lack of understanding about the process is because they're not reading the notices and documents that are in front of them.
Attorney Jeff Galliher, who has handled about 1,800 eviction cases in the past two years, said he hasn't observed any unprofessional conduct from his colleagues or the judges, and that he thinks everyone is very cognizant of litigants' rights – especially those representing themselves. The legal community is doing its best to get the cases moved through the system efficiently, he said.
Collections attorney Joseph Guy, past president of the Indiana Creditors Bar Association, argues that lawyers having access to court space isn't a conflict and they aren't presenting themselves as court employees.
"We do need a place to do our work," he said.
But Baker said a concern that repeatedly has been brought to the task force's attention is how it appears the plaintiff's attorneys are doing tasks and getting preferential treatment that should be reserved for court staff. That can be confusing to someone who doesn't understand the system, Baker said. He also pointed out that some evidence has been presented to the task force that entire courtrooms have been turned over to collection attorneys to use in meeting with debtors.
"The public might not know the difference between the plaintiff's attorney and a member of the court staff when they have just arrived at court," he said.
Baker and Barteau will now put the feedback into context to determine if any changes are needed. They will issue a report to the Supreme Court Committee on Rules of Practice and Procedure which will then study the topic and recommend any needed changes to the state's justices for consideration. Any procedural rule changes would come from the Supreme Court. No timeline exists for that process to happen and there's no guarantee that any changes will be made, Baker told residents at the hearings.•
Please enable JavaScript to view this content.