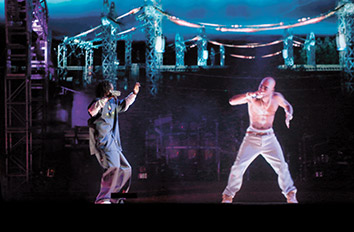 More than a decade after his untimely death, rap icon Tupac Shakur appeared onstage at Coachella Valley Music and Art Festival. The posthumous debut in Chino, Calif., was made possible by technology that created a hologram-like image of Tupac, which appeared to interact with real-life rappers Snoop Dogg and Dr. Dre.
 
Fans raved about the performance, which quickly went viral online. And almost immediately, people wondered what the limits of this technology might be and how it would be used in the future. For intellectual property lawyers, Tupac's virtual return to the stage raises some interesting questions.
The technology
Director and producer James Cameron's company Digital Domain created the image of Tupac, using some real-life imagery as a foundation but computer-generated imagery to create an entirely new performance. While the virtual Tupac has been called a hologram, that's a misnomer – true holograms are three-dimensional, while Tupac's likeness is two-dimensional. The 2-D image was projected into a stage set, using the patented Musion Eyeliner 3-D Holographic Projection System, to create the illusion of a
three-dimensional image. The projection technology is not new; it's based on a theater trick called Pepper's Ghost, introduced in the 1860s.
Pepper's Ghost relied on glass to create the illusion of an ethereal presence, but the difficulty of working with glass limited the size of "ghost" it could create. The Eyeliner system uses a fine, seamless material that can be stretched across a stage set and allow for the kind of illusion seen at Coachella.
Jonathan Faber, founder and CEO of Luminary Group and attorney at McNeely Stephenson Thopy & Harrold, pointed out one concern with staging lifelike posthumous performances.
"The elephant in the room here is should they do it, because there's a myriad of ways this could go wrong," he said.
Faber
In theory, it would be possible to put images of dead celebrities into situations they never would have endorsed in their lifetime.
Who's in control
Faber pointed out that three areas of IP law come into play when considering the many questions raised by the virtual Tupac performance: copyright, trademark and – most importantly – the right of publicity, which protects a celebrity's name, likeness, voice and mannerisms.
In the estates of deceased celebrities, relatives are the people generally making right of publicity decisions for their famous kin. Robert Meitus, partner at Meitus Gelbert Rose and adjunct professor at Indiana University Maurer School of Law and IU Robert H. McKinney School of Law, said that the technology that created the virtual Tupac performance highlights the need for family oversight of estates.
"I think it does point to a responsibility of families in safeguarding the rights of publicity. So the responsibility of families and those in control of right of publicity is heightened when you have people coming back to life, and we began to have the conversation years ago in the (IP) field and in the public in general … but it never really caught on," he said.
Meitus said that while he did not know all of the details about how the Tupac performance was created, the family would likely be in control of images of his likeness that were the basis for the illusion. And recorded music or video used as a basis for the re-creation would need to be licensed separately by the company holding rights to that material. A contractual agreement would further clarify the relationship between all parties and how profits would be allocated.
A never-ending career
On April 26 – after Coachella – Billboard magazine reported that Tupac's 1998 album "Greatest Hits" returned to the Billboard Top 200 for the first time since 2000.
Post-mortem popularity is not uncommon. Some entertainers – like Marilyn Monroe, James Dean and Michael Jackson – rake in as much, if not more, earnings after death.
Mark Roesler, chairman and CEO of the intellectual property management group CMG Worldwide, counts the estates of Monroe and Dean among the firm's many clients. Dean, who starred in only three feature films during his lifetime, was number 12 on Forbes magazine's "Top Earning Dead Celebrities" list in 2009 – 54 years after his death – earning $5 million in the previous year.

Roesler
"Like James Dean said during his lifetime – if a man can bridge a gap between life and death and live on after he died, he was a great man. Even though James Dean said that, I don't think he knew he was going to live on," Roesler said.
Meitus said some of the questions prompted by the Coachella performance arose in the past, as advertisements featured long-deceased celebrities seemingly interacting with modern-day actors. But those images were created using snippets from original films, edited into the new commercial footage. The virtual Tupac, on the other hand, put on a new performance at Coachella.
"If they created wholly new imagery of a dead person, you'd only need the right of publicity from the family," Meitus said.
He said it's conceivable that someone could create an original image of a deceased celebrity, much like an artist could paint a portrait from memory. But what's more likely is that a re-created image will be based in part on previously existing imagery.
"It raises the issue of how it is hard to create original imagery of people – it's hard to create anything original in this world," he said. That fact is evident in music, because performers have been sued for creating songs too similar to previously existing melodies, he added.
"When you're trying to make original holography, I can imagine the same problem – you'll base it on images that exist. The people copying or creating the new imagery – if they're trying to create a new CGI image of Fred Astaire, they're probably going to go back to 'Singing in the Rain' – or with Humphrey Bogart, 'Casablanca' – and look at his expressions," Meitus said.
Past and future
Roesler explained that prior to the 1950s, celebrities were entitled to a right of privacy, but that right ended with their death.
"Back then, sometimes these valuable intellectual property rights weren't even addressed in the will," he said.
A series of high-profile court decisions beginning in the 1970s reinforced the notion that celebrities are entitled to control how their image is used.
In Zacchini v. Scripps-Howard Broadcasting Co., 433 U.S. 562 (1977), the United States Supreme Court considered a complaint from Hugo Zacchini, who was known for performing a 15-second "human cannonball" routine. Zacchini argued that a Scripps-Howard employee violated his right of publicity by recording and airing footage of the entire routine. The Supreme Court held that Zacchini should be compensated for the footage, because broadcasting the entire act posed a significant threat to the economic value of that performance.
Already, plans appear to be under way to carry on at least one entertainment career that was cut short by tragedy. On April 25, the 10th anniversity of a crash that killed bandmate Lisa "Left Eye" Lopes, the group TLC announced it was discussing plans to tour with a virtual Lopes.
"The technology is fascinating, and it exists, so it's going to happen – you don't put the genie back in the bottle," Faber said. He said while he hopes the technology is applied tastefully, in a manner that would be in following with the deceased performer's wishes, he suspects some questions will ultimately be answered in court.
"My prediction is it will become a source of licensing revenue for some of these personalities, and it also will become fodder for lawsuits. That's what I see on the horizon with 'hologram' technology."•
Please enable JavaScript to view this content.