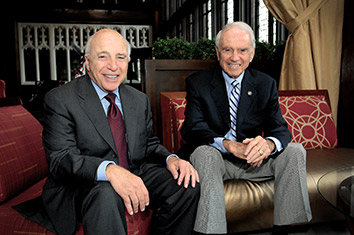 In some ways, Mickey Maurer and Bob McKinney could not be more different. McKinney is a lifelong Democrat; Maurer was Gov. Mitch Daniels' appointment for Secretary of Commerce in 2006. But their differences are superficial, compared to what they have in common.
Both men share a deep sense of gratitude for their law school educations and hope that their alma maters continue to achieve new milestones. That's why each man provided a significant gift to the school that first taught him about the law.
In 2008, Maurer gave $35 million to the law school at Indiana University's Bloomington campus. In 2011, McKinney gave $24 million to IU's Indianapolis law school. In recognition of their contributions, university officials renamed the schools in their honor. Already, the Indiana University Maurer School of Law and Indiana University Robert H. McKinney School of Law are accomplishing some of the goals Maurer and McKinney envisioned.
In the beginning
In 1948, McKinney was a young lieutenant stationed on a U.S. Navy destroyer in the Pacific Ocean. His ship docked in Eureka, Calif., for Navy Day, and the sailors explored the town.
"I saw a march going on for Henry Wallace, who was running for president – he was a left-wing guy – I was very idealistic, liked some of his ideas about peace and various things, so I went over and got in the parade," McKinney said. Authorities arrested McKinney and several others. "A young lawyer came and got a writ and got us all out … and I thought, what a great profession this is, you can really do some good in this world."
 
McKinney decided then that if he ever left the Navy, he would go to law school.
Maurer's decision to attend law school was motivated by a family member's request.
"My father grew up in the Depression, and he always wanted to be a lawyer, and so he said I should become the lawyer he never had a chance to become," Maurer said. "I'm the oldest son – a very dutiful son – so I said, OK, that sounds as good as anything."
Early impressions
When McKinney returned from his tour in the Pacific, he enrolled at what was then IU law school's Indianapolis division, attending class at night.
In 1951, he learned he was being recalled for active duty, so McKinney rushed to Bloomington to finish law school. When he left for Korea that fall, he was married and had his law degree.
Maurer graduated from the University of Colorado with a degree in accounting and returned to Indiana to attend law school in Bloomington.
"I think that law school's always meant something special to me, because I felt that the way they taught, it taught me how to think. Because of that, to whatever degree I've been successful, I think the law school was responsible in large part," Maurer said.
Rising through the ranks
McKinney left the Navy in 1953 and began working for McHale Cook & Welch. He joined Cook Bose Buchanan & Evans in 1963, and the firm was renamed Bose McKinney & Evans.
Maurer graduated from law school in 1967 and immediately went to New York to work as a tax lawyer on Wall Street. Upon returning to Indianapolis, Maurer worked as a feasibility analyst for Gene Glick, founder of the property management firm Gene B. Glick Co.
Maurer practiced law for about 20 years before becoming a full-time businessman. He co-founded the National Bank of Indianapolis in 1993 and is chairman of the board for IBJ Media Corp., which owns the Indianapolis Business Journal, Court and Commercial Record and Indiana Lawyer newspapers. McKinney served as chairman of both the Federal Home Loan Bank Board and First Indiana Corp., the parent corporation of First Indiana Bank.
Despite their professional accomplishments, when asked individually about their proudest moments, both Maurer and McKinney mentioned family first. Maurer, age 69, said he's most proud of his ability to work with his three adult children. McKinney, who is 86, said his proudest moment was marrying his wife, Arlene, who died in 2010.
Ongoing support
Gary Roberts, dean of the IU McKinney School of Law, explained that McKinney's name carries a lot of clout in Indiana.
 
Roberts
"We were almost as excited about the naming as we were about receiving the gift," Roberts said. "Bob McKinney's name in Indiana is golden – he's well respected and well loved."
Roberts said that the name McKinney allows the school to develop its own brand, and that the naming is an asset for the school, as opposed to the more general, regional name it had before.
McKinney, who previously had given gifts to both IU law schools, saw an opportunity to make a significant impact at the Indianapolis school.
"I felt the Indianapolis law school was underfunded, undermanned and undervalued," he said. "It's the law school where the lawyers stay in the state, so it's the main source, compared to Bloomington where a lot of them leave the state. What it needed was some money to get it going, get the caliber of students up, get some more chairs, and to compete with Bloomington. I wanted it to be equal to Bloomington."
McKinney wants to see the school rise in the list of top-ranked law schools, although he believes that the school will have to overcome prejudices against law schools that offer part-time programs.
"I'm not trying to butt into the law school now, but in the long range, they have to change that atmosphere, not change the way they do it," McKinney said of the Indianapolis school's offerings.
Robel
Lauren Robel, former dean of IU Maurer and interim provost and executive vice president for IU's Bloomington campus, explained that Maurer has a long history of actively supporting the school. In 2000, Maurer and his wife, Janie, awarded $1 million to the school to create an endowed chair, the Val Nolan Professor of Law. Robel holds that title, which Maurer named for his favorite professor.
"The relationship with Mickey goes back a very, very, very long time. He was the chair of the law school's first capital campaign in the 1990s," Robel said.
Later, when Robel became dean of the law school, she went to Maurer for advice and asked about his vision for the law school and what he thought it could accomplish.
"The more I listened to him, the more I understood he was willing to help us get there, so the gift that he made to the law school was a gift that was intended to help us really think big, really aspire to be the very best. It came into being because he had a vision for the institution he loved," she said.
Renaming the school was a way to recognize that it could become what Maurer hoped. And Maurer's gift "made a noise nationally, and that noise was the sound of Indiana really coming into its own," Robel said.
Maurer's gift – which allowed the school to offer more scholarships – has directly helped 157 students attend law school, according to Robel.
"I was the recipient of a scholarship – I can't remember how much it was, but I think it was about $2,000. I felt like maybe if I were ever able, I would return that. So I think the school got a good return on its investment," Maurer said.
Maurer hopes his gift will result in long-lasting returns for the school. He hopes students who benefit from scholarships today may feel that same obligation to give something back.•
Please enable JavaScript to view this content.