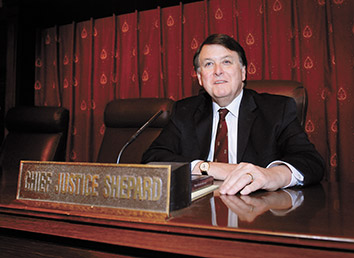 The Randall Shepard era of Indiana's Supreme Court is over, but in his last full year on the court, the former chief justice continued a legacy of consensus building and restoring primacy to the state Constitution.
Those are among the conclusions of an annual Supreme Court review for 2011.
"One of the things that always intrigued me is the degree of consensus Chief Justice Shepard often was able to garner," said Jason Stephenson, a Barnes &Thornburg partner. With fellow partner Mark Crandley and associate Jeff Peabody, Stephenson is a co-author of "Examination of the Indiana Supreme Court Docket, Dispositions and Voting in 2011."
The draft report cites the court's consensus as a hallmark. "The justices of the Shepard Court departed from the majority when they were compelled to do so, but division on the court under Shepard's leadership was the exception, not the norm."
Stephenson said Shepard seemed to be leaving his mark on the court in his final couple of years, taking it upon himself to author more opinions than any other justice during that time.
The Indiana Constitution was the nondisciplinary issue most frequently addressed by justices in 2011, according to the report, following a trend occurring in the prior five years. The Shepard court might have prompted a cultural change in the Indiana bar so that lawyers and judges now properly view constitutional law in terms of a dual state and federal system, the draft report says.
"I almost think that will be the most significant mark left by the Chief Justice Shepard era on the court," Stephenson said.
The review also noted a shift in the type of cases heard during Shepard's time leading the court. A court once "bogged down in numerous (and often routine) criminal appeals" handled a caseload in 2011 in which only 45 percent of appeals were criminal.•
Click here to download the complete Supreme Court Focus article, which includes a breakdown of voting numbers by the justices.
Please enable JavaScript to view this content.