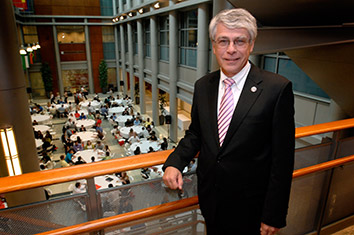 As dean of Indiana University Robert H. McKinney School of Law, Gary Roberts has long been telling his faculty that the business model for their school would have to be revamped to address changing needs and new challenges.
But, he acknowledged, as the school's enrollment stayed healthy even while applications to law school declined nationally, both he and the faculty became complacent. They thought they were immune to the drop in the number of students going to law schools.
That changed with the incoming class for the 2012-2013 school year. After recording an increase of 12 students in the class that started during the 2011-2012 school year, enrollment fell to 268 this year. Roberts thinks the school will be lucky to bring in another 270 next year.
For his final year in the dean's chair, Roberts has the additional task of finding ways to cope with fewer students and lower revenues. He has ideas for a new business model as well as a new degree program that could serve the business community.
Indeed, if not for a university policy requiring deans to step down when they turn 65 years old, Roberts might not be preparing to retire as the head of the law school. Being the leader brings a lot of pressure and stress, and on a bad day he can wonder why he accepted
the position. But, he said, he has experienced more positives than negatives and has found the deanship to be fun, satisfying and enjoyable.
When he does retire as dean in June 2013, he intends to join the law school faculty where he will engage in his love of teaching.
"Being a law professor is the best job in the world," Roberts said.
Rethinking education
Seated in a comfortable yellow chair in his office, Roberts calmly described the tightrope law schools are now walking as they try to allocate fewer resources to meet their research missions and obligations to students.
Traditionally, the business model has been to use tuition dollars to continue expanding programs and provide more compensation to faculty. With declining enrollments, law schools can no longer rely on tuition increases to fund operations and also must adjust to a smaller revenue stream.
"We're confronted with having to make tough choices and major decisions," Roberts said.
The national conversation about legal education has not only focused on the loan debt the students are graduating with but also on the content of the classroom. Roberts agrees that law schools need to do a better job of preparing students who are closer to being able to practice law.
However, some of the skills required of practicing attorneys, like plea bargaining, for instance, cannot be taught in a classroom, Roberts said. Instead, these skills are best presented in the real world where they are actually done.
Providing skills training can be very expensive, he noted. This adds to the necessity to change the current business model so law schools can continue to deliver good theoretical and analytical education and skills training to students on fewer dollars.
Roberts proposes law school partnering with bar associations and the legal community so they can take a greater role in teaching practice skills. Forming partnerships may also enable the school to offer real-world training without dramatically increasing the cost.
Other options to control costs and balance resources include giving the faculty heavier class loads, reducing faculty compensation, or bringing in more adjunct professors and lecturers to teach students. Roberts believes the school will likely institute a system with more part-time faculty because that will be the least painful. There will be more resistance to an increase in workload and less income.
Consequently, theoretical research will decline, Roberts said. A smaller percentage of the faculty will be doing scholarly research 10 to 20 years from now, but the standard of quality, along with the standard of tenure, will be much higher.
Roberts is an eloquent advocate for the importance of university-based research, pointing to historical examples where scholarly work changed the world.
"Much of the great progress made in law is the product of scholarship that came out of our law schools," he said. If law schools were to stop doing scholarship activities, that would, in the long term, be a disaster for society and the legal profession; but at the moment, schools cannot invest as much into research.
Looking ahead
Roberts became dean of the law school in 2007. Previously, he was a faculty member for 24 years at Tulane University Law School, where he built the sports law program, served as vice dean for academic affairs and deputy dean.
Reviewing his tenure at McKinney, he counts the strengthening of the school's financial health as one of his primary accomplishments. The most notable contribution was the $24 million naming gift from Indianapolis attorney and business leader Bob McKinney.
As part of that gift, the school will be able to establish five endowed chairs to attract and retain nationally recognized scholars to the faculty. Each chair will be endowed with $1.5 million from the McKinney gift to which the university will add a matching $1.5 million, creating what Roberts called "super chairs." The law school is raising funds to complete the endowment for the first two chairs, and Roberts hopes to be able to fill the chair in intellectual property this year.
Looking ahead to his final year in the dean's office, Roberts noted he does not want to institute major policy changes that his successor would then have to implement. Still, he does intend to keep the school moving forward.
One initiative he is eyeing would be to lay the groundwork for starting a master's degree program in legal studies. Students graduating from this potential course of study would not be eligible to sit for the bar exam, but they would acquire a knowledge of the law which would be useful as they pursue careers in business or with a nonprofit organization.
Roberts said the proposal is a little controversial because some lawyers contend this would create low-cost competition at a time when many in the legal profession are struggling with unemployment. But, he said, short-term worries about a tight job market are not reason enough to table this program.
He believes the proposal could get faculty approval before he retires. However, the work to get approval from the university administration and the state will likely not be done before he leaves the dean's office.
If baseball calls
Early in his career, Roberts clerked in the U.S. Court of Appeals for the 9th Circuit in San Francisco before he joined the firm of Covington & Burling LLP in Washington, D.C. There, by happenstance, he fell into sports law. In the years since, he has become a national expert in the field.
From his experience in private practice and in the classroom, Roberts maintains teaching is "a heck of a lot more fun." He will teach once he retires as dean, unless, he noted, something unexpected happens like an offer to be the Major League Baseball commissioner.
"I'd take it," Roberts said.•


Please enable JavaScript to view this content.