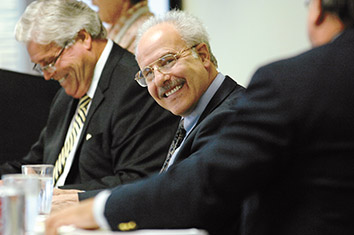 A report four months ago that proposed sweeping reform of the Marion County Small Claims courts has resulted in little change on key matters that instigated the review, but proposed rules aim to improve township courts and their practices.
The Report on the Marion County Small Claims Courts issued May 1 recommended two scenarios for structural reform of the courts: incorporating township small claims courts into the Marion Superior Court; or reforming them as township courts with full-time judges overseen by a small claims administrator.
Either of those plans would require legislation in the General Assembly. So far there's no sign that will happen, said Court of Appeals Judge John Baker, who with COA Senior Judge Betty Barteau drafted the report of the Small Claims Task Force that was sanctioned by the Supreme Court.
"We're unaware of any effort to implement either of those changes, or something akin to that," Baker said.
The task force took its charge after a Wall Street Journal report examined allegations of "forum shopping," in which collections companies and creditors sue in venues deemed friendlier than others. In some cases, large filers came to dominate the township courts and were deemed as receiving special treatment.
Marion Circuit Judge Louis Rosenberg, who oversees the small claims courts, met with township judges numerous times to develop a uniform set of rules, a draft of which was presented at an Indianapolis Bar Association panel discussion on Aug. 23. Rosenberg acknowledged the rules didn't address "forum shopping," and Baker said they shouldn't have.
"I'm not going to anticipate that Judge Rosenberg and the judges of the small claims court are going to be able to address something as sweeping as that," Baker said in an interview. "If that ball is picked up, I anticipate that would be the Supreme Court's rules committee."
At the IndyBar panel discussion, attorney and Sen. Mike Young, R-Indianapolis, said recommendations for systemic reform went too far. He also said lawmakers would be reluctant to fight new local government battles. "They're tired of dealing with these reforms, especially on the township level."
Pike Township Small Claims Judge A. Douglas Stephens said the judges have done what they could to address concerns raised in the WSJ article, enacting many of the recommendations that Baker and Barteau said could be implemented regardless of whether the courts changed systemically. "One of the rules extends the time for the defendant to ask for a change of venue," he said, from 10 to 20 days.
"I think that when a filer spends a lot of money in a specific court, it can lead to problems," said Wayne Township Small Claims Judge Danny Vaughn. "I think each judge can combat that by dealing with each case individually and being as fair as they can. But inherent in the system there are some problems that need to be dealt with."
Feeling heat
Rosenberg called the WSJ piece "the match that lit the fire" that resulted in Marion County's nine township small claims court judges coming together to draft uniform rules.
"The small claims judges and I felt we needed to respond constructively," Rosenberg said. "I would say from the outset there was acknowledgement there were deficiencies in the system."
In addition to the extended time for change of venue requests, the most recent draft of the proposed small claims rules would:
• Require the courts to use the same forms;
• Clarify and make uniform the requirements for providing notice;
• Require courts to notify litigants of their rights at the start of each session;
• Make court facilities equally available to all persons having business with the court; and
• Prevent a judge from practicing before another small claims court judge.
"Some of the things that are going into the rules have been implemented, and this is kind of a loose codification of that," said Perry Township Small Claims Judge Robert Spear.
Spear said he gives litigants instructions before each session, and they also receive a brochure that outlines rights and responsibilities. Decatur Township Small Claims Judge Myron Hockman does the same.
"I go into the courtroom and introduce myself and give them some of the basics of what to expect and what they can do and cannot do," he said. "Court staff members also wear nameplates now, so they won't be confused with large-filing litigants."
Spear said the townships handled about 700,000 cases in the previous decade, yet only about 60 people complained during hearings on the courts that he attended. "The remedy for not liking the result of a case in small claims court is to come up with $129 and written notice of appeal and take it to superior court," he said.
Hockman believes complaints about "forum shopping" are overblown. "I don't have anybody in court that files in this court, that I'm aware of, that files just solely in this court," he said. "I believe the small claims courts function very well."
Professor Florence Roisman of the Indiana University Robert H. McKinney School of Law, an expert in housing law, sees it differently. She told the IndyBar panel that small claims court practices are "illegal in so many ways I can't begin to cite them."
Rosenberg said the work of the small claims judges to implement new rules to improve the system is important, and the judges have been proactive.
"Most people get their lasting impression of the judicial system from the small claims courts," he said. "We need to do better."
Small claims in federal court
Chicago attorney Daniel Edelman isn't waiting for rule changes or court reform. He's filed three class actions in U.S. District Court for the Southern District of Indiana and one in federal court in Chicago alleging that large filers in township small claims courts violate the Fair Debt Collection Practices Act, 15 U.S.C. Section 1692i.
That section requires that legal actions by debt collectors be filed in the judicial district or legal entity in which a consumer signed a contract the he was sued on, or where the consumer lives.
The three cases filed in federal court in Indianapolis involve a plaintiff who lives in Hendricks County but was sued in Decatur Township; a Warren Township resident sued in Franklin Township; and a Lawrence Township resident sued in Decatur Township. In none of the cases did an event relevant to the claim occur in the township where the action was filed, Edelman said. He said the practice is common.
"It struck me as fairly abusive," Edelman said. "There seems to be a lot of disregard of consumer rights."
Representatives of defendants in those lawsuits declined to comment or did not return calls or emails seeking comment.
Jonathan Sturgill, president of the Indiana Creditors Bar Association, said its members follow Indiana Rules of Trial Procedure in filing civil suits. "Generally, these rules allow suits to be filed in the county where the defendant resides, or where the transaction took place," Sturgill said in a statement.
Sturgill said ICBA members would welcome uniform rules across the township courts on matters such as continuances and default time periods.
"Many courts apply differing procedures which takes some astute management by the practitioner if they are practicing in a multitude of courts," he said.•
Please enable JavaScript to view this content.