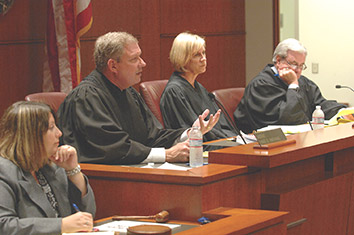 Indiana's Sex and Violent Offender Registry is under legal scrutiny with two high-profile lawsuits challenging various aspects of the listings.
The online database – www.icrimewatch.net/indiana.php – has deprived due process by failing to provide a means for erroneous listings to be corrected, the 7th Circuit Court of Appeals ruled Aug. 28. The court reversed a ruling by U.S. District Judge Tanya Walton Pratt in favor of the Indiana Department of Correction.
"We had said all along all we wanted was a very simple procedure that said someone would listen to people who said there are mistakes," explained American Civil Liberties Union of Indiana Legal Director Ken Falk, who successfully represented the plaintiff and those similarly situated in David Schepers, et al., v. Commissioner, Indiana Department of Correction, 11-3834.
Schepers, who is a sex offender, was incorrectly listed as a violent sex offender on the registry. State and federal laws require people convicted of specified sex crimes to register with their state databases that disclose their names and addresses.
The reach of those laws – particularly a 2006 federal statute – was the subject of another challenge heard by the Indiana Court of Appeals on Sept. 5 at the Indiana University Robert H. McKinney School of Law in Indianapolis.
Thomas Andrews argued that he should not be required to be included on the registry. Now an Indiana resident, Andrews was convicted of rape and abuse of a child in Massachusetts in 1984 and completed his sentence in 1989.
In Thomas Andrews v. State of Indiana, 29A02-1112-MI-1166, Andrews argues that because the registry didn't exist at the time of his conviction, and because the federal Sex Offender Registration and Notification Act didn't pass until 2006, requiring him to submit to the registry constitutes ex post facto punishment.
"He was never obligated to register as a sex offender," Andrews' attorney, Cara Schaefer Wieneke, argued to the Court of Appeals, until he was contacted by the Hamilton County Sheriff's Office in 2006. He voluntarily registered, she said.
Deputy Attorney General Frances Barrow acknowledged when questioned by Court of Appeals Judge Michael Barnes that Indiana could not compel Andrews to register under state law.
That was news to Wieneke.
"He only registers because he thinks he's going to be prosecuted if he doesn't," Wieneke said after making her case to the Court of Appeals, which took the arguments under advisement.
Key to both sides was the Indiana Supreme Court precedent of Richard Wallace v. State of Indiana, 905 N.E.2d 371 (2009), in which justices ruled unanimously that the requirement that Richard Wallace register for a 1989 conviction violated the state Constitution's Ex Post Facto Clause.
But Barrow said SORNA would apply in the case of Andrews, whose business sometimes takes him out of state. She asked the Court of Appeals to instruct trial courts that they must deny relief to petitioners who ask to be removed from the registry if the courts find an obligation to register under SORNA.
"We are saying that under Wallace, the state can't prosecute (Andrews)," Barrow said. "Under SORNA, the federal government can."
Wieneke argued that the precedent of Wallace is clear, and the federal question is unknown. She told the court that Andrews would not be required to register as an offender under Massachusetts law, either.
Andrews
In the Schepers case, the 7th Circuit said that while the DOC had revised its process for inmates who are about to be listed, no procedure was in place for those already on the registry who either should not be or whose information was erroneous.
The DOC argued that it had turned over registry information processing to the Indiana Sheriffs' Association, but the court said DOC continued to have ultimate responsibility for the information.
"All the sheriffs as well as the Department of Correction want to make this as error-free as possible," said DOC spokesman Doug Garrison. "The devil is in the details."
Garrison said no decision has been made on whether the DOC will appeal.
"This ruling comes as the Indiana Legislature is conducting legislative hearings on potential changes to the Indiana Sex Offender Registry as part of a broader discussion with the DOC, the Indiana Sheriffs' Association and other stakeholders," Indiana attorney general spokesman Bryan Corbin said in a statement.
One possibility includes centralized administration of the registry. Data on the registry currently are maintained by the state's 92 sheriffs.
The 7th Circuit opinion in Schepers urged all parties involved to work together to arrive at procedures that provide due process to someone erroneously listed on the registry. Falk said there is no way to know how many people might be in that class.
"We conclude with the observation that providing additional procedures to correct registry errors may wind up benefiting the state as well as registrants," 7th Circuit Judge Diane Wood wrote. "Erroneously labeling an offender a sexually violent predator imposes unnecessary monitoring costs on state law enforcement and reduces the efficacy of the registry in providing accurate information to the public."•
Please enable JavaScript to view this content.