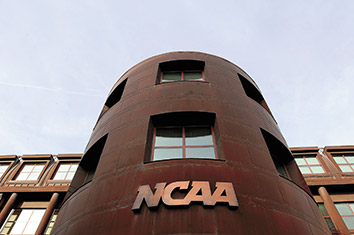 A couple of years back, Donald Remy was a high-powered Washington attorney who coached 9- to 17-year-olds in AAU ball on the side.
"They were successful teams – all successful," he said of his Amateur Athletic Union squads. He's hoping the legal teams he's now directing have similar results.
"This was a way for me to turn my hobby into my profession," Remy said during an interview recently inside the Indianapolis offices of the National Collegiate Athletic Association, where he's been executive vice president and general counsel since March 2011.
The NCAA faces an array of litigation from current and former players, much of which posits antitrust allegations. With three attorneys working with him at NCAA and a support crew that brings the legal office staff to about 10, Remy said the association could never handle litigation on its own. He said the NCAA seeks out top antitrust and sports law attorneys in the geographic areas where cases arise.
 

A case in point is pending before the U.S. District Court for the Southern District of Indiana. Nine attorneys representing the NCAA from Indianapolis and Michigan firms recently were sent notice of a pending hearing.
Oral arguments on the NCAA's motion to dismiss John Rock v. the National Collegiate Athletic Association, 1:12-CV-1019, are set for Dec. 5 before Judge Jane Magnus-Stinson. The case involves a former quarterback at Gardner-Webb University in North Carolina who lost his football scholarship in his senior year when a new coach made a change. The case has since been joined by other plaintiffs who seek a class action.
The Rock lawsuit claims the NCAA is a college-sports monopoly and that its former prohibition of multi-year scholarships constituted an illegal restraint of trade. The association, at the urging of President Mark Emmert in February, lifted the prohibition on multi-year scholarships.
"I feel really confident," Remy said of the Rock case. "The case was filed by the same lawyers who pursued the Agnew case previously. It was the same theory, the same principles, and I think we'll see the same results," he said.
Magnus-Stinson in September 2011 dismissed Agnew v. NCAA, 1:11-CV-0293. Both Agnew and Rock were brought by the Seattle firm of Hagen Berman Sobol Shapiro LLP; partner Steve Berman did not return messages seeking comment.
Remy has reason to be confident. Despite numerous claims, the NCAA has succeeded to date in fending off antitrust suits that allege big-time college athletics is a market controlled by an NCAA monopoly.
"We are part of higher education and we are dealing with student athletes," Remy said. "These students are students first, and then they're athletes.
"The truth of the matter is, we're a membership organization, and our members set the rules," he said.
Experts watch likeness case
Indiana University Robert H. McKinney School of Law Dean Gary Roberts has been involved with amateur and pro sports law for more than 30 years. Of the cases confronting the NCAA, he said one in California involving use of former student athlete likenesses may carry the most exposure for the association.
Roberts
"That's clearly the biggest one right now," Roberts said of In re NCAA Student-Athlete Name and Likeness Licensing Litigation, 4:12-mc-80020-CW. The case involves the right to publicity of former collegiate athletes including Ed O'Bannon, Oscar Robertson, Bill Russell and others whose likenesses were used in video games and in other contexts.
"That's a case that's probably ripe for some kind of settlement at some point," he suggested.
Edmonds
Notre Dame School of Law professor and Associate Dean Ed Edmonds has taught sports law for more than 25 years and agreed that the likeness case is likeliest to prevail.
"The more I've read about the O'Bannon (likeness) case and particularly following the procedures, it's made me feel like the O'Bannon class has more of a chance of winning that case than I initially thought," Edmonds said. "It's much more of a toss-up right now."
Remy said earlier this month that the likeness case was reeling because plaintiffs attempted to expand the suit to include current student athletes and live broadcasts.
"Their old theory was wrong on the facts, and their new theory is wrong on the law," Remy said in a Nov. 9 statement. "The U.S. Supreme Court and numerous lower courts have determined that the NCAA's amateurism rules are fully consistent with the nation's antitrust laws."


Edmonds and Roberts said antitrust claims will be tough to prove. But they expect the argument that the NCAA is a collegiate sports monopoly will continue to be raised. The association collected revenue of more than $845 million, according to its accounting statement for the year ending Aug. 31, 2011. Almost $700 million of that was in television and marketing rights.
More than three-quarters of NCAA revenue was distributed to member institutions and programs for Division I, II and III.
Edmonds said the U.S. Supreme Court decision in NCAA v. Board of Regents of Univ. of Oklahoma, 468 U.S. 85 (1984) held that the NCAA's television rights plan that limited appearances of college football games was a restraint of trade.
"The NCAA is probably in a stronger position than they were in Board of Regents to say, 'our scholarship rule is really ultimately pro-competitive,'" Edmonds said. Regarding the Rock case, he said Rock's attorneys had attacked some of the deficiencies that led to the dismissal of Agnew. "Because of the adoption of the rule providing for five-year scholarship offers, I think the NCAA would argue that the issue no longer exists," he said.
Edmonds said that would leave open Rock's claim that restrictions on the number of scholarships is restraint of trade.
"The NCAA is always nervous about antitrust claims – so much of what they do restrains the market, and that's kind of the nature of the business they're in," he said. "If they do lose some of these lawsuits, it is going to force them to make some changes that they would really prefer not to have to do."
Roberts said he thinks the NCAA is to a large degree protected from antitrust complaints because courts have shown deference to its unique status as an amateur membership organization.
"Those cases tend to give the NCAA a lot of insulation." Roberts said. He said the NCAA's position in some antitrust cases that would-be athletes are open to participate in the National Association of Intercollegiate Athletics and other smaller college associations might be more tenuous.
Remy came to the NCAA in March 2011 from Latham & Watkins LLP in Washington, where he chaired its aerospace, defense and government services industry group. He previously had served as a deputy assistant attorney general at the U.S. Department of Justice and as assistant to the general counsel of the Army.
Along with managing the legal challenges the organization faces, Remy is in charge of contract negotiations and oversees legal issues related to enforcement and other matters. He said he's been impressed with the NCAA's direction, particularly academic standards and enforcement reforms implemented under Emmert.
"What drew me to the NCAA was its commitment to student athletes," Remy said. "Since I've been here, I do see a commitment to making the right decisions in a way that's meaningful."•
Please enable JavaScript to view this content.