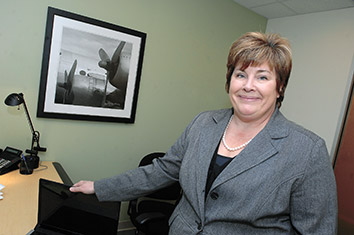 Six years ago, potential clients who called bankruptcy attorney Brad Woolley might be able to get an appointment in three weeks. Now, they likely can get in to see him the next day.
Demand slumped when the bankruptcy laws changed, which had the Monticello-based lawyer looking for ways to draw in new clients. He embraced the old business adage – location, location, location – and opened a branch office in West Lafayette to be near the U.S. Bankruptcy Court in the Charles A. Halleck Federal Building.
 
Woolley added a contemporary twist by not signing a long-term lease agreement and instead contracting with Officescape, an office services and technology provider. He pays about $300 per month for 16 hours of use of an office. About four to six times each month, he drives to Lafayette, plugs in his laptop and helps local residents file their paperwork.
People are happy he has an office in town, he said, because with gasoline near $4 a gallon, few would make the drive to Monticello.
The attorney is part of a growing international trend away from the traditional concept of what constitutes a workplace. This is not the virtual law practice where attorneys offer legal services online and across jurisdictions. Rather, companies like Officescape and Regus rent office and meeting space, and provide administrative support along with other office-related services.
Brick-and-mortar offices are not going away, said Jon Beattie, global business development manager for Officescape. People will still need a place to meet and conduct business, but they will no longer need to be at that place eight hours a day, five days a week.
Woolley compared the move to this hybrid version of a virtual/brick-and-mortar office to the purchase of display ads in the Yellow Pages. Lawyers who initially resisted advertising changed their minds when they saw the return on the investment.
"Yes, we don't like the idea that we have to go out and generate clients," he said, "but if we don't generate new business, we're going to get passed."
More than providing a room in a downtown building, virtual office service companies offer a range of products so comprehensive that many clients would never know they are meeting their lawyer or accountant or financial adviser in a space that is rented.
Depending on which products the professional buys, a receptionist may greet clients and show them to a waiting room. Calls to a local number can be answered then routed to whatever phone the professional wants: home, office or cell. Mail will be collected, technical support will be on hand, and even administrative assistants will be available for standard office chores like photocopying and faxing.
The force behind the movement toward these types of professional arrangements is, of course, technology. Laptops, smartphones and access to cloud computing are reducing the requirement that workers travel to a single location in order to access the company data and services. 
In fact, in a 2012 survey of senior IT decision makers, Citrix found that the number of organizations that have implemented mobile work styles will balloon from the current 24 percent to 83 percent in 2014.
Data on how attorneys and law firms are adapting or implementing mobility is scant. However, Grant Greenberg, spokesman at virtual office provider Regus, counts the legal community among the biggest users of his company's services, along with the financial industry and startups or tech companies.
Both Officescape and Regus expect rapid growth in the coming years. Benefits of contracted or virtual offices range from cost savings and higher employee productivity and satisfaction to lessening the risks in an uncertain economy.
"We think it's the way the world is going," Greenberg said. "Why sign a long-term lease when you don't know what's going to happen in the next six months?"
Indianapolis-based attorney Annette Rutkowski sees virtual offices as the wave of the future because of changes in the way law is practiced. As bigger firms consolidate and limit the number of equity partners, small and solo practices are growing.
When she moved into solo practice, she contracted an office in Indianapolis with Regus and, more recently, an office in West Lafayette with Officescape.
Using these services, she was able to open her offices without making the heavy investments in purchasing the space, technological support, furniture, computers and staff. She could have opened her own practice without contracting with the office services providers but, she said, it would not have been as easy and it would have required her to put more money up front.
"I think (when you say) virtual office, everybody assumes you're not there," said Rutkowski. "Most of the attorneys I know are doing some combination because you have to have face-to-face with clients. Virtual doesn't mean you're not there, it means you're not there all the time."
Rutkowski said she is comfortable with the current arrangement. She has a professional space to meet clients and she has been able to network with other attorneys and business professionals who also use virtual offices. To her, a virtual office is better than the other options such as mixing her personal and professional lives together by working full time from her home, meeting clients in coffee shops, or having her mail delivered to a P.O. Box.
Officescape has submitted a proposal to the Indiana State Bar Association to offer its services as a member benefit. The Membership and Membership Benefits Committee has been reviewing the proposition and plans to continue the discussion at its January meeting.
"It certainly seems like a service that would be of great benefit particularly to small and solo firms," said Susan Jacobs, ISBA associate executive director.
Eighteen years ago, Woolley was a pioneer of the virtual office. He used to drive to Kokomo, plunk down $50 to rent a conference room for a day at the public library, and see about 10 bankruptcy clients. It gave him the local office, but missing were the professional services like a designated waiting area and administrative assistant.
Both Woolley and Rutkowski say their virtual offices are providing them the tools they need to reach more clients. However, they also noted, if they ever establish a full-time presence in West Lafayette or hire more staff, they would likely move from the rented space to possibly buying a building or signing a long-term lease.
"Right now," Rutkowski said, "this allows me flexibility and I don't see changing that for quite some time."•
 
Please enable JavaScript to view this content.