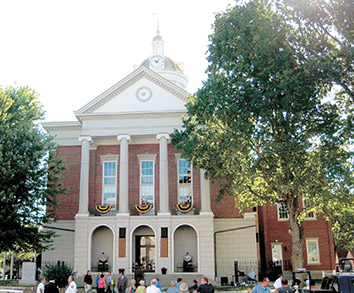 From the sixth floor conference room in the law offices of Robert Gevers, visitors can look across the Fort Wayne skyline and see a collection of radio towers standing on the horizon.
The towers represent the media and the flood of information, commentary and entertainment that not only keeps the public abreast of what is happening in their community but can also taint a potential jury and hinder the chance for a fair trial. Such concerns over the sustained and extensive coverage of a high-profile case is why a trial of an Indianapolis Metropolitan Police Department officer is being moved from Marion County to the Allen County Courthouse, half a block north of Gevers' office.
 
On March 8, attorneys for the prosecution and the defense in the State of Indiana v. David Bisard, 49G05-1101-FB-002156, appeared in Allen Superior Court 1 for an initial pretrial conference where they began ironing out the details of changing venues with Allen Superior Judge John Surbeck.
Moving a trial from one court to another can be cumbersome and brings with it logistical matters that have to be worked out so the lawyers can focus on presenting their case. Transporting office supplies, reserving hotel rooms, securing conference rooms and learning the demographics of the community before selecting the jury are among the tasks that have to be addressed.
Yet, Surbeck and attorneys involved maintained the dynamics of actually trying the case will remain the same regardless of the location.
"The furniture is different but a courtroom is a courtroom," Surbeck said. "Once you settle down and everybody gets to work, it doesn't matter where the courtroom is. Everybody has a job to do and does it."
 
Allen County Superior Court I is in one of four historic courtrooms in the Allen County Courthouse. This will likely be the courtroom for the trial of Indianapolis Metropolitan Police Officer David Bisard. (IL Photo/ Marilyn Odendahl)
In February, Marion Superior Judge Grant Hawkins granted the defense motion for a change of venue in the Bisard case because of the media frenzy. Bisard is accused of driving drunk in his police vehicle and crashing it into three motorcyclists, killing one and injuring two others. He has been charged with reckless homicide and multiple operating while intoxicated charges.
Hawkins, in granting the motion for change of venue, pointed to the news coverage that has continued from the initial filing and often includes recaps of the high points in the case.
Attorneys on both sides say the trial date – scheduled tentatively to begin Oct. 15 – is the key to their preparation for trying the case in Allen County. Now that they know when they have to select a jury and present the evidence, they are able to start coordinating things like lodging, transportation of witnesses and how their computers can interface with the electronic devices available in the courtroom.
Surbeck said his first question for the Marion County prosecutors and defense attorneys will be how long they think the Bisard trial will take. Estimates have placed the length at four weeks, and while the judge will give the case as long as it needs, he pointed out he is not going to permit a lot of down time.
"I just think, bottom line, number one – me – and number two – everybody involved – needs to be fair and open-minded and use some common sense," Surbeck said. "We'll get through this and get a just result."
Change is a rarity
The number of change of venue cases in Indiana during 2011 at first blush seems startling at 2,968. However, when calculated against the more than 1.6 million criminal and civil cases filed that year, the number represents less than 1 percent of the total docket, according to the Division of State Court Administration.
Two methods are available for orchestrating a change of venue trial.
Fort Wayne criminal defense attorney Michelle Kraus took part in one method when an out-of-town jury was brought to Allen County. She traveled to Clark County in southern Indiana to seat a jury and remembered having to be prepared to function away from the comforts of her home and office.
"It takes a lot of planning to be able to know who's going to do what," Kraus said. "You have to be really detailed."
Usually, from the moment she woke up she was thinking about the details. Kraus and her team had to figure out where they could find copiers and access printers. They contacted a couple of area attorneys to see if they could commandeer a spare conference room.
The advantage in this type of change of venue is Kraus was able to sleep in her own bed and work from her own office once the trial began.
Marion County Deputy Prosecuting Attorney Denise Robinson experienced the other type of change of venue when she tried a murder case in Porter County. She and her colleagues loaded an SUV and U-Haul trailer with staplers, legal pads and computer monitors, among other things, and caravanned to northwest Indiana.
Robinson is the prosecuting attorney on the Bisard case, and she is reviewing the two-page list of items transported to Porter County to help determine what will have to be taken to Allen County.
John Kautzman, partner at Ruckelshaus Kautzman Blackwell Bemis & Hasbrook who is representing Bisard, said his team is figuring out both the logistical and financial challenges of trying the case in a county that is two-and-a-half hours away. Finding hotel rooms and work space are on the to-do list as well as possibly connecting with local counsel in Allen County.
The venue
The Bisard case will likely be tried in Allen Superior Court 1. The courtroom sits behind a set of wooden doors and, like the other historic courtrooms on the third floor of the Allen County Courthouse, it is a feast of colored scagliola, murals and bas-reliefs.
Allen County and Surbeck were chosen by the attorneys on both sides of the Bisard case. The parties presented Hawkins with two lists: the first list identified the counties in which the parties agreed the case could be sent, and the second list named the jurists they would accept to preside over the trial.
When Hawkins determined it was not feasible for him to be away from Marion County for the duration of the trial, the jurists named on the second list were asked if they would be willing to hear the case. Those who agreed were placed on another list from which each side could remove one name.
To select a jury, attorneys who have worked a change of venue case said an important element is knowing the demographics of the community. Being familiar with the background of the jurors, for example, if they reside in a rural or urban area, will help the lawyers not so much determine who to choose but how to present the evidence.
Inevitably, people will start to form opinions about a case based on what they read in the newspaper or see on television. In fact, Kraus wonders if the judge's instructions to not read anything about the case may inspire some individuals to go home and search Google.
Gevers recalled when he started his career as a deputy prosecutor in Allen County, any murder trial would be splashed above the fold of the local newspapers day after day. Now it seems only the most heinous crimes garner that kind of media attention.
But, he said, while potential jurors may not know about a particular case, they can still be tainted by the books they read and the television shows they watch. Attorneys recognize the influence the media has through criminal justice shows like "CSI" and "Nancy Grace" and movies like "Double Jeopardy," where dramatic courtroom scenes involve DNA analysis or forensic experts.
At times, Gevers said, jurors expectations have to be lowered.
"I don't want them to have that false sense of what it's going to be like, and when it's not like that, they lose interest, lose sight of the case, get ticked off at me, at the other side, at the judge," he said. "They come in thinking, 'I'm going to be entertained.'"
Once a jury is seated, Surbeck will tell them, honestly, that they are going to be mistreated but that he will make sure they are mistreated as little as possible. People called to serve must give up their time and are tasked with doing a difficult job for which they have little training and for which they must reach a unanimous decision.
"People talk about juries," he said. "People make fun of juries, but juries work very hard to do what they need to do and do very conscientiously."
Local impact
Allen County court officials and local attorneys are not anticipating that the Bisard trial will create a major disruption. In mid-April, Surbeck's calendar will start to be cleared in anticipation of the trial, but the local cases should still be tried in a timely fashion.
The courthouse will be able to handle the trial and the likely crush of Indianapolis media while still taking care of its daily business.
"As beautiful as this building is, as beautiful as the courtrooms are," Allen Superior Court Executive Jerry Noble said, "it's a working building."•
Please enable JavaScript to view this content.