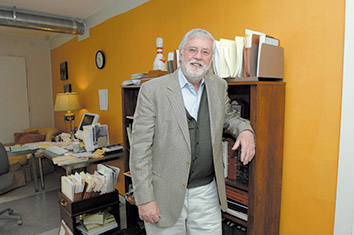 Editor's note: This story has been updated with the state's March 12 response to the transfer petition.
Dan Brewington posted a torrent of online rants after a Dearborn County judge's 2009 order separated him from his children. The father of two girls blogged that a judge who would do such a thing was a child abuser, corrupt and unethical.
Brewington was incredulous, writing that there never had been a question of his fitness as a parent. His screeds sharpened and also took aim at the qualifications, credentials and conclusions of a Kentucky custody evaluator whose reports the judge relied on to determine Brewington "to be irrational, dangerous and in need of significant counseling."
"When (Dearborn Circuit) Judge (James) Humphrey figured out that I was not going to stop publicizing the misconduct of his expert, Judge Humphrey dropped the biggest bomb in a judge's arsenal, he took away my children," Brewington blogged.
So it went, until Brewington's actions led a jury to convict him of three counts of intimidation, including a felony count involving Humphrey; perjury; and attempted obstruction of justice. He was sentenced to five years in prison.
The problem is, "There's been no direct threat to a person," said Brewington's Indianapolis attorney, Michael K. Sutherlin. He said the record shows Brewington spoke his mind, often to his detriment in his Internet posts, and Sutherlin acknowledges Brewington was a persistent bother. Nevertheless, Sutherlin said, "They can't let this stand."
While Sutherlin focuses on appellate arguments ranging from ineffective counsel to prosecutorial misconduct, an array of interests has come to Brewington's defense, seeing a First Amendment case and pleading for the Indiana Supreme Court to grant transfer.
The Court of Appeals in January reversed two of Brewington's misdemeanor intimidation convictions – charges he threatened Humphrey's wife and the custody evaluator – in Daniel Brewington v. State of Indiana, 15A01-1110-CR-550. But the court's 44-page opinion alarmed First Amendment advocates.
"If the Court of Appeals opinion is allowed to stand, then much criticism of legislators, executive officials, judges, businesspeople, and others – whether by newspapers, advocacy groups, politicians or other citizens – would be punishable," First Amendment scholar and UCLA professor Eugene Volokh wrote in an amicus brief.
Volokh publishes the popular legal blog, The Volokh Conspiracy, which he used after the Brewington decision to rally like-minded people who saw a danger in an opinion they say too broadly interprets what constitutes a threat under Indiana's intimidation statute.
In the amicus brief, Volokh wrote, "The Court of Appeals erroneously interpreted Ind. Code Section 35-45-2-1 (2012) to criminalize a broad range of constitutionally protected speech, without recognizing that this would render the statute unconstitutionally overbroad. … The decision also 'erroneously labeled Brewington's statements about Judge Humphrey as false statements of fact, rather than the figurative and hyperbolic statements of opinion that they are.'"
"We think that the precedent in the Court of Appeals ruling is wrong and dangerous," Volokh said in an interview. "The language of the statute needs to be interpreted in a narrow way by the courts."
The language in the code that got Brewington into trouble was that which defines intimidation as a threat made with the intent "that the other person be placed in fear of retaliation for a prior lawful act" by a threat that "expose(s) the person threatened to hatred, contempt, disgrace, or ridicule; (or) falsely harm(s) the credit or business reputation of the person threatened."
Terre Haute attorney James Bopp Jr., known for his successful advocacy to eliminate political contribution limits in the Citizens United case, joined Volokh as an amicus brief signer. Amici curiae include groups ranging from the conservative family-values organization Eagle Forum to the American Civil Liberties Union of Indiana.
"I think what we've been able to establish is there's a broad public interest that we hope makes this case eligible for the court's consideration," Bopp said.
Negangard
"The First Amendment was designed to protect everyone regardless of their viewpoint. Fortunately, people on all sides of the political spectrum can agree if you give government the power to punish people for comments about government officials, you've got a problem that would affect everyone," he said.
Sutherlin said aside from First Amendment concerns, Brewington's case is a potpourri of irregularity and potential error. He notes, for instance, Brewington's perjury conviction was based on his grand jury testimony. Brewington said, "I don't know" whether a person he identified in one of his Internet posts was Humphrey's wife. Brewington's answer was interrupted by the prosecutor, Sutherlin said, and that response was the basis of the perjury count.
"Grand juries are meant to seek the truth, not to play 'gotcha,'" Sutherlin wrote in his petition to transfer.
"It's a terrible record," Sutherlin said. "Everywhere (Brewington) turned, he got screwed."
Humphrey, who didn't preside in Brewington's criminal trial, said it would be inappropriate to comment about the case at this time.
But Dearborn-Ohio County Prosecutor Aaron Negangard said Brewington's case is anything but a First Amendment matter. "The advocates for this have said they don't want to get into the minutiae," he said. "Why let the facts get in the way of the case?"
He said jurors decided Brewington's guilt based on evidence that included witnesses who said Brewington had made them fearful with warnings such as, "I'll destroy you."
The state argues in its response to the transfer petition filed March 12 that the Supreme Court should take the case, but for far different reasons. "This Court should affirm Brewington's conviction for intimidation because Brewington's communications to and about the judge were truly threatening communications, conveying the threat that he would injure the judge or commit a crime against him," the brief states.
Brewington's speech is unprotected, the state claims. "Brewington communicated 'true threats' to Judge Humphrey, although he cleverly attempted to disguise them. Brewington's communications to and about the judge included communications that both indicated Brewington's capacity for setting things on fire … as well as communications that made clear to the judge that Brewington knew where the judge lived, and knew where the judge's wife lived.
 "It is a disappointing irony that Brewington, who is no friend of free speech when it is spoken by his victims, now takes refuge in the First Amendment," the brief says, noting the judge and custody evaluator have a right to perform their duties without fear of violent reprisal. "Brewington does not have the First Amendment right to place them in fear of such violent reprisals for their speech."
"This was not just someone posting stuff on a blog, but he was threatening our judicial system by putting witnesses in fear," Negangard said. "You don't get to communicate threats to someone to get them to change their testimony or not testify. The First Amendment does not protect those types of actions, otherwise, we lose our justice system."
Volokh
Negangard noted that after Brewington was arrested in Hamilton County, Ohio, evidence was presented at Brewington's bond hearing from a cellmate who said Brewington had broached the subject of murder-for-hire. Negangard said there was insufficient evidence to bring charges on that allegation.
Brewington's co-counsel Sam Adams said those allegations are false and have been disproven. Brewington, he said, "never spoke with this inmate and his attorney in Ohio obtained the jail movement logs for both (Brewington and the other inmate), and it showed they were never in the same place at the same time." ATF agents also investigated the allegation, Adams said.
"Our opinion is it was pretty much a jailhouse snitch trying to get his own charges lessened," Adams said.
Negangard used the alleged jailhouse threat to secure bond for Brewington in the amount of $600,000. "The bond he sought was really excessive in light of the charges," Adams said, though it has not been reduced on appeal.
Brewington has been behind bars since he was arrested in 2010. He is eligible for release in September, according to Indiana Department of Correction records.•
Please enable JavaScript to view this content.