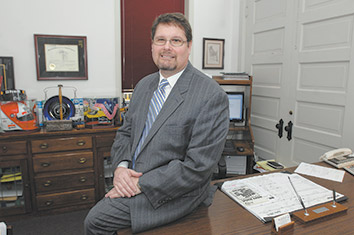 When advising small firm and solo lawyers recently at the American Bar Association Tech Show in Chicago, Indianapolis attorney Marc Matheny said he ran out of time before he ran out of tips.
Matheny was a co-presenter of "The Frugal Firm," a session that offered an array of pointers for small firms to stay current with fast-evolving technology that bigger firms likely will adopt early.
"A frugal lawyer is not a cheap lawyer," Matheny said in an interview following the ABA Tech Show, which he said drew record numbers. "Frugal means you use your money to the best advantage to make the most money. It doesn't mean you spend the least."
Matheny and other small-firm lawyers shared their best practices for frugal but effective technology solutions.
Tip: Analyze your needs
Matheny, who is one of nine ABA Tech Show board members, said no set of tips will fit every solo/small firm situation or practice. During his presentation with Michigan attorney Patrick J. Crowley, "We made a very big point about saying how your firm is set up is going to dictate what your practice is all about and what your needs are," he said.
There are a few essentials, though, on the hardware side: a core computing system – whether Apple or PC – telephone and mobility. Within all of those systems, there is room for frugality, Matheny said. Do you really need a server, for instance?
"Some of the hardware you can get to match your firm's needs; maybe you don't need the top-of-the-line computer with the Blu-ray player," said Matheny, who also chairs the Indiana State Bar Association Solo & Small Firm Conference.
Tip: Buy a bundle
Indianapolis solo family law attorney and mediator Jana Strain recently crossed an item off her tech wish list with the purchase of a Fujitsu ScanSnap. The device scans documents and converts them to digital PDF files and enables sharing on mobile devices. For less than $500, it also includes the latest version of Adobe Acrobat – bonus frugality points since functional Acrobat software alone can cost hundreds of dollars.
"This just became sort of the gold standard for lawyers," Strain said of SnapScan.
Matheny said devices with multiple functionalities – all-in-one printers, copiers and faxes, for instance – can mean big savings for small and solo firms.
Tip: Do it yourself
Ann Marie Waldron, of counsel for the Indianapolis firm Robinson Wolenty & Young LLP, is the designated IT person for the firm's five attorneys and three support staff, and she has the honorary propeller beanie to prove it. The firm concentrates in business law.
"There's a lot of pressure for us to stay competitive, but at the same time we don't have an unlimited budget," said Waldron, who caught Matheny's presentation in Chicago. "We have this amount of money to spend. Where is the best place to allocate that money?"
That puts the ball in Waldron's court on decisions such as whether to upgrade to a new computer system or wipe the existing system to free up memory and increase speed. Waldron has a can-do approach to such tasks. "It's all self-taught," she said. "I Google it and learn how to do it. … You have to be confident that you can figure it out and be willing to try it."
Tip: Work on mobility
Derrick Wilson, a partner with Mattox & Wilson LLP in New Albany, put it bluntly: "Anybody that's buying a desktop," he said, "is probably about five years behind the game." Wilson said the attorneys in his four-practitioner firm are prepared to work anywhere, and he uses free online services to sync up mobile devices and portables. "We don't look at paper files anymore."
Mobile functionality, Matheny said, is "essential for all lawyers at this point, although some don't know it."
Tip: Try it for free
Waldron took away from Matheny's presentation a new respect for how much software and legal information is available online at no charge. Google offers assistance in the form of Google Scholar, for instance. Casemaker provides a treasury of free legal research to ISBA members. Productivity apps abound.
There's also an abundance of software for the taking, but Matheny offers a caveat about such freebies: "Some of those things aren't replacements, they're supplements." Free versions or shareware often don't provide the functionality of proprietary software they imitate.
Matheny said providers such as CLIO, HoudiniEsq and Rocket Matter offer low-cost case management and billing systems, sometimes providing users with free 30-day trials. A practitioner, though, should be careful to weigh whether it's better to sign up for such a service with a monthly fee or pay the upfront cost of a more conventional system such as Tabs3 Practice Master or Abacus. "What you don't want to do with any legal case-management software is you don't want to go from one brand to another to another," Matheny said. "It's kind of like a marriage – for better or for worse. It's better to stay with one."
Tip: Put security first
Waldron said the nature of her firm's work probably leads to being ahead of the curve when it comes to security. The firm uses a Linux-based email system, for instance, that she said is more stable and secure than Windows systems such as Outlook.
Wilson said attorneys must be vigilant as cloud computing becomes more prevalent. It's important to know where data is stored and how safe it is, and he said free online file-sharing solutions such as Dropbox may have vulnerabilities that attorneys might not realize.
"All those things have terms of service agreements none of us read that say who has a right to your information," Wilson said. "It needs to be either password-protected or encrypted." Dropbox and similar services offer such protections, though sometimes at a premium, he noted.
Tip: Ask a lawyer
Strain has used a number of free software solutions she's learned about through tech shows and bar resources. "Membership in the Indiana State Bar Association as well as IndyBar will give a lawyer access to a lot of resources they might not find if they were not a member," Strain said.
Waldron said the value of tech shows such as those offered by the ABA or the Solo & Small Firms Conference of the state bar are good places to find ways to get the best bang for the buck.
"You don't have to reinvent the wheel," Waldron said. "There are all these people who've already done the work."•
Please enable JavaScript to view this content.