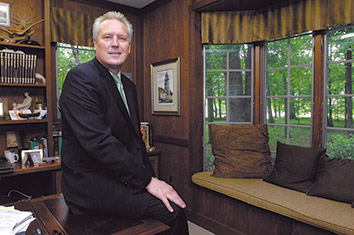 Mark Ladendorf is a small-firm attorney who's never shied away from taking the big cases. The Indianapolis personal-injury lawyer leads Ladendorf & Ladendorf, a practice of five attorneys – three of them in the family.
Ladendorf recently was named president of the Indiana Trial Lawyers Association for 2013-2014. Here's what he had to say in a recent Q&A with Indiana Lawyer, touching on the personal and the professional.
Q. Taking office as president of Indiana Trial Lawyers Association in May and serving until next April, what would you like members to know about you?
A. Born and raised in Hammond, Ind., the oldest of four children, I learned the value of hard work at an early age. My first jobs included the steel mills, a chemical plant, a railroad yard and working as a mechanic's assistant at a diesel trucking garage. These blue-collar endeavors gave me real-world experiences in the various walks of life that would be forthcoming. Most importantly, they taught me the value of a higher education and what it would mean in my future.
Q. What are some major practice concerns for trial lawyers that you'll talk about during your term as president?
A. I view my role as a facilitator for the growth of the ITLA in the many endeavors in which we already partake. Our outreach includes legislative, administrative, PAC, interaction with the judiciary, fundraising, CLE seminars and social events. All of these efforts are undertaken with the promotion of a strong civil justice system in mind. With the pervasive overview of the ITLA in the many aspects of the legal profession, I will attempt to balance many roles and bring my 33 years of legal experience to the table.
I feel fortunate to serve my administration under the guidance of Micki Wilson, Jason Bell, Lindsay Meyer and Bridget Gross as well as the executive committee who steer this great organization.
Q. If you had to give a brief "State of the ITLA" address, what would you say?
A. The practice of law is ever-changing: dynamic, creative, far-reaching and something that never rests. We must address the issues at hand to make sure we are doing the right thing for our clients and the citizens of Indiana. We have been given great responsibility in society to right the wrongs that are so easily inflicted on those who need us most.
Q. What is your favorite thing about being a trial lawyer?
A. I take great pride in being a trial lawyer, not for myself, but for being able to serve others who seek representation when the odds are stacked against them. Not that I have a "Robin Hood" persona, but it is always gratifying to assist someone who needs you most, especially against some of our society's most powerful interests.
Q. We see that your son Lance joined Ladendorf & Ladendorf not too long ago, and you also work alongside your brother Dan. What's that dynamic like?
A. Having Lance and "Uncle Dan" with me has been a blessing and a challenge. Dan is extremely competent and creative in the law and legislative endeavors, and Lance has a keen insight into the kind of lawyer he wants to become. The future looks bright.
Q. Staying with family for a moment, what in your mind is the difference between fatherly advice and legal advice?
A. Fatherly advice is tougher as sometimes you walk a fine line between reason and logic on one hand, and on the other, emotions and love. Combining all of these into a positive energy is a life-long journey that every parent hopes to attain.
Q. Besides Atticus Finch in "To Kill a Mockingbird," who's your favorite fictional lawyer?
A. I enjoyed Harrison Ford in his role in "Regarding Henry." Sometimes it doesn't matter when the truth surfaces, as long as it does.
Q. We are granting you the imaginary power to change or enact one law in the state of Indiana. What's your pleasure?
A. I would overturn Stanley v. Walker as it unfairly benefits the insurance industry while punishing the injured party who paid premiums for health insurance coverage. A close second would be to abolish the Medical Review Panel which has no purpose in tort law other than to delay cases indefinitely and allow the "fox to guard the henhouse."
Q. Your son came out of law school at a time when many people are concerned about the future of legal education and prospects for careers in law. What would you tell a young person considering law school?
A. I would agree that it is much more difficult to graduate from law school today and engage in a legal career than it was 33 years ago. Having said that, there are enormous opportunities for a person who holds a legal degree as it is the most versatile degree in society. Go forth and serve and good things will happen.
Q. If you had not become a lawyer, what would you be doing?
A. I would be a psychology professor doubling as a basketball coach at a small college in northern Michigan.
Q. What's your assessment of civility among attorneys today compared with when you entered the profession?
A. There is not as much camaraderie today as there was years ago. This can account for the difficulties in amicably resolving a case.
Q. Is there one particular case you've worked on that stands out as the most difficult?
A. By far, the toughest case I worked on was seeing my friend and fellow attorney, Joan Irick, pass as a result of malpractice. To everyone who knew Joan, she was a terrific person and consummate professional. My representation of her in the last years of her life was one of the most heartbreaking and wrenching experiences I have been part of. She will be endeared and missed forever.
Q. You're working one very high-profile case at the moment, representing a motorcycle victim of a crash involving Indianapolis Metropolitan Police Officer David Bisard. Any tips on smaller firms like yours taking on resource-heavy cases?
A. My advice would be to circle the wagons, my friend. Strap on your seatbelt and get ready to ride the tide for a long upheaval in a case you will become far too familiar with. Be prepared for power struggles and always fight for your cause, your client and for justice. Remember, nothing good comes easy.
Q. Something that hardly anyone knows about me is that I am a huge fan of _____.
A. Butterflies and birds because they can fly and I can't.
Q. The philosophy that best describes my outlook on life is:
A. I wish I could say something clever such as that written by a far Eastern philosopher, but "The Serenity Prayer" is the best I can do. It simply says: "God grant me the serenity to accept the things I cannot change, courage to change the things I can, and wisdom to know the difference."
Also remember that all glory is fleeting. Never be too high on yourself or too low. Try to find a balance.
Q. Got any summer vacation plans?
A. By the time you read this, I will hopefully be catching a big walleye for shore lunch with Lance netting it. I also hope to take a family trip to a ranch in Montana to reaffirm the fact that I was never meant to be a cowboy.
Q. Any closing remarks?
A. I would like to thank everyone who stood by me in my life, especially my wife, Debi, my children, Lance, Luke and Hannah; and my parents, Bob and Shirley Ladendorf. •
Please enable JavaScript to view this content.